Welcome to the GT Hotel and Off Site Courtesy Vehicles Operator Page!
All operators starting a business at Sea-Tac International Airport are required to have a current agreement. You must keep your information and permits up to date.
Requirements for registering your business at Sea-Tac Airport:
GT Operating Agreement Packet (Download)
Once you have reviewed and completed any necessary documents please send your documents to Anderson.A2@portseattle.org or Crosby.k@portseattle.org
BILLING INFORMATION
Hotel and Off-Site Courtesy Vehicles must have a functioning AVI tag adhered on the vehicle. Companies will be charged per trip and invoiced for these charges.
OPERATING AREAS
Courtesy Vans must pick up and drop off at Islands 1 or 3 in the courtesy van lane on the 3rd floor of the parking garage.
ADA ACCOMMODATIONS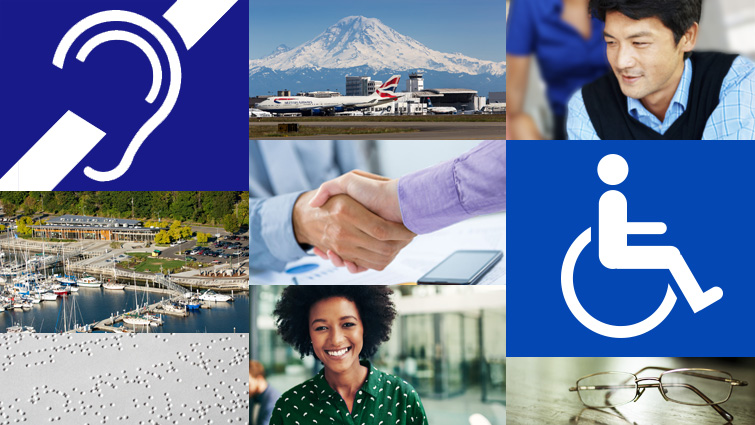 GT Agreement:
| | |
| --- | --- |
| N.          Special Needs | Special needs include passengers with a disability recognized under the Americans with Disabilities Act (ADA), passengers that are elderly and have health problems, passengers that are mobility impaired, or single passengers traveling with infant children and excessive possessions, including baby seat and luggage. |
Courtesy Van: Ground Transportation must approve any exceptions, including passenger with Special Needs, in advance. Prior to your arrival at SEA, please call Ground Transportation (206) 787-5906 to request permission for use of the curbside Special Needs Drop Off/Pick-Up. Drop Off/Pick Ups must be done only at the requested airline location.
Wheelchair Accommodation/Special Needs Requests: Operator shall not deny a pick-up or Drop-off trip from customers with wheelchairs or other Special Needs, such as passengers with guide dogs or children requiring a car seat, provided that the passenger is able to properly install that car seat, etc. Pick-up or Drop-Off Special Needs trips must be fulfilled by Operator or must be referred to a similar service provider for fulfillment.