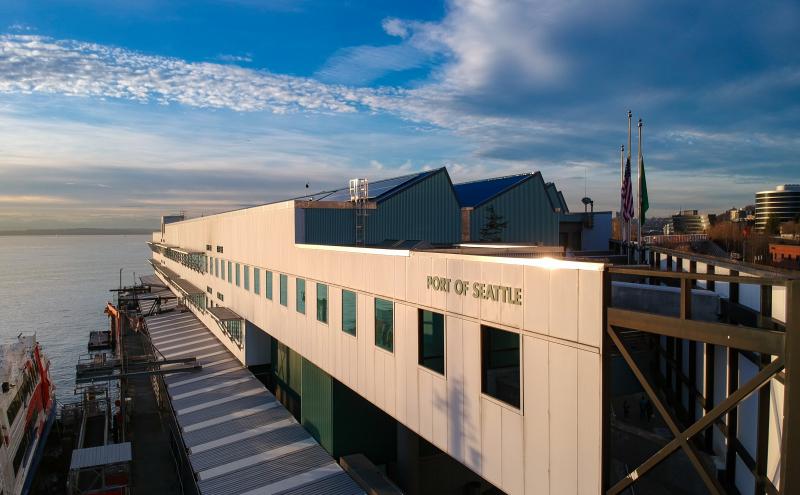 Parking at Pier 69, Port of Seattle Headquarters Building, 2711 Alaskan Way, Seattle, WA 98121
Parking with Validation Option.
Public parking and parking validation during Commission Meetings is ONLY available by parking in the Bell Street Pier Parking Garage, located at: 9 Wall Street, Seattle, WA 98121.  
Tickets can be validated at the front desk of the Port Headquarters lobby by providing your name and ticket to the front desk upon departure from the meeting. 
Commission meeting participants are encouraged to use this option in order to attain parking validation.
Street Parking in Front of Port Headquarters Building at Pier 69
NO public parking is available on the North Apron Port operations parking area (between Pier 69 and Pier 70).  Any parking in this area will result in vehicle towing.
Public parking on the street is very limited and there are many caveats:  

 Section 86548 (NE side of building)  parking, when available, is for a maximum of 4 hours at a rate of $1/hr. from 11-5 pm and then .50/hr. after 5 p.m.  
Section 86611 is on the SW side (right at the front of the building). Parking is available from 8 a.m. to 1 p.m. at the same rate as noted above. After 1 p.m., parking is no longer available for the public, as it turns into a passenger loading zone until 4 pm.  Parking in this area during restricted hours will result in a parking ticket during the hours of 1 p.m. to 4 p.m. Parking rates are the same as noted above for the opposite side of the street.

Street parking is paid through the use of the pay for parking kiosk on the street, or through the use of the pay to park phone app available for that area.
Disabled Parking 
There are three disabled parking spaces on the north apron.
Parking in these spaces is first come-first served, and a valid Washington State Disabled Parking Permit is required.
The City of Seattle also allows on-street parking at no cost to holders of Disabled Parking Permits. Click here for more information.