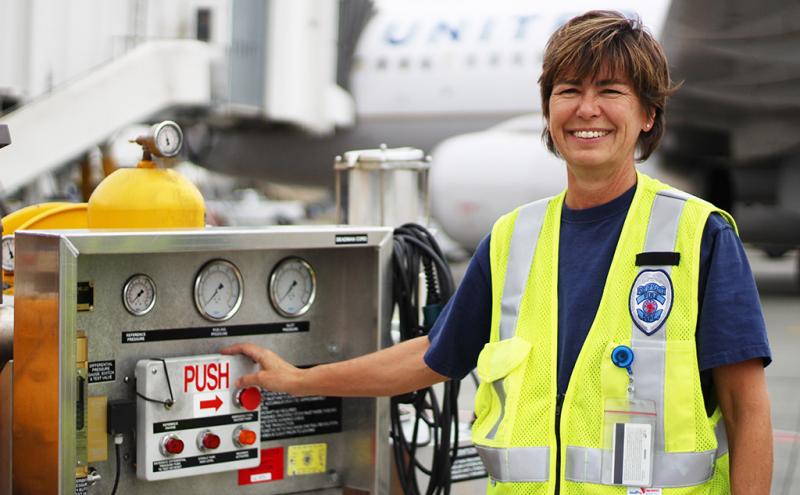 Only about six percent of career firefighters in the United States are women. Among them is the Port of Seattle's Lisa Kolwitz.
As a child, Kolwitz watched her parents advocate for soccer and recreational opportunities for girls—their commitment reinforcing her own passion for athletics.
"Because of my parents, I believed I had equal opportunity to do whatever I wanted to do. They raised me to be anything I wanted to be. In turn, I hope my experience can be an inspiration for girls today to consider a non-traditional career," she said.
Witnessing firefighters resuscitate her ailing mother first piqued her interest in firefighting. "I saw it as a way to combine my athletic background with my desire to help people," Kolwitz said. "In a male-dominated field, I think women often can enhance the care, compassion and comfort we offer to patients during a crew response."
Her biggest challenge and most exciting moment was participating in and graduating from the Washington State Fire Training Academy in 2000. Soon thereafter, she joined the Port of Seattle Fire Department.
She has been with the department for 16 years and during the past two, took on the role of overseeing the airport's fuel inspections and enforcing code compliance. With the recent growth at the airport, fuel use has increased dramatically, she said, which demands twice as much of the fuel inspection team.
To Kolwitz, the airport fuel system is similar to a human body—with the fuel tank farm like a heart, the fuel hoses like arteries and fuel like the blood of the airport. "That's why taking care of this system is so critical to the airport."
She told this analogy to the Federal Aviation Administration's (FAA) inspector during the annual fuel system and safety compliance audit at Sea-Tac. She said the inspector liked the analogy so much that he used it in his briefing at the end of the weeklong assessment, which resulted in high marks. Kolwitz was nominated for the Port of Seattle's 2016 Women's Outstanding Awards due to her efforts and the ability to be adaptative to the increased demand for airline fueling and her collaboration with the FAA. She was one of the four women honored earlier this year.
"I feel extremely honored and grateful to be nominated and recognized by the Port of Seattle," she said. "I am highly supported by my wife, Carlene, and I appreciate that the Port of Seattle welcomes diversity, not only with respect to their employees, but also their families."
Published Date
May 19, 2018