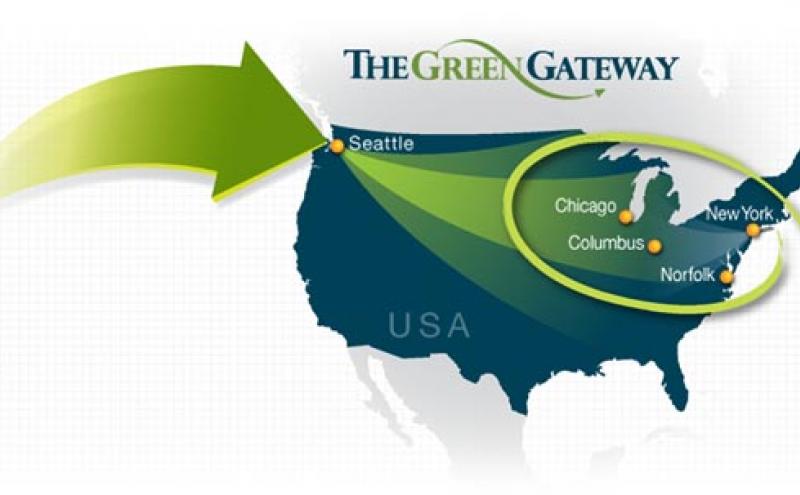 The Port of Seattle's air quality program is part of an aggressive and systematic effort to make our facilities as efficient as possible. The Port is committed to proactively working with regulatory agencies and community groups to reduce emissions from SEA Airport and Seaport operations. To reach our annual and long-term goals, the Port is voluntarily implementing new and cleaner technologies years before regulatory mandates. Sustainable and responsible business practices are integral to the Port's strategic business objectives.
Learn About the Green Gateway Supply Chain
An in-depth look at the research and findings demonstrates the Port of Seattle to be the most efficient location for imports from and exports to Asia. 
Seattle offers the lowest carbon footprint for cargo shipped by sea from Asia to major markets in the Midwest and East Coast. That is what makes us the Green Gateway for trade. This was determined by the "Carbon Footprint Study of the Asia to North America Intermodal Trade" conducted by Herbert Engineering Corp., which looks at carbon dioxide emissions of intermodal shipments from Asia to North American markets.
Airport Renews Carbon Certification
SEA was the first airport in North America to be certified for reducing carbon through an independent third-party verification program carbon known as Airport Carbon Accreditation (ACA).
In total there are four levels of ACA certification. SEA achieved Level 2 (Reduction) in 2014, and reached Level 3 (Optimization) in 2016. The fourth level (Level 3+) requires purchases of carbon offsets for the airport's own emissions. Instead, SEA will maintain Level 3 and continue to seek its carbon reductions through energy efficiency and purchasing renewable energy and fuels.
Programs that helped SEA achieve Level 3 include electric charging stations for ground service equipment, pre-heated and cooled air service for parked aircraft, off-aircraft recycling, compressed natural gas buses and energy-efficient taxis, and charging stations for electric vehicles parking in the airport garage.