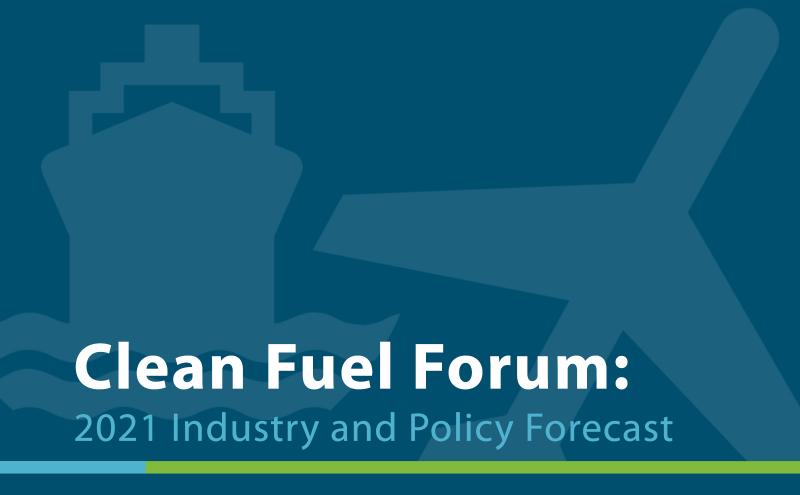 The Port of Seattle was joined by industry leaders, state policy makers and researchers from Washington State University on October 22, 2020 for an industry and policy forecast on the future of clean fuels for Washington state. The free, virtual event highlighted industry developments, and heard from the sponsors of a Washington legislative proposal to create a statewide low carbon fuels standard.
The Clean Fuel Forum is where the Port and WSU formally released a new analysis that confirms there is enough available forest residuals and municipal solid waste to produce up to 220-290 million gallons of sustainable aviation fuel (SAF) per year in the Pacific Northwest. That would be enough fuel to exceed the Port of Seattle's goal to offer a 10 percent SAF jet fuel blend at Seattle-Tacoma International Airport (SEA) by 2028. Offering a 10 percent SAF blend would help the airport, Washington state, and aviation industry meet emissions goals. Learn more on this exciting news.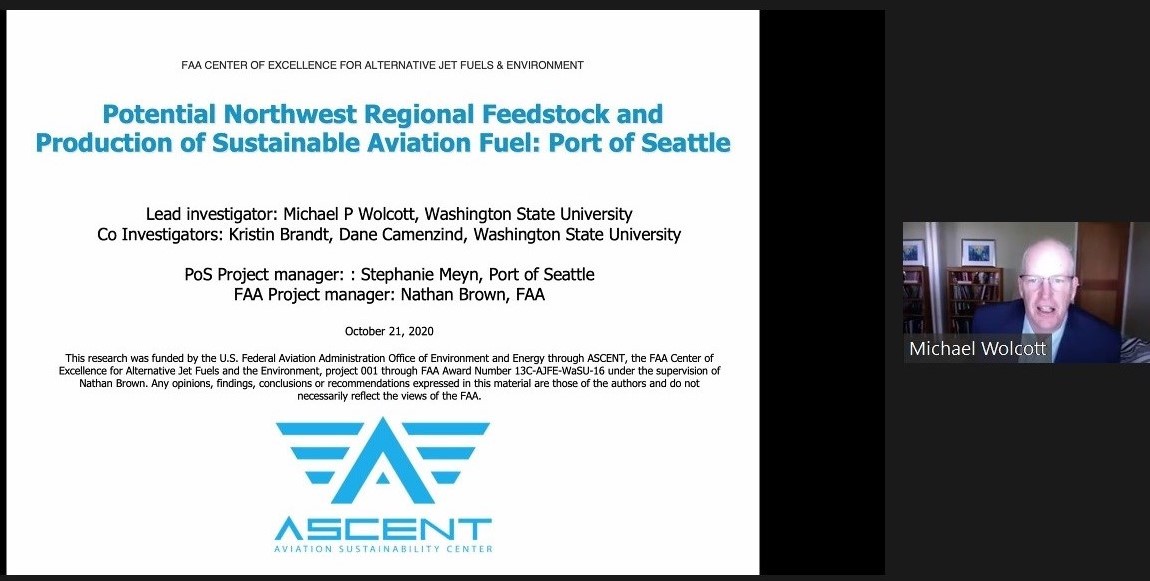 Clean Fuels Forum featured speakers 
Washington Commissioner of Public Lands Hilary Franz 
Washington State Senator Rebecca Saldaña 
Washington State Senator Liz Lovelett 
Washington State Representative Joe Fitzgibbon
Port of Seattle Commissioner Fred Felleman (read his remarks)
Port of Seattle Commissioner Ryan Calkins (read his remarks)
Sierra Club President Ramόn Cruz
ASCENT the FAA Center of Excellence for Alternative Jet Fuels and Environment & Washington State University Regents Professor and Director Dr. Michael Wolcott
Industry representatives from Microsoft, National Biodiesel Board, Clean Fuels Washington, Fulcrum BioEnergy, and Gladstein Neandross & Associates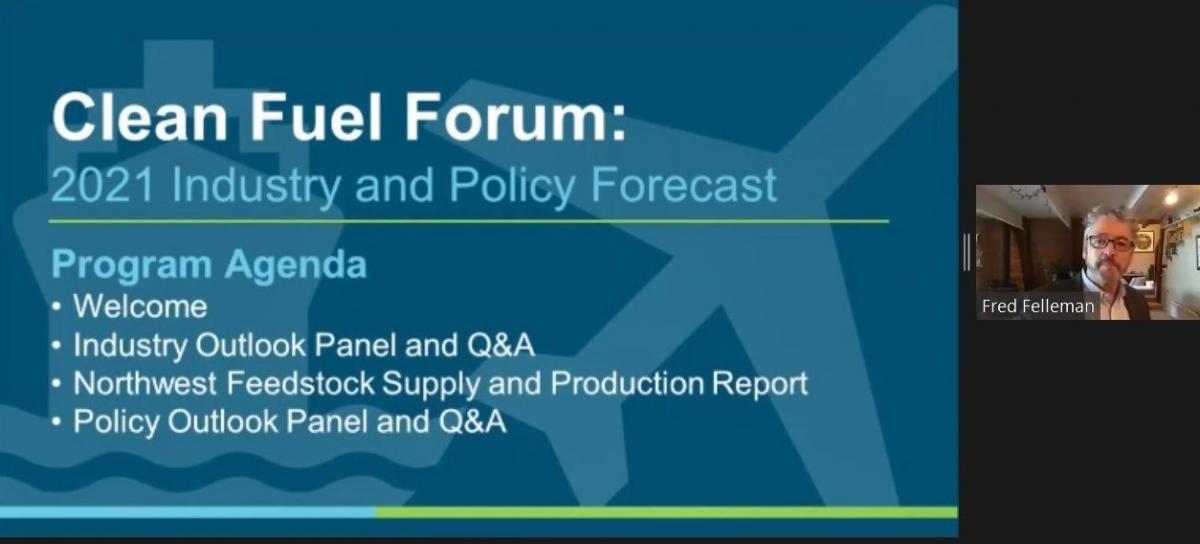 Resources
Audience Q&A
The Clean Fuels Forum included Q&A sessions with the speakers and the audience. There were questions we ran out of time on during the virtual event, but we wanted to address them after the fact. Panelists provided responses for the questions that were submitted via chat, but were unable to be live answered due to time constraints.
For Commissioner Franz: What methods and actions is your agency implementing to include the desires, concerns and issues of the diverse communities that are part of the "frontline" communities your reference? Specifically, the Hispanic/Latinx, Indigenous, and low-income households throughout WA State. (Response by Office of Public Lands Commissioner Hilary Franz)
Commissioner Franz is leading the way in utilizing tools such as the Environmental Health Disparities (EHD) mapping tool to guide agency decision-making. The EHD mapping tool highlights where communities across the state face disproportionate burdens such as low socioeconomic status, limited English proficiency, and environmental burdens. Our ability to highlight where these frontline communities are allow us to target resources and programs to areas of most need. For example, we have partnered with the Department of Health and the Department of Commerce to overlay EHD mapping data over DNR-managed state lands and broadband access need data. This GIS-based map shows specific areas around the state that have the greatest need and can help drive the conversation forward about where to target investments, for example, in communication site towers.
We've also been utilizing the EHD mapping tool to look at where investments in our agency's salmon strategy work in the Snohomish Watershed will yield multiple benefits. We are working on finalizing this GIS-based tool in the coming months so that investors, legislators, and other public entities who are interested in salmon recovery efforts can also ensure that their dollars promote job creation, environmental health, and community resilience. 
Additionally, the DNR Urban Forestry Program reformed its community forestry assistance grant program to include a focus on equity, including a requirement that applicants use EHD mapping tool to develop their projects in highly impacted communities. As a result, the Urban Forestry Program has awarded funding to three equity-focused urban forestry projects: one in Tacoma in 2018 and two in Spokane in 2019. In this same timeframe the program has procured roughly $800,000 in additional grant funding from the Forest Service for three urban forestry projects in the Seattle metro region where key project components include emphasis on diversity, equity, and accessibility.  
And, as part of the agency's Wildfire Strategy, we used the EHD map to identify many of Washington's most vulnerable populations who live in areas with high wildland fire risk. Older adults, young children, and those with limited English proficiency can be vulnerable during wildland fires due to potential health impacts (to the old and the young) and language barriers (those with limited English proficiency). Recent research indicates that vulnerability to wildland fire is unequal; census tracts that are majority Black, Hispanic, or Native American have a 50 percent greater vulnerability to wildland fire than other census tracts. Our use of the EHD mapping tool helped us to develop a plan to better protect non-English speaking communities during wildfire response.
How is the maritime industry included in the current thinking about an LCFS in WA State? (Response by Port of Seattle)
Port of Seattle is conducting direct outreach to maritime industry representatives in Washington to understand perspectives on a LCFS. The Port is currently engaging experts at ports throughout California to understand how a LCFS influences maritime industries and the various policy and economic considerations that could emerge in Washington, should our state successfully adopt a similar policy. The Port conducted a significant amount of research on the economic and environmental benefits of a LCFS, using research and real-world examples demonstrated in California and Oregon. See more at our Maritime and LCFS fact sheet. 
How much does biofuel reduce the production of CO2? Is this reduction enough to keep up with the growth rate of aviation, or should the growth of aviation be limited as well? (Response by Port of Seattle)
Sustainable aviation fuels (SAF) reduce lifecycle (feedstock, production, transportation, and "tailpipe" emissions combined) by 50 to 80% compared to conventional fossil-based jet fuel. Based on the International Civil Aviation Organization's projections of future aviation growth, a combination of several strategies is required to address these increased emissions, including aircraft technology improvements like engines and air frames, improvements in air traffic routing and management, along with SAF. A reference guide including those projections and how much SAF is expected to reduce those emissions can be found here.