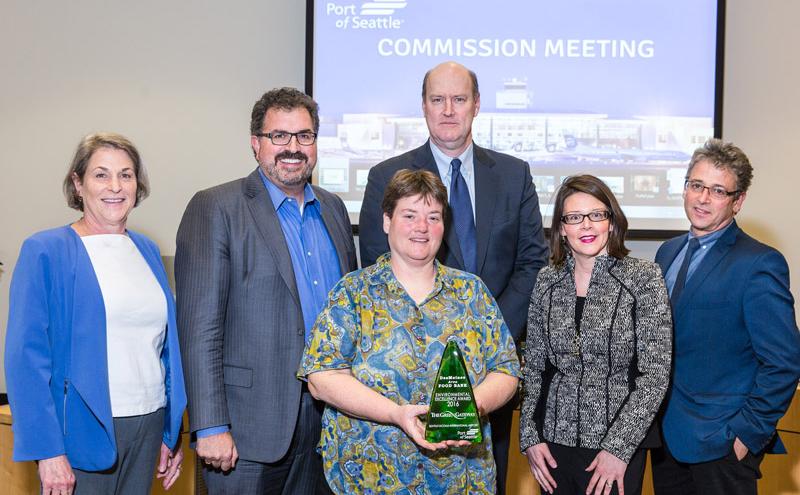 Awards Highlight Port's Commitment to Sustainability
The winners of the 2017 annual Green Gateway Environmental Excellence Awards represent the Port's customers who demonstrate leadership in protecting our natural environment. The awards recognize airport and seaport tenants, airlines, cruise lines, and business partners for the critical role they play in assisting the Port in meeting its environmental goals.
Food donation program serves airport communities while benefiting the environment
Dining and retail operators at Sea-Tac Airport reduce waste by donating leftover food at the end of each day, making significant contributions to the Des Moines Area Food Bank. Sea-Tac's food donation program is celebrating its tenth anniversary this year and the benefits to our airport communities are significant. Watch the video.
Ten leaders in sustainability across the Port of Seattle were recognized for their commitment to energy efficiency.
Sea-Tac Airport Award Winners
Donated 6,670 meals – more than four tons of food - through Sea-Tac Airport's Food Donation Program
Implemented composting and recycling practices for employees, green cleaning practices, and water conservation using low-flow pitcher rinsers and refrigerated thawing of frozen items
Installed approximately 8,000 square feet of auto-tinting and energy efficient window glass in their new SkyClub Lounge, expected to reduce annual energy costs by 7.2 percent, saving 17,000 kilowatt hours
Received and distributed nearly 25 tons of airport food donations within the community (about 800 meals per week over the entire year)
Helped reduce airport solid waste handling costs - $3,400 in landfill disposal fees
Since 2006, the food bank has helped airport businesses donate more than 229,000 pounds of food - 183,000 nutritious, ready-to-eat meals to families in airport communities
Donated 31,038 meals (38,798 pounds of food) through the Airport Food Donation Program
Donated $12,000 and 40 backpacks to support the Des Moines Area Food Bank's Weekend
Recycled 45 tons of glass and 23 tons of cardboard, and kept 7,000 used wooden pallets out of the landfill through a re-use program
Replaced incandescent lights with energy-efficient LED light bulbs and replaced appliances with more efficient equipment
Replaced disposable service ware with compostable and/or recyclable alternatives and disposal towels with linen towels that can be laundered and reused
Generated 238,307 fewer paper "to-go" bags and an equal number of tray liners by choosing reusable liner-less trays over disposable bags for food service delivery
Recycled 30,000 plastic chowder bags by taking time to clean each bag so it could be recycled
Routinely used compost (food waste) and recycling bins to cut restaurant waste in half
Conserved water by thawing frozen products in walk-in coolers rather than running under cool water
Maritime Award Winners
Developed recycling incentive program for all vessels in the fleet
Participated in initiatives such as Coastal Cleanup Day & World Oceans Day
Hosted first-ever shoreside Environmental/Sustainability Fair, demonstrating a commitment to environmental education and outreach
Installed solar panels, integrated into the ship's energy grid
Developed an Environmental Ship Index certification
Assessed new chemicals to be used on board for impact to emissions, waste disposal and water pollution
Plugged in to shore power while at dock to reduce carbon emissions
Used electronic data logging for environmental data on the ship, improving data quality and efficiency
Established a "Doing What's Right" hotline to report environmental violations
Developed a Fuel Team internal website to share energy-saving ideas
Implemented an innovative key card activation system for lights and air conditioning in guest rooms, resulting in significant energy savings
Plugged in to shore power to reduce carbon emissions while at dock
Installed LED lighting to save energy
Introduced a unique shredder that significantly reduces the volume of waste produced
Green Gateway Award 2017 Winners