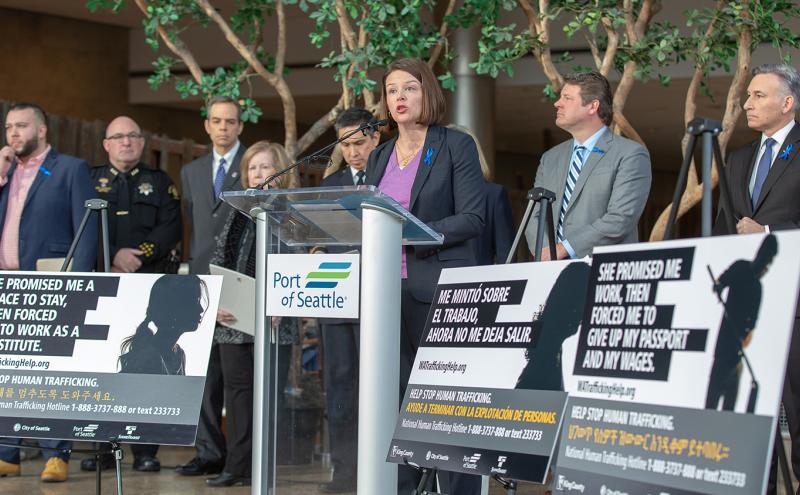 Jan 18, 2019
It all started with one line in a Seattle Times article. 
Buried deep in a disturbing story about a group of tech workers in Bellevue who operated a "tech-savvy prostitution network" was a detail about how these men would "drop off and pick up South Korean women from Seattle-Tacoma International Airport." The recognition that one of the Port of Seattle's facilities was being used for human trafficking inspired us to take our efforts on the issue to the next level. Now, 18 months later, we have positioned our organization and our region as national leaders in combatting this terrible form of modern slavery.
To be clear, the Port of Seattle has been working to fight human trafficking for many years. Past leaders like former Port Commissioner (and now State Legislator) Gael Tarleton (2007-2012) and former Port of Seattle Police Chief Colleen Wilson (2007-2016) were integral to these efforts early on. In January 2018, the Port Commission was proud to pass a motion formalizing a comprehensive, Port-wide strategy to ensure that we were doing everything possible to coordinate across all of our business lines and facilities. From updated internal policies to the development of awareness training for all of our staff, we are doing more than ever to demonstrate our strong belief that trafficking is anathema to our core values, particularly around equity and social justice.
We all must do our part to see an end to human trafficking. We want to leverage our roles as a county-wide government, large employer and manager of significant trade and travel facilities. We want to make sure that places like Sea-Tac Airport, our cruise terminals, and our marinas are not used as transit points for traffickers and their victims. Almost as important, we want the 50 million annual visitors to our facilities to understand more about this issue and what they can do to report suspicious activities.
And today we are announcing a new partnership with the City of Seattle, King County, Sound Transit and a host of other public and private partners to kick off a regional human trafficking awareness campaign. The campaign will consist of posters and ads, which will be placed at Port airport and maritime facilities, in City of Seattle parks and libraries, in King County public health clinics and on Metro buses, and on Sound Transit Link Light Rail trains. We believe that this is the first time in the country that a major city, county, port, and transit agency have all come together to fight human trafficking.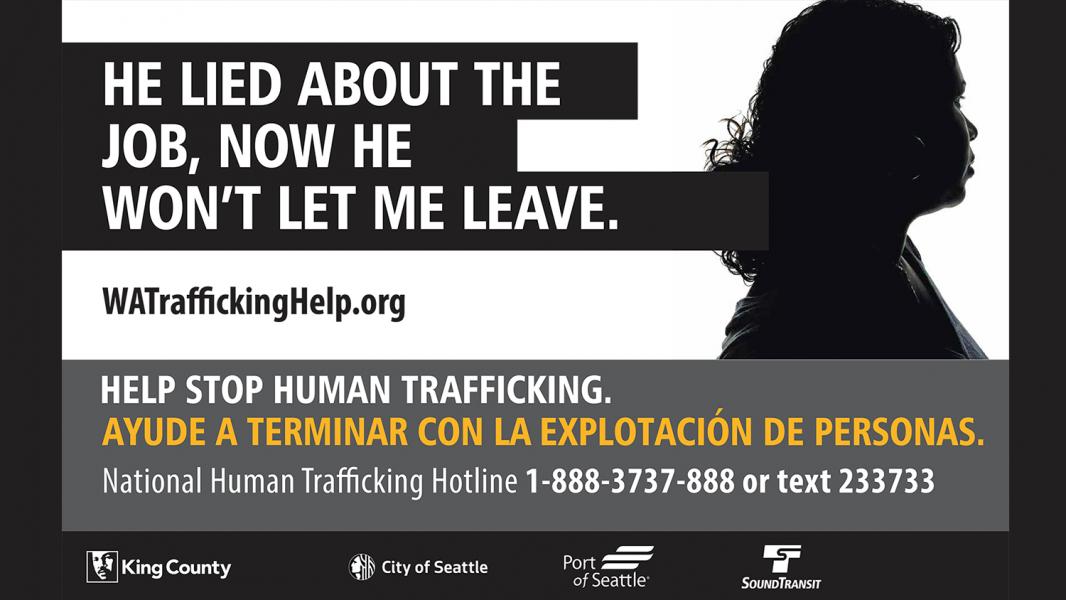 At Sea-Tac alone, if this campaign engages the 47 million annual airport travelers and the 20,000 airport employees, we will be able to identify victims sooner, intervene more quickly and effectively, and begin to reduce both the supply and demand sides of the problem. Add to that the engagement of the other campaign partners, and we have exponentially increased the "eyes and ears" in the community who might be able to see something and say something – saving a life and freeing a survivor.
During National Human Trafficking Awareness Month, we can all do more to stop trafficking. The Port is proud of the progress we've made in implementing our strategy, and the incredible partnerships we've made to amplify our impact. We welcome any other organizations who are interested in joining us. The goal is simple: end human trafficking, here and everywhere.