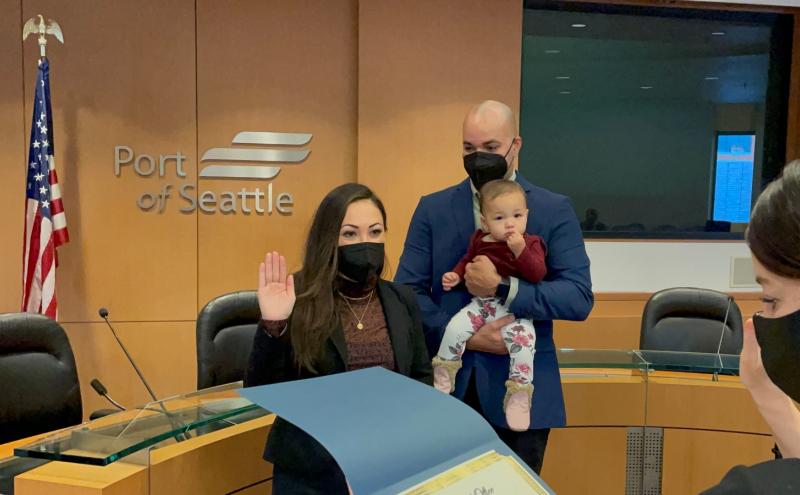 Jan 27, 2022
Photo caption:  Toshiko taking the Oath of Office alongside her husband, Michael Charles, and daughter, Keiko. She was sworn in on December 22, 2021 – Keiko's first birthday.
Welcome to my first-ever blog post as a Port of Seattle Commissioner! It has been a whirlwind since I first took office almost a month ago, as there's been no shortage of trainings, orientations, meet-and-greets, tours and other onboarding.
Because of the ongoing pandemic, we weren't able to celebrate together — but I was able to make remarks at the top of my first ever Port Commission meeting. Please watch my introductory comments below.
We made history with the election of Commissioner Hamdi Mohamed and myself, and for the first time in the Port's 110-year history, the majority of Seattle's Port Commissioners are now people of color. I take to heart that I'm representing the values and priorities of the public as we deliberate policies, programs, and budget.  The Port wasn't the only place to make history; in case you missed it, KIRO 7 did a really nice story on representation of POC in elected office across the region. Watch it here – it begins with a story of what's happening here at the Port!  
As Port Commissioner, I also am a voting member of the Northwest Seaport Alliance (NWSA) — a partnership between the Ports of Seattle and Tacoma that was established to make our region more competitive in the global shipping economy. The ever-uncertain future of Terminal 46 will be decided by this body. For now, I am pleased to share that the Port of Seattle has officially taken cruise off the table.  This is a small, important victory towards ensuring T46 is used for its highest purpose —breakbulk and cargo — and addressing the supply chain issues challenging our country. 
Finally, I wanted to let you know of my committee assignments:
Sustainability, Environment, and Climate
Waterfront and Industrial Lands
Port-wide Art Board
There's much work to accomplish in the next four years of my term, and I look forward to the journey forward, together. I welcome and value your input.
Please reach out to me any time at (206) 787-3034 or Hasegawa.t@portseattle.org.
Also, please subscribe to my newsletter to stay informed of my achievements, challenges, and other updates. 
Thank you for all your support! Okage sama de.