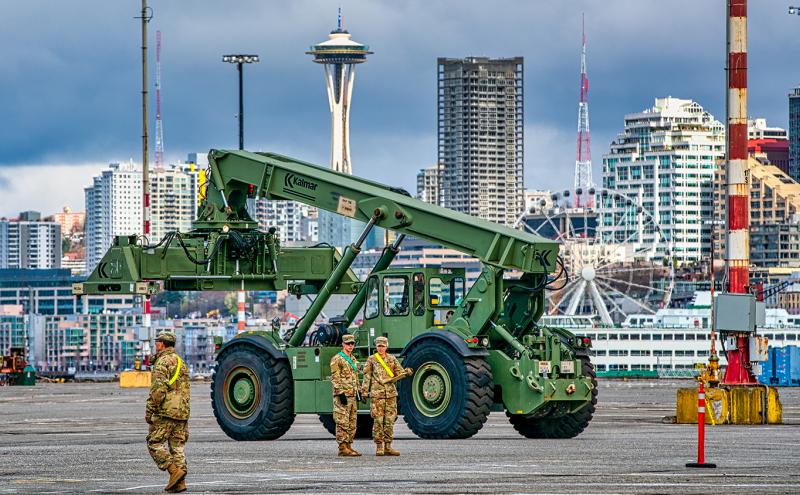 Apr 02, 2020
The impact of the COVID-19 health crisis has affected all of us, in all aspects of our personal and professional lives. In my position as a commissioner for the Port of Seattle, I have witnessed the dedication of my fellow commissioners, our employees and our partners come together to keep critical infrastructure like our region's airport and seaport safe and operational. Maintaining operations would not be possible without the essential staff who keep these facilities running and I am grateful for their public service.
On Monday, I had the opportunity to tour the new army field hospital located at the Century Link Event Center. The facility is expected to open sometime this week and will free up space in Seattle hospitals by providing 148 beds for non-COVID-19 patients. The Port of Seattle, in partnership with the Northwest Seaport Alliance, are providing the field hospital with space at Seattle's Terminal 46 to support the hospital operations. 
On Wednesday, the Port of Seattle Commission held a special meeting to take action on Motion 2020-07, providing immediate relief and support to port employees, tenants, and concessionaires and Motion 2020-06, to provide guidance to staff in prioritizing Port investments to assist local, regional, and statewide economic recovery from the COVID-19 pandemic. The Commission also provided authorization to the executive director to implement immediate airport relief measures to airport tenants and concessionaires that have been significantly impacted by the COVID-19 pandemic.
We are committed to providing an agile response to the needs of the communities we serve as the impacts of COVID-19 continue to develop. As a region and a nation, we have come together to help those most impacted. Our communities on the margins and those who have been historically underrepresented need our support now more than ever. Resources at the city, county, state, and federal level are available. 
As we continue to navigate these difficult times, it is especially important to look ahead and think about life after COVID-19. Because we will get through this, and when we do, we will be that much closer to realizing a maritime and ocean sciences high school that serves our most underrepresented communities. The school concept was developed to specifically serve students of color who make up more than 70 percent of students in the residential areas closest to the region's maritime industries, including the Duwamish Valley. Thanks to the support of Rep. Jesse Johnson, the concept is expected to receive $250,000 of state funding when the final budget is signed by Gov. Inslee. A partnership between the Port of Seattle, the Highline School District, the Duwamish River Clean Up Coalition, TAG, and the Northwest Maritime Center continue to move this initiative forward. Visit www.SeattleMaritime.com to keep up to date on the project. 
Remember, we will get through this.