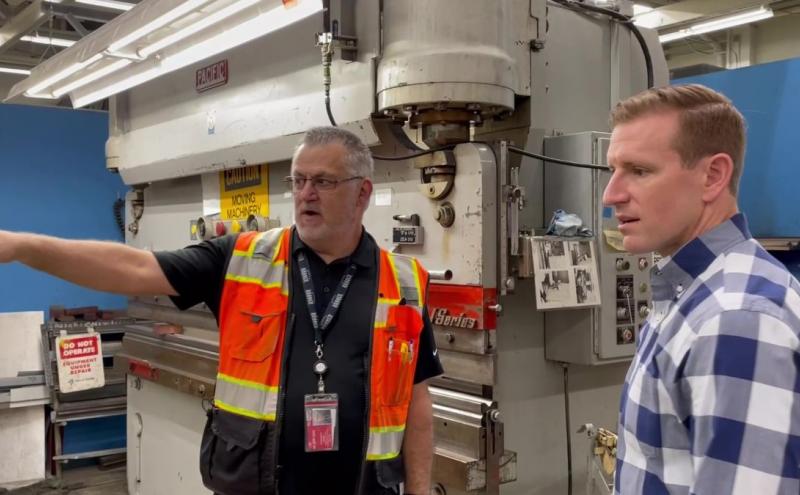 Aug 24, 2021
The Port's properties cover a lot of ground, from Shilshole in North Seattle to south of the airport in SeaTac, and include commercial buildings, storm water facilities, and all types of transportation (rail, road, air, and sea). To keep these facilities running smoothly requires a diverse and highly skilled maintenance team. Last month I toured the Port Marine Maintenance facility to understand their work and to highlight some of these amazing trades jobs. 

At a time when many occupations seem to be in constant flux, the skilled trades like electricians, carpenters, plumbers, and painters are an outlier of stability. Demand for workers in the trades remains strong, and the outlook only gets better over time. I am a strong proponent of trade work and career opportunities in the field. They provide living-wage jobs and paths to stable and lasting careers. However, skill development takes time and major employers like the Port need to invest in the early rungs of the career ladder to ensure that young people from every part of our community have access to these great careers.   
While there are dozens of professionals in the department, I had a chance in late July to meet with three remarkable individuals. You will hear their stories over the next few weeks. These hard workers further reinforced my belief that we need to invest in regional trade workforce development. These skilled workers build, maintain, and restore our important infrastructure behind the scenes so that the Port of Seattle can continue to serve as an economic engine for the region.  
Dan Fitzgerald 
The first person I met with was Dan Fitzgerald, Senior Manager for Port Marine Maintenance.  Here's a quick glimpse of Dan in the shop.
Dan originally started as a plumber and came up through the ranks to become a senior manager. Dan now oversees a crew from 15 different trade unions including auto mechanics, landscapers, plumbers, electricians, HVAC specialists, painters, carpenters, millwrights, sprinkler fitters, sheet metal experts, and sign makers. In his role, Dan is responsible for the health and safety of his crews and maintains the flow of projects each team is working on. In addition to his main work, Dan is also passionate about providing opportunities for his crew members to grow and learn in their respective trade fields, as well as encouraging the next generation of trade workers through internships and educational programs. According to Dan, in the next ten years, half of his trade crew are expected to retire, making the recruitment of new talent into trade work essential.  
Internships and educational programs offer young people insight into what a career in trade might look like, including the benefits of working a trade job. Not only are these jobs currently in high demand, but that demand is also expected to continue to grow over the next several decades as the Baby Boomer generation reaches retirement. Trade jobs provide workers with invaluable and transferable skills that can be applied across worksites and companies and comes with pay and benefits negotiated by the trade unions.  
Want a job in the skilled trades? 
Workforce development 
The Port of Seattle supports job and economic growth throughout the region — not just at SEA Airport — through workforce programs and career advancement policies. The Port is building quality jobs into our expectations for Airport Dining and Retail leases, as well as the promotion of livable wages, health care, and other benefits for those employed by tenants and concessionaires. 
Airport Jobs 
Located in the main terminal of Seattle-Tacoma International (SEA) Airport, Airport Jobs is the primary recruiting tool and the principal resource for people seeking employment there. Port Jobs has helped 91,000 community residents, helping with job placement, career navigation, badging assistance, skills training, continued education, community resources, and more.