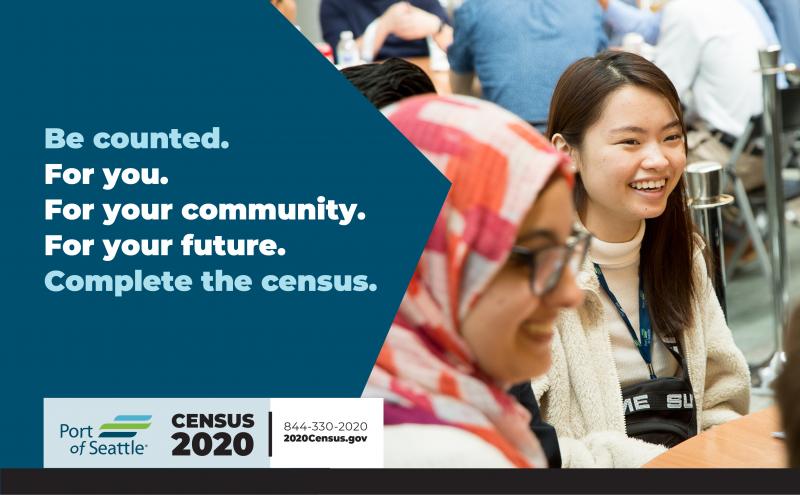 Aug 25, 2020
At the start of each decade we conduct a census to count every person who lives in our country. The results of the census determine how governments allocate resources and determine fair representation, how nonprofits support communities, and how businesses reach new customers and new markets. Over the past 10 years, King County has been one of the fastest growing counties in the United States. As a growing community, it is especially important for us to get a complete count of our residents. An under count would mean fewer resources for our schools, hospitals, mass transit, and infrastructure.
We only get one shot at this, and the deadline of September 30th is rapidly approaching. The good news is completing the census takes just 10 minutes and you can do it online or by phone in more than 59 different languages.
Filling out the census today can determine our community's funding for hospitals, education, social services, public transportation, infrastructure projects, and emergency response. Since the 2010 Census Washington State has received $16.6 billion dollars in federal funding programs. 
Census data also determines our community's representation at a local, state, and federal level through the creation of political districts with roughly equivalent populations. Our national congressional districts, county council districts, and many city council districts are determined by census data. In the last census count, Washington state's population grew 14.1 percent, which resulted in which resulted in the addition of a tenth congressional seat. That new seat in the US House means Washington has one more voice to carry our concerns and needs to DC, but it only happened because of the efforts of census takers to get a complete count. 
A low census count could set us back on funding and representation, and that's a real risk. As of August 10, just 57.3 percent of households in the city of SeaTac have responded to the census, with some cities in King County falling behind. Historically, our immigrant, low-income, and younger communities have the lowest census turnout rates. These are the very communities most in need of the federal services the census helps to allocate. If these communities are under counted, they will receive less representation than others with high levels of participation. Equity is at the core of the Port's mission and we are committed to bringing shared prosperity to our entire region and opportunity for all. To remove barriers to economic justice, environmental justice, and educational justice, we need to make sure marginalized communities have access to resources and services that will help them succeed.
To help remove barriers in these communities, the Port is working with the King County Complete Count Committee to increase outreach efforts. Efforts include providing translated materials to households and identifying trusted community members to educate and assist their neighbors and address any concerns or uncertainty.  
We all pay taxes, whether we are citizens, residents, undocumented migrants or temporary workers. This means everyone should be counted — residents of every ethnicity, regardless of immigration status; children under five; senior citizens; members of the military; college students; and those experiencing homelessness. All of us rely on these resources from the federal government. 
Take 10 minutes to complete the census and be counted — for your family, your neighbors, and your community. Visit 2020Census.gov or call 844-330-2020 by September 30th. And when you're done, encourage your friends and coworkers to fill out the census. 
---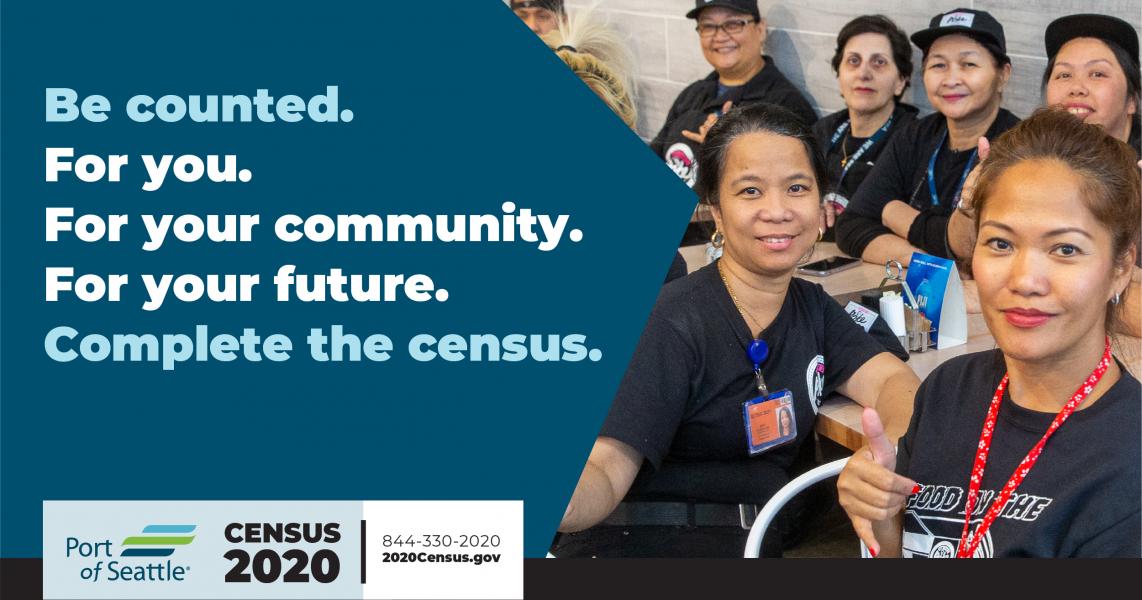 Todos Contamos – Participemos en el Censo 2020
Al inicio de cada década se realiza un censo para contar a todas las personas quienes viven en nuestro país. Los resultados del censo determinan cómo los gobiernos asignan recursos y determinan una representación justa, también cómo organizaciones sin fines de lucro apoyan a las comunidades, y cómo las empresas llegan a nuevos clientes y mercados. Durante los últimos 10 años, el Condado de King ha sido uno de los condados de más rápido crecimiento en los Estados Unidos. Como comunidad en crecimiento, es especialmente importante para nosotros el obtener un conteo completo de nuestros residentes. Un conteo insuficiente significaría menos recursos para nuestras escuelas, hospitales, transporte público e infraestructura. 
Solo tenemos una oportunidad de hacerlo cada diez años, y la fecha límite del 30 de septiembre se acerca rápidamente. Lo bueno es que completar el censo solo toma 10 minutos y usted puede hacerlo en línea o por teléfono en más de 59 idiomas diferentes. 
Completar el censo hoy puede determinar los fondos disponibles en nuestra comunidad para hospitales, educación, servicios sociales, transporte público, proyectos de infraestructura y respuesta a emergencias. Desde el censo de 2010, el estado de Washington ha recibido $ 16.6 mil millones de dólares en programas de financiamiento federal.
Los datos del censo también determinan la representación de nuestra comunidad a nivel local, estatal y federal mediante la creación de distritos políticos con poblaciones aproximadamente equivalentes. Nuestros distritos electorales nacionales, distritos del consejo del condado y muchos distritos del consejo municipal se determinan mediante datos del censo. En el último recuento del censo, la población del estado de Washington creció un 14,1 por ciento, lo que resultó en la adición de un décimo representante para el Congreso. Ese nuevo escaño en la Cámara de Representantes de los Estados Unidos significa que Washington tiene una voz más para llevar nuestras preocupaciones y necesidades a la capital en DC, pero esto solamente sucedió gracias a los esfuerzos de los censistas para obtener un conteo completo.
Un recuento bajo del censo podría hacernos retroceder en el financiamiento y la representación, y eso es un riesgo real. Al 10 de agosto, solo el 57.3 por ciento de los hogares en la ciudad de SeaTac habían respondido al censo, y algunas ciudades del condado de King se están quedando atrás. Históricamente, nuestras comunidades de inmigrantes, de bajos ingresos y más jóvenes tienen las tasas más bajas de participación en el censo. Lamentablemente, estas son las mismas comunidades que más necesitan los servicios federales que el censo ayuda a asignar. Si estas comunidades están subestimadas, entonces recibirán menos representación que otras con más altos niveles de participación. Igualdad a acceso o equidad es prioridad de la misión del Puerto de Seattle, y estamos comprometidos en crear prosperidad compartida en toda nuestra región y oportunidades para todos. Para eliminar las barreras a la justicia económica, la justicia ambiental y la justicia en educación, debemos asegurarnos de que las comunidades marginadas tengan también acceso a recursos y servicios que les ayudarán a tener éxito. 
Para ayudar a eliminar las barreras en estas comunidades, el Puerto está trabajando con el Comité de Conteo Completo del Condado de King para aumentar los esfuerzos de llevar información a la comunidad. Estos esfuerzos incluyen proporcionar materiales en español a los hogares e identificar miembros de la comunidad de confianza para educar y ayudar a sus vecinos y responder a cualquier pregunta o inquietud. 
Todos pagamos impuestos, ya seamos ciudadanos, residentes, inmigrantes indocumentados o trabajadores temporales. Esto significa que todos debemos ser contados: residentes de todos los grupos étnicos, independientemente de su estatus migratorio; niños menores de cinco años; personas adultas mayores; miembros de las fuerzas armadas; estudiantes universitarios; y aquellos quienes se encuentran sin hogar. Todos contamos con estos recursos del gobierno federal. 
Le pedimos que tome 10 minutos para completar el censo y ser contado, por su familia, por sus vecinos y por su comunidad. Visite 2020Census.gov o llame al 844-330-2020 antes del 30 de septiembre. Y cuando haya terminado, anime a sus amigos y compañeros de trabajo para que también completen el censo.