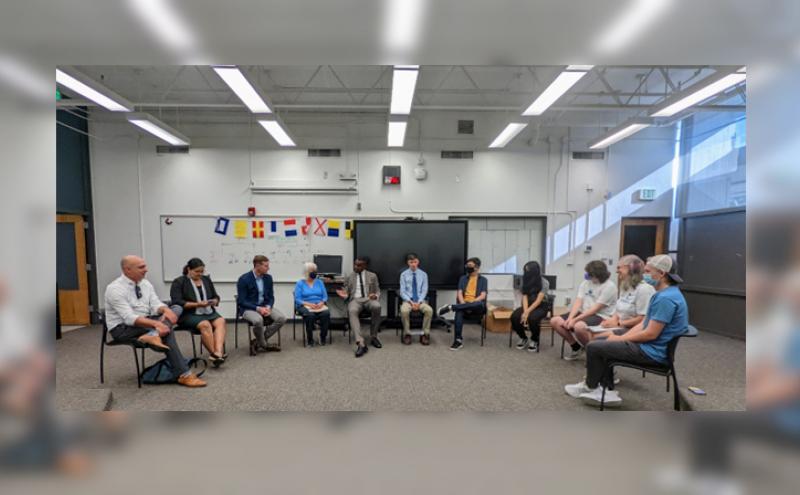 Oct 10, 2022
The school year at Maritime High School (MHS) has started off with a bang. Not only have students at Maritime High School already raised the sails on the Schooner Zodiac, but they have also hosted Senator Patty Murray to demonstrate how MHS continues to redefine what high school can look like.
Learn more about the Schooner Zodiac
Senator Murray has been a longtime ally for schools and educational opportunities for kids across Washington. I and the other founders were thrilled to host her for a student-led tour followed by a roundtable discussion.
Founding Principal Tremain Holloway, Superintendent Dr. Ivan Duran, Duwamish River Community Coalition Executive Director, Paulina Lopez, and Northwest Maritime Center Executive Director, Jake Beattie, were also in attendance. I am always proud to work with such strong leaders and advocates for education. Senator Murray captured my own sentiments when she said, "When we invest in our schools and students, we invest in our future — and programs like the ones here at Maritime High School play a really huge part in making that a reality."
Learn more about the Duwamish River Community Coalition
Over the summer, the student-built canoes were used during the annual Duwamish River Festival. This connection between the high school, the Duwamish River, and the surrounding community underscores the vision for a permanent school location along the river and the power of real hands on, project-based, community-connected learning.
With strong support from leaders like Senator Murray and the community, and most importantly, enthusiasm and effort from students and teachers, MHS looks forward to another exciting year and much more to follow.
Subscribe to receive email updates from Commissioner Calkins