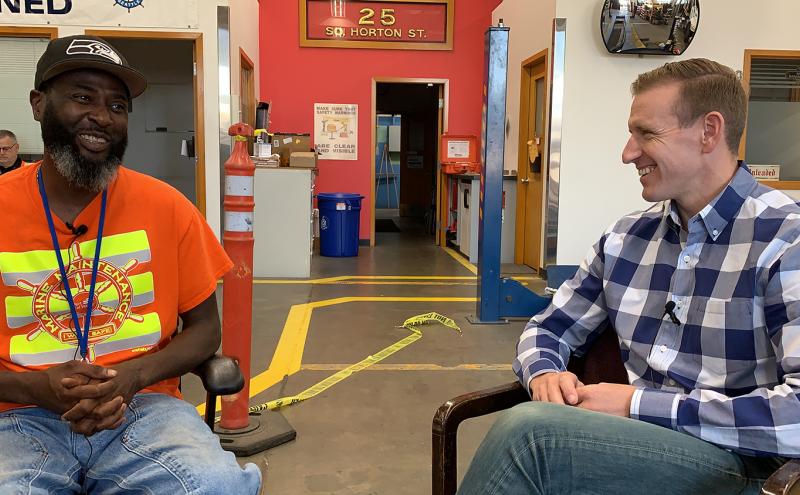 Sep 07, 2021
The Port's team of skilled trade workers keeps facilities and equipment in top shape and running smoothly. These skilled workers build, maintain, and restore our essential infrastructure behind the scenes so that the Port of Seattle can continue to serve as an economic engine for the region.
At a time when many occupations seem to be in constant flux, skilled trade professionals like electricians, carpenters, plumbers, and painters are in high demand and the outlook only gets better over time. These jobs provide living wages and paths to stable and lasting careers.
In this series, I'm talking to skilled trades workers at the Port of Seattle about their jobs.
Over the last few weeks, I have met just a few members of the Port's Marine Maintenance team – Dan Fitzgerald and DJ Lewis.
Last but not least, I met with George Washington, Sprinkler Fitter Crew Chief, who's worked at the Port for the past 18 years.
Commissioner Ryan Calkins: Tell me a little about yourself.
GW: My name is George Washington. I am the Sprinkler Fitter Crew Chief. I've been in the trades for 28 years and 18 years at the Port of Seattle. I am originally from Arkansas City, Arkansas.
RC: When did you come out to Seattle?
GW: In 1989 – I joined the Military and was stationed out here for three years and I have been here ever since.
RC: So, you were based in Bremerton and fell in love with the area or the state, or did you meet somebody out here?
GW: I met my wife out here, and my kid was born on the day I got out of the Military.
RC: So, one kid?
GW: Yeah one kid, well, three now. But she was my first. She'll be twenty-nine, and then I have a twenty-six-year-old and an eighteen-year-old.
RC: So, they are responsible for themselves now. Are they all local?
GW: Yeah, they are all local except my oldest one moved to Los Angeles
RC: So, what's the union you are in?
GW: I'm in Local 699, Sprinkler Fitters.
RC: Tell us about how you got into trade work. How did you first hear about sprinkler fitters?
GW: Well, I was having a discussion with my in-laws and they asked me what I did in the military, and I told them that I took care of fire systems and things like that. And they said I should talk to the sprinkler fitters, so I did and got hired.
RC: So, as a sprinkler fitter do you start as an apprentice?
GW: Yeah, I did my five-year apprenticeship program and it's a pretty good deal.
RC: As a member of a union, working in one of these trades you get a pension and healthcare and all that kind of stuff negotiated by the union.
GW: Yeah.
RC: When do you anticipate retiring?
GW: In another 12 years, I want to make it 40.
RC: If you hit a certain year, does that mean you'll get some sort of extra benefit?
GW: No, I mean we can retire at sixty-two, so that's eleven years from now for me. I think I might just go ahead and do twelve. I want to make it an even number.
RC: What's your normal schedule?
GW: My schedule is from 6:00 a.m. to 2:30 p.m. I commute from Fife, so I drive in and park here. Monday through Friday.
RC: So tell me what a day in the life of a sprinkler fitter is like for the Port of Seattle.
GW: We take care of and maintain all the fire systems from the marina docks to the buildings, warehouses. We take care of all aspects of fire: fire hydrants, underground water mains that supply the systems we also take care of the fires. We take care of all the fire extinguishers, we're licensed and certified to take care of those. We take care of backflows, which are their own entity, backflow preventers, we take care of all of it.
RC: So, you guys come in on any given day and might take a vehicle out to one of the Port properties to make sure all the systems are functional. If there's an incident where somebody hits a sprinkler head, you guys go out and fix it. How many are on your team?
GW: Yes, there are four of us, including myself.
RC: And you cover all of the marine properties for the Port of Seattle. Do you do the airport?
GW: We do – we'll assist them if it's something large and they need some assistance, we go out there and help. We have a hydrant project out there that we're taking care of right now and they want us to help because we specialize in hydrants.
RC: Okay – so you have three kids. Did any of them choose to go into the trades?
GW: I'm hoping so. I'm hoping my youngest will make his way over here.
RC: What is it about the trades that you think would be good for him?
GW: It's a good field to be in. It's a good life to have. To provide for a family, it's a really good deal. I don't regret it at all. I'm glad I chose this route, and I had opportunities to try others, but I took this route and sprinkler fitting is a good trade to be in. And I'm hoping my kid decides he wants to go into this himself.
RC: Anything else you think would be important for the Commissioners to know?
GW: This job is all about safety. What we do, we deal with the fire department and they are our authority and have jurisdiction. For us, it's a job that we take very seriously because we take care of lives and properties. So it's a big deal to us and to me for sure.
RC: Any plans to leave the port or do we get to keep you for your last 12 years?
GW: Oh, I am here. I am here until it's over with — that's my plan. Here at the Port, the Port makes it really easy to be a sprinkler fitter. It's not as body intensive as some of what we call the big jobs construction sites. That's why I want to continue being here in my career.
RC: George, it was really nice to meet you. Thank you for taking to the time to have a conversation with me.