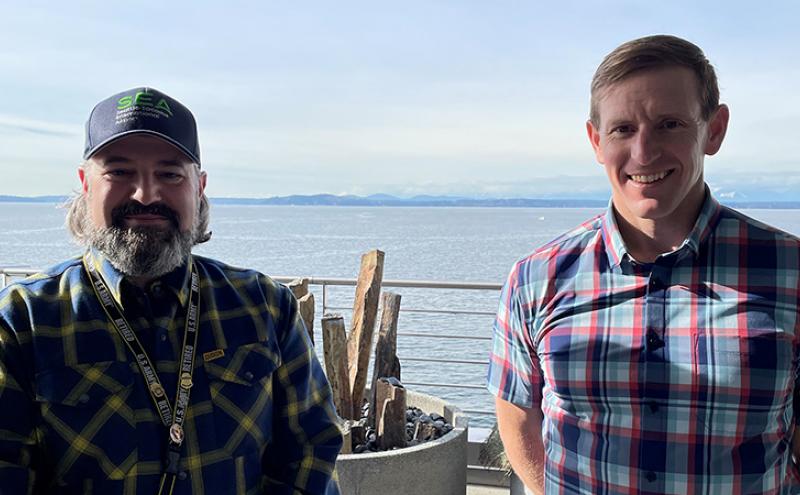 Nov 10, 2021
I would like to thank our veterans for their many sacrifices for our country, as we observe Veterans Day. We honor the many men and women who served to protect our country in the past and now. It is thanks to their services that we can enjoy peace and security at home. 
As a Port of Seattle Commissioner, it is tremendous to work for an organization that values veterans. The Port has a significant number of veteran staff and continues to actively recruit veterans. One of the ways the Port actively recruits for and helps recently separated veterans transition to the civilian job market is through the Veteran Fellowship Program. This six-month paid fellowship program helps veteran fellows gain meaningful work experience and to discover their civilian career goals. 
One exemplary example of that program is Chad Aldridge, a former Port of Seattle Veterans Fellow and a current Port employee. I met with him recently to learn about his experience with the Veterans Fellowship program and his experience transitioning to the Port of Seattle for his civilian career.
We are here at Pier 69 and I will be conversing with Chad Aldridge. When I first joined the Commission, I had an opportunity to meet Chad because of the amazing work he was doing on human trafficking at the Port. We will get to that in a minute. First, I want to start off by getting to know Chad.
Commissioner Ryan Calkins: What is your job at the Port and how did you end up at the Port of Seattle?
Chad Aldridge: My current job at the Port of Seattle is "Operational Readiness Activation and Transition Manager at SEA." I started here at the Port in Government Relations as a Policy and Outreach Manager with Eric Schinfeld in the External Relations Department. I came on board to implement the Port's anti-human trafficking strategy in June 2018 and been here ever since. 
RC: What particular program brought you to the Port of Seattle? It doesn't sound like you grew up in Seattle.
CA: I grew up in eastern North Carolina, then all over the country. After 27 years in the military and all over the world, I started [at the Port] because I was selected as a Veterans Fellow by the Port of Seattle, which kicked off my second career after the army.
RC: You spent a career in the army, you retired from the army, you hear about this Veterans Fellow program [at the Port], tell us a little about the Veterans Fellow program. 
CA: The Veterans Fellow program is a great program. It helps veterans transition from the military, whether they spent a career in military service or they did an initial term of 4, 5, or 6 years. It really helps an individual transition from that military culture ( which is very unique) back to the civilian world. Prior to the pandemic, they [Port of Seattle] were running two cohorts: one from May to fall time frame and [the second] fall cohort from November to springtime. I was selected in the summer cohort program in June 2018. I started two weeks after I separated from the service. 
RC: Port of Seattle being able to hire veterans is a key goal. Not only because we want to honor the service veterans gave to our country but because we know that veterans working here are professional, they know how to work in a large organization, and they bring perspectives that are valuable. We are also lucky that our [Port of Seattle] Executive Director is a veteran as well, from the Coast Guard. So, there may be similarities between our organizations and differences.
From your perspective and experience in the Army, do you notice anything distinct about the Port of Seattle?
CA: They are very similar. When you get to the airport, it's even more similar because the airport operations, where I currently work and work through, is very much based on military processes. The organization, as a whole, the way it operates with a chain of command with mission statement and goals of the organization. Also, definitely with my senior manager, he gives me my task, my expectations, my end goals and he would say 'do what you can.' For me, I got my mission, my direction and my manager wants me to make it happen.
Some differences between the Port and the military? In a civilian organization, sometimes you have to get buy-in from the public on projects. Also, the speed of the military, in certain circumstances, acts and moves in an expeditious manner. In a civilian organization, in a special purpose county government, sometimes it is a bit slower moving through the bureaucracy of the governmental organization. In the military, we have the task and purpose, and our charge is to make it happen.
RC: During your time at the Port of Seattle, is there a particular project you are especially proud of that you were part of? 
CA: Yes, being charged with implementing the Port's anti-human trafficking strategy was very important. My job in the military was as a criminal investigator, a Special Agent with the Army Criminal Investigation Division. Working with victims of violent crimes, sexual assault, or human trafficking, and helping them find the services they need to recover or to overcome that trauma, has always been who I was. Helping others that need help. So, the [Port] anti-human trafficking strategy gave me a continued purpose, to take the motion that the Commission passed and to turn it into doable items, to make a difference, and to put the Port front and center in making that effort for social change. Also, getting appointed to the U.S. DOT [Department of Transportation] sub-committee for protocols and policy and representing the Port's interest and talking about our lessons learned.
RC: You had a chance to go out to D.C., right? Tell me about that experience.
CA: Working with the U.S. DOT advisory committee and being on that sub-committee was a very cool experience. Working with other professionals in transportation from around the country, from law enforcement to non-profits, and coming together and putting together reasonable asks to U.S. DOT, with their policies to help every mode of transportation, to develop an anti-human trafficking strategy – to train their employees on what it looks like, what do you do when you come across it, stuff like that. It was a great experience in working with those professionals in the transportation industry.
RC: Because the Port of Seattle is on the leading edge of so many initiatives, in fighting human trafficking, workforce development, and environmental initiatives, we are often called to support other ports interested in those same kinds of things. Instead of reinventing the wheel, they bring us out to help advise on their strategies or ask us to serve on a conference panel to share how we advance these efforts – and share our pitfalls and our successes. So, I especially love it when our staff gets to be experts in those areas and is asked to share.
What advice would you give to someone who is currently in active duty and thinking about transitioning [to civilian life]?  Would you advise them to take an opportunity like this? 
CA: Absolutely. Luckily, I get to assist HR (human resources) on occasion, to determine the different positions at the Port or recommendations, the different levels of veteran rank, and the type of career fields that we [Port] are looking for with particular [Veteran] Fellowship positions. It really helps bridge the gap.

The people that work in the Port of Seattle, the employees, the teammates as I call them, they are really awesome. The majority of them absolutely bend over backwards to help a veteran understand that transition, from coaching/teaching for interview processes, how a civilian organization, like this, operates, and the different intricacies of a special purpose county government here in the state of Washington. They really help you understand what it is to go from highly regimented and a strict organizational lifestyle to where 'you have some gray areas', 'you have some ebbs and flows', and then what do you do when you get your task accomplished.

In the military, most times when you get your work done, the leadership sends you home. They are not going to keep soldiers around because we spend enough time overseas, working 24/7. Here [at the Port of Seattle], if I finish my task, I think about what can I do to help others? Reaching out to my teammates and getting involved in the tasks that they are working on to help the organization move forward. I would absolutely encourage any veteran to seek out that opportunity.  
RC: So, as we wrap up let me ask you, you have this big thing coming up with the ORAT [Operational Readiness Activation and Transition] team. Can you tell me what we can expect over the next few months with the opening of the IAF [International Arrivals Facility]?
CA: The ORAT team, we opened the North Satellite. That came to a head and we activated it and turned it on for live activation. Since then, we have shifted our focus to the new International Arrival Facility. When the project team gets their temporary certificate of occupancy, that's when we kick off all of our activation.

The biggest piece for the ORAT team is we take all front-line employees that work in a new facility like this and we make sure that they are trained, familiarized, and understand the new changes in condition from the old inspection area to the new because we're going from 85,000 square feet to 455,000 square feet. So, we take everybody and make sure they are ready to go.

We will do a 60-day activation period. From there we will do a significant passenger flow simulation, taking volunteers that are not familiar with international travel; we will get them in and we will get them into our gate pods, one of our four gate pods, we will give them a script and tell them to act as a passenger – to look for various amenities – and to keep tabs on what they think are good, bad, or indifferent; what works great, or what we need to improve before we get to a live opening.
RC: Can anybody provide feedback? Will it be advertised?
CA: Yes, we are working with External Relations to advertise [the opening] to seek public feedback. The public's feedback, similar to the simulations, will help us reflect and make changes that are necessary. To make sure once we hit the soft opening and the hard live opening, our international passengers coming through will have a smooth passenger journey experience once they get to SEA [airport]. We want to give them the five-star customer service that they are looking for.
RC: I can imagine someone moving into a new apartment or a new home; there is that adjustment period where the wrinkles need to be worked out. So, this ORAT period gives us [the Port] an opportunity to get a sense of how passengers flow before going live on the first day. For the International Arrivals Facility where there are layers of security, layers of life safety systems that need to be tested, it's gotta be extremely complex.
CA: It is, but there's nothing the team and SEA can't handle. We are all excited. This is many many years in the making, and we are ready to go.
RC: Chad, thank you for your time. It was great learning about your experience at the Port and we are lucky to have you here at the Port.