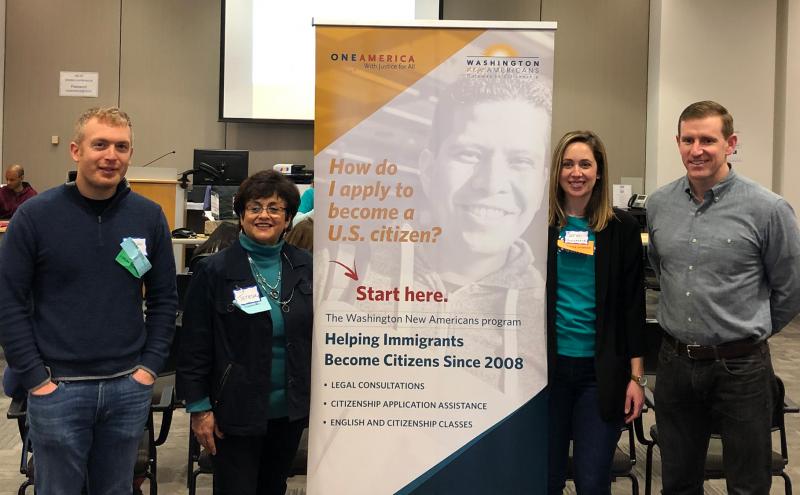 Feb 11, 2019
Pritam Das is, in many ways, a typical Northwesterner. He works in tech, balancing work demands with time for family and friends, and enjoys the extraordinary natural setting of our corner of the world. He's also typical in another way. Like tens of thousands of others in our region, he immigrated to the United States in pursuit of economic opportunity. Pritam first came to study, eventually earning his master's degree, and then landed a job with a local company that saw his talent. After more than a decade, Pritam and his wife have decided that the United States is home.
I met Pritam at a citizenship workshop we hosted at Sea-Tac Airport as he worked with one of the dozens of expert volunteers helping legal permanent residents apply for citizenship. The process is challenging, expensive, and requires legal support. Attorneys and paralegals volunteered a full day of work on a recent Saturday and completed 24 naturalization applications. Along with Pritam, 37 residents of King, Kitsap, and Pierce county from 18 countries participated.
The event is part of our continued partnership with OneAmerica and the New Americans campaign to create a welcoming airport and to protect the rights and quality of life of immigrants, refugees, and foreign visitors. In the airport, signs and monitors provide information in English and Spanish about citizenship clinics and other welcoming port programs as a part of our public awareness campaign that launched in September 2018.
In May of 2018, the Commission passed a welcoming port resolution, committing the Port of Seattle to certain standards. We will not:
deny anyone services based on immigration status;
ask about or collect information on citizenship or immigration status; or,
use Port resources to facilitate the enforcement of civil immigration law.
To further this goal, the Port will:
strive to make all visitors to its facilities feel welcome, safe, and able to access services, benefits, and opportunities; 
engage and collaborate with local immigrant and refugee community stakeholders and advocates and with community-based organizations and to continue identifying new; or,
expanded opportunities for effective partnerships.
At the Port of Seattle, we recognize that immigrants and international visitors are key to our economic success. At a time when nativism has become an unfortunate part of our culture and politics, it is our responsibility to take steps to counter that xenophobia. The Port of Seattle is the front door to the world for our region, and we are committed to ensuring that it remains open to immigrants, refugees, and foreign visitors.