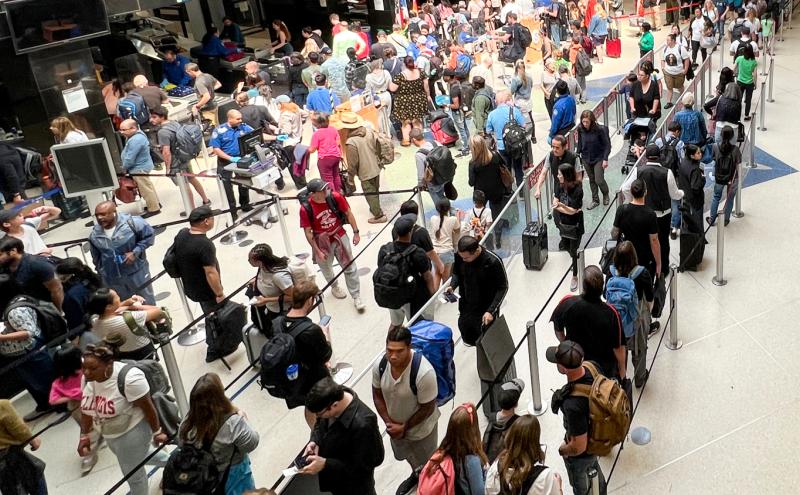 Plan ahead, try something new, and be flexible
November 10, 2023
Seattle-Tacoma International Airport (SEA) anticipates this year could be one of the busiest Thanksgiving travel periods in the airport's history, with total passengers through the airport expected to be at or slightly above 2019 and 11 percent above 2022 levels.
Travelers will notice more construction as well. The airport's Upgrade SEA program is currently underway with improvement projects from curb to gate. Construction of a new ticketing area and a new security screening checkpoint has spillover impacts in ticketing and baggage claim across the airport.
Enjoy a lower-stress, more predictable trip by trying new technology like Spot Saver and being flexible if you see construction.
SEA continues to add new services to make travel more accessible and improve the travel experience beyond Americans with Disabilities Act requirements. Check out our SEA Social Story, developed for travelers with sensory sensitivities such as autism but also great for kids. The interactive map on the flySEA app offers accessible route directions.
The top tip is always to arrive at the airport at least two hours before your boarding time for a domestic flight and three hours before an international flight. Add extra time if you need to park or check luggage.
By the numbers
Volume forecasts indicate the busiest Thanksgiving travel days at SEA will be Wednesday, November 22; Sunday, November 26; and Monday, November 27.
November 22: 156,000 travelers departing, arriving, and connecting
November 26: 158,000 travelers departing, arriving, and connecting
November 27: 148,000 travelers departing, arriving, and connecting
Heads up to early birds and night owls: More than one-third of SEA's daily passenger volume arrives at the airport before 9:00 a.m., causing busy conditions at TSA security checkpoints and on the drives. Two more peak periods occur at 2:00-5:00 p.m. and 9:00-11:00 p.m.
Tips for less-stressful holiday travel
Avoid the most common holiday travel bummers
Stay safe on SEA escalators. An average of one person falls on an escalator each day at SEA, and one to two people per week need to seek medical assistance. SEA operates almost 100 escalators, the most of any facility in Washington. Watch a video from the SEA Safety Squad for tips on how to keep you and everyone traveling with you safe.
Lock your car and don't leave valuables in sight. Keep your luggage and belongings close at all times. Go straight to baggage claim after your arrival and call 911 if you see any suspicious activity.
Do not park on the shoulder of the airport drives. Drivers waiting to pick up arriving airline passengers should park temporarily in SEA's reconfigured cell phone lot. Shoulder parking, even briefly, is dangerous and illegal; violators will be cited. Port of Seattle Police are working with the Washington State Patrol on emphasis patrols during holiday periods.
Properly check firearms or leave them at home. TSA regulations state that travelers may only transport ammunition and unloaded firearms in a locked, hard-sided container as checked baggage. Check your baggage before leaving home to ensure you are not traveling with firearms, firearm parts, and/or ammunition.
Check out more SEA Airport travel tips.  
Contact
Perry Cooper | SEA Airport
(206) 787-4923 | cooper.p@portseattle.org