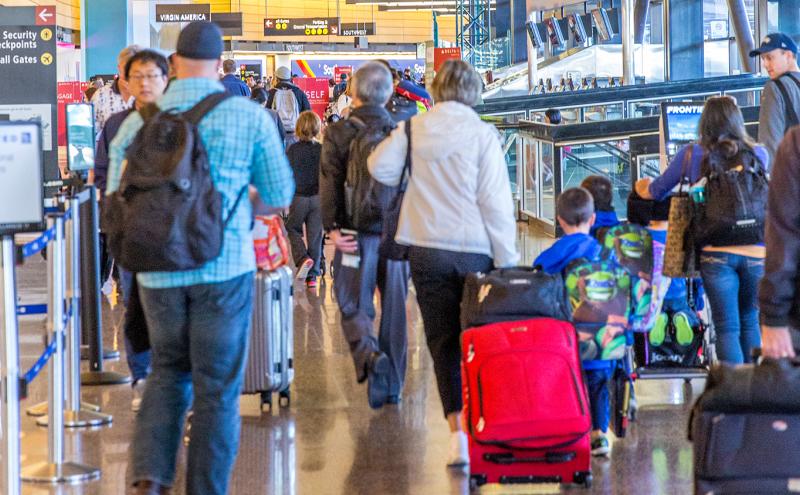 Nearly half a million travelers will head out Wednesday through Friday
May 21, 2019
It's that time of year again, and you won't be alone if you're traveling through Seattle-Tacoma International Airport. Nearly half a million passengers will be going through Sea-Tac just in the three days ahead of the Memorial Day holiday weekend. With that in mind, the Port of Seattle encourages travelers to think ahead and offers up several hints and tips to make your travel more efficient:
Plan ahead and get here early – two hours ahead of time for a domestic flight and three hours for an international flight;
Avoid driving if you can – use light rail, public transit, taxis, airport shuttle or ride-share vehicles and Think Opposite;
Limit carry-on food items for faster screening – large food items could trigger additional screening. In addition, security checkpoint wait times are unpredictable, plan to arrive early in case of long lines.
With more than $3 billion in capital development underway, passengers will continue seeing something new at Sea-Tac Airport every 90 days. In just the last five months alone, Sea-Tac Airport opened 15 new restaurants. Major ongoing projects that make travel more efficient, expand passenger space, and offer new amenities include the North Satellite Modernization, International Arrivals Facility, Central Terminal Renovation Project, and, the Baggage System Upgrade.
The Port of Seattle and FAA are also conducting an environmental review of more than 30 Sustainable Airport Master Plan (SAMP) Near-Term Projects that will improve efficiency, safety, access to the airport. Highlights include a new terminal with 19 gates, and an automated people mover with three stations to connect the rental car facility, new terminal, and main terminal. Near-Term Projects will be complete or under construction by 2027.
See below for more details on tips to make your travel as efficient as possible.
Tech options
Use the apps! Check out the new Sea-Tac Airport App to watch security checkpoint wait times, search for your flight, find yourself on the terminal map, and search for restaurants, lounges, the meditation room or your favorite retail store. The app is currently available on iPhones and Android. Also, use multiple other apps to help you navigate and enjoy the airport.
Sign up for text alerts. Get text updates about what's happening at the airport by texting "Update" to (206) 347-8045.
Sign up for Trusted Traveler Programs such as TSA PreCheck, Global Entry, and CLEAR to get you through the lines faster. These expedited security programs help for both domestic and international travel, including a faster way through customs with Automated Passport Control and Mobile Passport Control.
Gourmand-on-the-go! Dining options throughout Sea-Tac like Evergreens Salad, QDOBA and Beecher's offer online and mobile ordering. Several of our fast-casual restaurants such as Camden Foods Co., McDonald's and Pei Wei Asian Kitchen offer ordering kiosks for travelers that would like to skip the line. 
Passenger volume forecast
The three days prior to the weekend will be the busiest as travelers are heading out. Here's a list of the busiest days between Wednesday, May 22 and Monday, May 27:
Busiest days: Friday, May 24 (163,000 passengers going through the airport); Thursday, May 23 (161,000); and Wednesday, May 22 (150,000).
Least busy days: Sunday, May 26 (116,000) and Saturday, May 25 (126,000).
Sea-Tac Airport averages 136,000 passengers per day throughout the year with nearly 170,000 during peak summer days.
Getting to the airport
Arrive early! Travelers are encouraged to leave plenty of time to get to the airport, check in for their flight, and clear security. Screening lanes experience unpredictable spikes in congestion. Plan on arriving at the airport at least two hours in advance for a domestic flight, and three hours for international travel. To save time, it's suggested that travelers check in for their flights and print boarding passes prior to arriving at the airport. Some airlines allow passengers to print luggage tags in advance. This saves time at the ticket counter.
Use alternatives for driving to the airport. Take light rail, public transit, taxis, airport shuttles or ride-share vehicles.

Public transportation is by far the best option if you want to stay out of a traffic jam. Use Link Light Rail to travel all the way to the airport or meet your party at one of the nearby stations. Tukwila and Angle Lake stations offer free parking one stop away to avoid airport traffic headaches. There are also electric carts available for those who may need extra help from the station to the airport terminal.

Avoid the Arrivals and Departure drives. If you must drive, peak traffic congestion occurs on the Departure level from approximately 4:30 a.m. to 7:30 a.m. During the middle of the day, from 11:00 a.m. to 2:00 p.m., both Arrivals and Departure drives experience backups. In the evenings, the Arrivals drive experiences heavy traffic from about 8:30 p.m. to 12:30 a.m.
Think opposite. In the morning, drop off passengers on the Arrivals level. In the evenings, arrange to meet your passengers on the Departures level. Going opposite gets you out of the traffic crunch. Another example, many arriving passengers do not check bags and are already on the Departures level when they exit, easy to pick up.
Are you there yet? If you're picking up passengers, make sure they are there before going to the drive. It will take some time for them to walk from the plane or pick up bags.
Be sure to check the City of SeaTac website to see if there are any road construction projects that may hinder your access to the airport.
Ready for security checkpoint
Be ready for security checkpoints. Once travelers get to the airport, Sea-Tac and its partners in the Transportation Security Administration want to help you move through security checkpoints as quickly as possible. Enhanced security measures now in effect at Sea-Tac and airports nationwide require travelers to remove electronics larger than a cell phone from their carryon luggage.
Be thoughtful about food. Sea-Tac recommends that unless you plan on eating food at the airport or on your flight, consider packing your holiday treats in your checked luggage. Keeping food or liquids in your carry-on luggage might have to be screened twice.
What's new at Sea-Tac Airport
Bon appétit! Sea-Tac Airport opened 15 new dining options so far this year! Lucky Louie Fish Shack™, Evergreens Salad, Pallino Pastaria, Pei Wei Asian Kitchen, and Koi Shi Sushi Bento are new quick service eateries in the Central Terminal that are sure to satisfy every palate. Other fresh additions include Caffe D'arte, Bambuza, Vietnam Kitchen, and Skillet that are serving up espresso, Vietnamese cuisine and gourmet comfort foods in the N Gates.
Contact
Perry Cooper | Sea-Tac Airport
(206) 787-4923 | cooper.p@portseattle.org