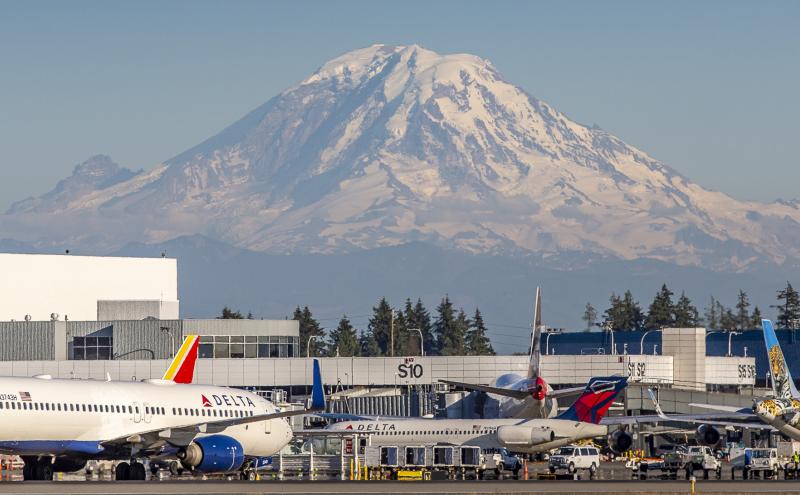 The Port of Seattle and FAA are conducting an environmental review of the SAMP Near-Term Projects.
Visit
www.SAMPNTPenvironmentalreview.org
for ongoing updates on the process. Stay in touch 
by subscribing
to Port of Seattle and Seattle-Tacoma International Airport email updates. This ensures you receive the latest information, events, and initiatives. 
The Central Puget Sound region is expected to grow by another one million people by 2035. The Sustainable Airport Master Plan (SAMP) is the blueprint for changes at Seattle-Tacoma International Airport to meet future demand. 
In addition to considering forecasted passenger and cargo demand, the master plan takes stock of current facilities, infrastructure, and operations—looking at scenarios five, 10 and 20 years in the future. It includes air quality, energy and water conservation, recycling and other strategic environmental goals, and will align with the Port's sustainability and energy efficiency goals.
SAMP focus areas:
Meet forecast passenger demand
Meet forecast cargo demand
Comply with FAA airfield standards/guidance
Improve operational efficiency
Provide additional fuel capacity and meet Port's Sustainable Aviation Biofuel initiative
This Executive Summary summarizes the principal results of the SAMP—the forecasts of aviation activity, facility requirements, alternatives considered, the long-term vision for Airport development, and the projects recommended for implementation in the near term.
Near-term projects
SEA's SAMP plan recommends more than 30 Near-Term Projects that will improve efficiency, safety, access to the airport, and support facilities for airlines and the airport. Highlights include a new terminal with 19 gates, and an automated people mover with three stations to connect the rental car facility, new terminal, and main terminal. Near-Term Projects will accommodate 56 million passengers and meet the forecasted demand to 2032. Near-Term Projects will be complete or under construction by 2032. 
Near-term project highlights
19 additional gates and a second terminal
Cargo facilities
30+ projects to improve safety, provide support facilities, improve efficiency, and access to the airport
Complete or under construction by 2032
Long-term vision
Before recommending additional projects, the Port will participate in a broader regional conversation as well as review results from a new Puget Sound Regional Council regional aviation baseline study and additional SEA airfield and airspace study. Airspace and financial components are tightly constrained and need further review. Long-term vision recommendations would undergo subsequent environmental review. 
Airside, terminal, and landside
With the increasing growth in passengers and flights, SEA is evaluating opportunities and challenges within all three airport operational areas: airfield, terminal and landside (parking and roadways). The SAMP process will culminate in a capital improvement program and a financing plan that will deliver the airfield, terminal and landside projects needed to relieve congestion and provide a high level of service to the airport's customers. 
Sustainability
Sustainability is a core value at SEA Airport and the Port of Seattle. Environmental considerations are part of every decision. From where and what we build to how we operate our facilities. With sustainability as an integral component of the SAMP Near-Term Projects, we want to ensure we minimize impacts to our neighbors, traveling passengers, and business partners.
For example, as part of the SAMP planning process, we developed criteria to screen concepts against our sustainability objectives such as their locations to local wetlands and creeks. We also looked at how approaches could minimize impervious surfaces, which decrease the need for stormwater infrastructure.
We are committed to integrating sustainability into our airport through initiatives as energy and water conservation, the use of advanced technologies, and renewable energy. In addition, sustainable operations are the lasting part of this commitment, and we are dedicated to green transportation and renewable fuel initiatives.
We strive to be one of the greenest and most energy-efficient ports in North America. The purpose of the SAMP Near-Term Projects is to meet future growth in activity, comply with FAA standards, enhance airport efficiency, and meet future demand for fuel realizing that we have a responsibility to minimize our impact on the environment and our surrounding communities.
Community engagement
The public engagement effort aligned with key project milestones and designed to keep the public informed as the SAMP develops. Open houses, public meetings, email newsletters, mailed newsletters, and community presentations make it easy for the public to learn more, provide input, and ask questions.
To keep up to date throughout the environment review of SAMP Near-Term Projects, register here to receive email updates, and click the Sustainable Airport Master Plan (SAMP) box under subscription topics.
In 2020, King County released a report on Community Health and Airport Operations related to Sea-Tac Airport noise and air pollution. The Port asked a consultant to provide a third-party review of the report, a common practice for evaluating technical reports.  In 2021, the Port was asked to release the consultant review.  While the Port released a redacted version of the report in response to that request, the Port reviewed the material again in response to new requests and made it available at the Port's website.
North SeaTac Park
In June 2021, the Port received a petition regarding the North SeaTac Park. The Port made its response publicly available here. Port of Seattle Commission President Fred Felleman shared a statement on July 19, 2021 from the Commission regarding North SeaTac Park.
On August 25, 2021, the Federal Aviation Administration (FAA) released the good news that a project in North SeaTac Park is removed from the SAMP for Seattle-Tacoma International Airport (SEA).
Previously, a proposal known as "L06" in the SAMP recommended a surface parking lot in a southernly portion of the North SeaTac Park. The FAA decided to release the outcome of the conclusion it reached on L06 as part of the ongoing environmental review of the SAMP Near-Term Projects.
We know this proposal is of great interest and likely concern to members of the community. The Port's environmental work screened this proposal out early, even as other analysis is continuing, and this will be welcome news to many concerned residents. Please read this statement for further details.
Environmental review
The purpose of an environmental review is to:
Conduct an objective analysis of potential cumulative environmental impacts according to established procedures
Verify existing conditions and planning forecasts
Identify ways to avoid, minimize, or mitigate impacts
Publically disclose identified environmental impacts
Provide full transparency and engagement in the process
The SAMP environmental review process will include the Near-Term Project improvements, which is being conducted to comply with the State Environmental Policy Act (SEPA) and National Environmental Policy Act (NEPA). The SAMP also includes a Long-Term Vision for SEA, which includes projects that are not ready for environmental review at this time, as they require further study and are not reasonably foreseeable. Before any of the Long-Term Vision projects are implemented, the appropriate environmental review process will be conducted. Learn more about the environmental review of the SAMP Near-Term Projects.
Schedule
The Federal Aviation Administration (FAA) and Port of Seattle (Port) determined that additional time is needed to complete the National Environmental Policy Act (NEPA) analysis for the SAMP NTP Environmental Assessment (EA). Due to delays from COVID-19 and other factors, the proposed opening of the Sustainable Airport Master Plan Near-Term Projects (SAMP NTP) shifted from 2027 to 2032. On November 29, the FAA and Port updated the schedule for the SAMP NTP EA and expect to publish the draft NEPA EA in late 2024.
The Port continues work to complete the environmental review of the SAMP NTP. Once the NEPA environmental review is final, the State Environmental Policy Act (SEPA) environmental review will follow. Commission authorization is required to initiate work on individual projects.
Estimated cost
The SAMP Near-Term Projects environmental review is expected to cost $6.4 million. Funding comes from Airport Development Funds. 
Documentation
Planning Outreach Materials
Planning Technical Memos
Environmental Review Documents