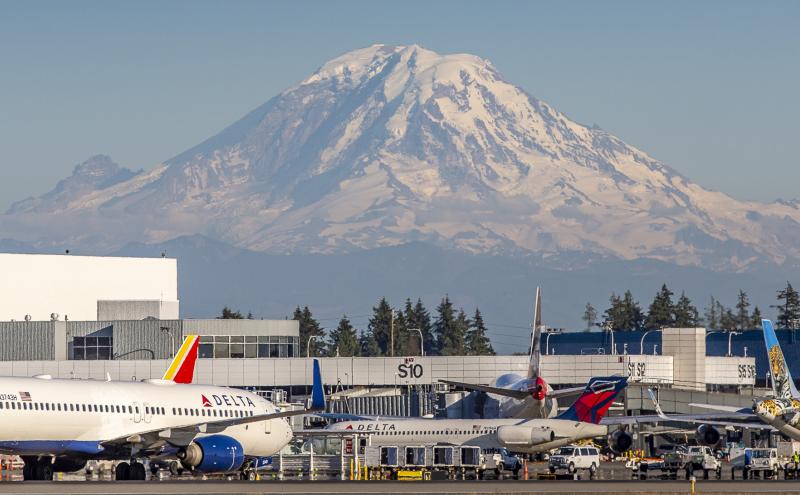 Comment on the Sustainable Airport Master Plan (SAMP)
Environmental Review Online Open House site through Sept. 28, 2018 
The Central Puget Sound region is expected to grow by another one million people by 2035. The Sustainable Airport Master Plan is the blueprint for changes at Sea-Tac Airport to meet future demand. 
In addition to considering forecasted passenger and cargo demand, the master plan takes stock of current facilities, infrastructure, and operations—looking at scenarios five, 10 and 20 years in the future. It includes air quality, energy and water conservation, recycling and other strategic environmental goals, and will align with the Port's sustainability and energy efficiency goals.
SAMP Focus Areas:
Meet forecast passenger demand
Meet forecast cargo demand
Comply with FAA airfield standards/guidance
Improve operational efficiency
Provide additional fuel capacity and meet Port's Sustainable Aviation Biofuel initiative
This Executive Summary summarizes the principal results of the SAMP—the forecasts of aviation activity, facility requirements, alternatives considered, the long-term vision for Airport development, and the projects recommended for implementation in the near term.
Near-Term Projects
Sea-Tac's SAMP plan recommends more than 30 Near-Term Projects that will improve efficiency, safety, access to the airport, and support facilities for airlines and the airport. Highlights include a new terminal with 19 gates, and an automated people mover with three stations to connect the rental car facility, new terminal, and main terminal. Near-Term Projects will accommodate 56 million passengers and meet the forecasted demand to 2027. Near-Term Projects will be complete or under construction by 2027. 
Near-Term Project Highlights
19 additional gates and a second terminal
Cargo facilities
30+ projects to improve safety, provide support facilities, improve efficiency, and access to the airport
Complete or under construction by 2027
Long-Term Vision
Before recommending additional projects, the Port will participate in a broader regional conversation as well as review results from a new Puget Sound Regional Council regional aviation baseline study and additional Sea-Tac airfield and airspace study. Airspace and financial components are tightly constrained and need further review. Long-term vision recommendations would undergo subsequent environmental review. 
Sustainability
Sea-Tac is the first large hub airport in the U.S. to fully incorporate sustainability as a key component of its master planning effort. This includes reducing environmental impacts, ensuring economic performance, and working collaboratively with local communities. As this planning process develops, sustainability criteria will be used to evaluate and develop future alternatives for growth. 
Airside, Terminal, and Landside
With the increasing growth in passengers and flights, Sea-Tac is evaluating opportunities and challenges within all three airport operational areas: airfield, terminal and landside (parking and roadways). The SAMP process will culminate in a capital improvement program and financing plan that will deliver the airfield, terminal and landside projects needed to relieve congestion and provide a high level of service to the airport's customers. 
Community Engagement
The public engagement effort is aligned with key project milestones and designed to keep the public informed as the SAMP develops. Open houses, public meetings, email newsletters, mailed newsletters, and community presentations make it easy for the public to learn more, provide input, and ask questions.
To keep up to date throughout the environment review of SAMP Near-Term Projects, register here to receive email updates, and click the Sustainable Airport Master Plan (SAMP) box under subscription topics.
The first step of the SAMP Near-Term Projects environmental review called "scoping" is underway through September 28. There are several other ways in which you may provide input on the categories that could be addressed during environmental review, including four in-person public scoping open houses. All open houses will occur from 5:30 p.m. to 8:30 p.m.
September 10
Highline College Student Union Building 8 (City of Des Moines)
2400 S 240th St, Des Moines, WA 98198
Attendees may park at Highline College's East, North or South Parking Lot. Port staff will be positioned at each lot's parking pay station to distribute free visitor parking passes to attendees.   
September 12
New Holly Gathering Hall (City of Seattle – Beacon Hill)
7054 32nd Ave S, Seattle, WA 98118
September 17
Federal Way Community Center (City of Federal Way)
876 S 333rd St, Federal Way, WA 98003
September 19
SeaTac Community Center (City of SeaTac)
13735 24th Ave S, SeaTac, WA 98168
Environmental Review
The purpose of an environmental review is to:
Conduct an objective analysis of potential cumulative environmental impacts according to established procedures
Verify existing conditions and planning forecasts
Identify ways to avoid, minimize, or mitigate impacts 
Publically disclose identified environmental impacts
Provide full transparency and engagement in the process
The SAMP environmental review process will include the Near-Term Project improvements, which is being conducted to comply with the State Environmental Policy Act (SEPA) and National Environmental Policy Act (NEPA). The SAMP also includes a Long-Term Vision for Sea-Tac which includes projects that are not ready for environmental review at this time, as they require further study and are not reasonably foreseeable. Before any of the Long-Term Vision projects are implemented, the appropriate environmental review process will be conducted. Learn more about the environmental review of the SAMP Near-Term Projects.  
Major Components and Timeline

Documentation
End of Planning Open House Materials
Planning Technical Memos
Environmental Review Documents