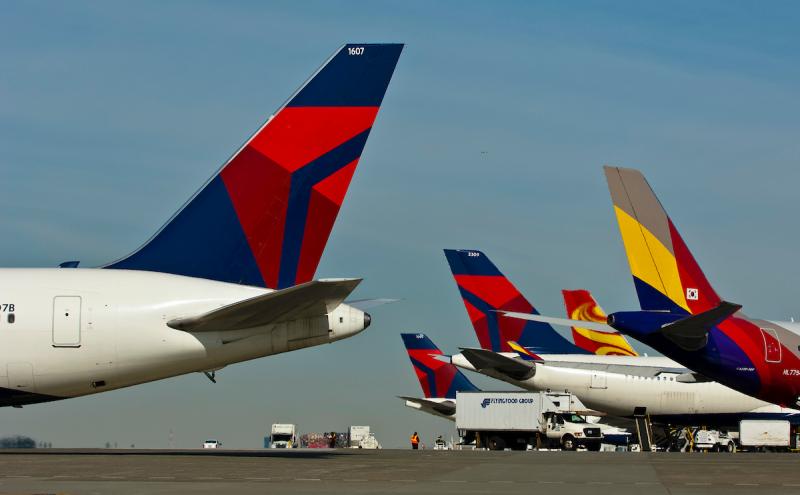 International Traveler Alert
The Federal Inspection Checkpoint at the South Satellite is closed until further notice. All international arriving passengers who are connecting will have to exit, check luggage, and go through screening at the main terminal.
Due to COVID-19, some flights from international and domestic carriers may be impacted. Please
contact your airline
72 hours prior to your scheduled flight to see if there are any cancellations or changes. You can find more information on the
screening process for internationally arriving passengers for COVID-19
. Stay safe!
Changes Due to COVID-19
In response to COVID-19 the international arrivals protocols have changed. The Centers for Disease Control and Prevention (CDC) is conducting enhanced screening on all internationally arriving passengers at Seattle-Tacoma International Airport (SEA). The health and safety of travelers and airport employees is our top priority. In response to COVID-19, we created our Fly Healthy@SEA program in which we have implemented a multi-layered approach to help ensure the well being of everyone traveling through SEA. This also includes changes to airline policies as well as international flight schedules. 
Welcome to Seattle!
We know international travel is filled with adventure and new experiences, but can be tiring and overwhelming. The information below is a step-by-step guide for international passengers clearing customs at SEA and transferring for connecting flights or exiting for Seattle.
All International flights arrive at the South Satellite where all connecting and non-connecting passengers must process through U.S. Customs and Border Protection (CBP) before entering​ the United States of America. This includes an inspection/interview by CBP Officers, claiming all checked luggage, and then either exiting to Seattle or transferring to connecting flights for passengers going to their final destination.
The Puget Sound region is experiencing tremendous growth in recent years, which extends to SEA Airport. SEA's new International Arrivals Facility (IAF) will help enhance the arrivals experience and advance the Pacific Northwest as a leading international business and tourism getaway. The IAF is scheduled to open in 2020, creating a new facility that will support international travel in Seattle area for years to come.
Processing can take 60 minutes or longer during daily peak periods between 10 a.m. to 3 p.m. Pacific DST.
---
Step 1. Passport Control Process
After deplaning and entering the federal arrivals corridor, there may be extended waits during peak periods prior to entering the Passport Control Level. If you need water, to use the restroom or anything else please ask any customer service airport staff assistance. For passengers in wheelchairs who may need extra assistance please contact your airline directly and learn more about accessibility at SEA Airport.
Passengers will exit the arrivals corridor down either an escalator or elevator and find three different processing areas depending on citizenship and purpose for travel.To help speed up the process and be prepared, know which processing area to go to. The processing areas are:
Area 1: Self-Serve Automated Passport Control Kiosks (APCs)
U.S. Citizens
U.S. Lawful Permanent Residents
Canadian Citizens (in Transit)
Area 2:  Passport Control Booth with a CBP Officer
ESTA – First time to the USA or traveling on a New Passport
ESTA  – Returning or have traveled to the USA before (B1 Travel/B2 Business Visas)
Visitors traveling on a U.S. VISA
Booth #30: Passport Control Booth with a CBP Officer
Military personnel traveling with a Military ID and on Orders
International Trusted Traveler Programs: Dedicated kiosks
---
Use the Mobile Passport Control App to Expedite Processing
U.S. citizens and Canadian visitors can download the Mobile Passport Control App (MPC) on Android and iOS devices for an expedited processing experience at SEA. MPC is free to download and use if entering passport information manually. MPC also provides a  premium service to scan passport information.
Passengers using MPC will bypass the passport control processing areas and go directly downstairs to the South Satellite baggage claim level. MPC users will claim their luggage and head to the exit where they will interview with a CBP Officer and provide a QR code from the MPC app for scanning. After passengers have completed their CBP interview they will continue to transfer or exit for Seattle with Step 4. To  learn more about MPC, please see the International Trusted Traveler Programs offered at SEA.
---
Map of the International Arrivals and Passport Control Process at SEA Airport
See an expanded, printable version of the Passport Control Process Map at SEA Airport.
---
Step 2. Claim Luggage
Once travelers exit passport control, they MUST CLAIM their luggage in the South Satellite's baggage claim, regardless of whether the passenger is staying in Seattle or transferring to another connecting flight.
Passenger's can claim their luggage at one of the four baggage claim carousels located downstairs from the passport control level. Airlines will organize any overflow luggage next to the carousels and oversized luggage will be placed near Claim 30 and the elevators. Travelers should not open their luggage until after they exit the South Satellite's baggage claim. Luggage carts are available free of charge until Step 4. Note: Passengers with liquid duty-free items must put them in their checked luggage or they will be confiscated at the security checkpoint.
---
Step 3. Agriculture and Baggage Inspection
After passengers complete passport control and claiming their luggage, passengers should keep all documents out and ready for the CBP Officer. Passengers may go through agriculture or baggage inspection by a CBP Officer, especially if a they claim food. If passengers are not inspected, the CBP Officer will take their receipt if they have been stamped clear. Some International Trusted Traveler Programs allow passengers to bypass or have a reduced wait time for agriculture and baggage inspection. For more information on what agriculture products are allowed into the United States see CBP's guidelines. Global Entry will have its own line for exiting, all other cleared passengers will go in another line for exiting.
---
Step 4. Transfer for Connecting Passengers or Exit for Seattle and Ground Transportation
Transfer for connecting passengers
Upon exiting CBP's agriculture and baggage inspection, connecting passengers will go left (following the orange walls) and check their luggage for the next flight. Agents from Alaska Airlines and Delta Air Lines will be available to help passengers recheck and re-book any connecting flights if needed. If transferring to other airline carriers you will exit and recheck your bags at your airline's ticketing counter on the pre-secure side of SEA. All connecting passengers must go through Transportation Security Administration (TSA) security screening for domestic flights* at the South Satellite security checkpoint. The South Satellite's TSA Checkpoint is open from 6 a.m. through 6 p.m. PST. If the South Satellite's TSA Screening Checkpoint is closed passengers will have to exit to the pre-security side of the airport and re-screen through one of the main security checkpoints. TSA Pre✓® is not located in the South Satellite and is located only at main terminal checkpoints, see all security and checkpoints information.
Once cleared through TSA's screening, passengers will take the train to connect to all gates and the rest of the terminal through the A Concourse train station. Passenger can access all gates and connect to B, C, D and N gates and passengers with the trains and walking around the terminal. Once passengers arrived to the A Concourse train station from the South Satellite they can go up the escalators or elevators for the A or B Gates or take the other trains to the other end of the airport to go to D and N Gates. For help navigating around the terminal and information on dining and retail, please see our interactive map.
Processing can take 60 minutes or longer during peak periods, such as holidays and summer travel season, when multiple international flights arrive daily, typically between 10 a.m. to 3 p.m. Pacific DST. When scheduling connections from an international flight at SEA we recommend that you schedule enough time for processing to prevent missed connections for your next boarding times. Find more information on traveling with a tight connection and the Express Connection Program at SEA Airport.
---
or Exit to Seattle, Baggage Claim, and Ground Transportation
Travelers staying in Seattle or using ground transportation will exit to the right (following the green walls) after clearing CBP. Travelers will return complimentary luggage carts at this point. Medium and large luggage should be placed on the belt and claimed at Baggage Claim 1 in the baggage claim level of the terminal.
Passengers will take the train and exit on the first stop at the A Concourse train station and go up the escalators or elevators for baggage claim. Once off the train passengers will exit between Baggage Claims 7 and 8. International passengers can claim their luggage at Baggage Claim 1, navigate to any ground transportation options, and meet any greeters.
Learn more about ground transportation options including Link light rail, app based ride shares, rental vehicles, shuttles, taxis, and other forms of transportation at SEA Airport. For help navigating around the terminal and information on dining and retail, please see our interactive map.
---
Meeting International Passengers
Passengers from international flights arrive at the South Satellite. It typically takes 60 or more minutes to clear U.S. Customs and Border Protection, though it may take longer during peak periods from 10 a.m. to 3 p.m. daily.
The best places to meet arriving international passengers is either at the escalator between baggage claims 7 and 8 on the baggage claim level where international passengers come after clearing customs from their international arrival or at Baggage Claim 1 where international passengers will pick up any checked luggage. For help navigating around the terminal please see our interactive map. See more information on meeting international arriving passengers.