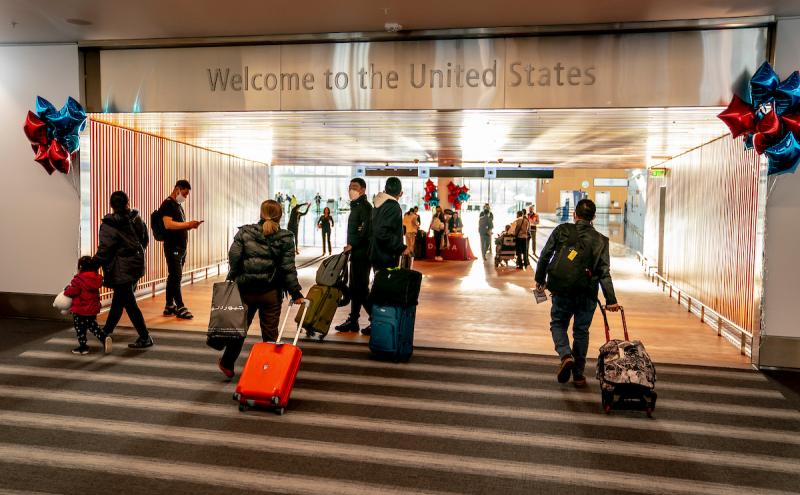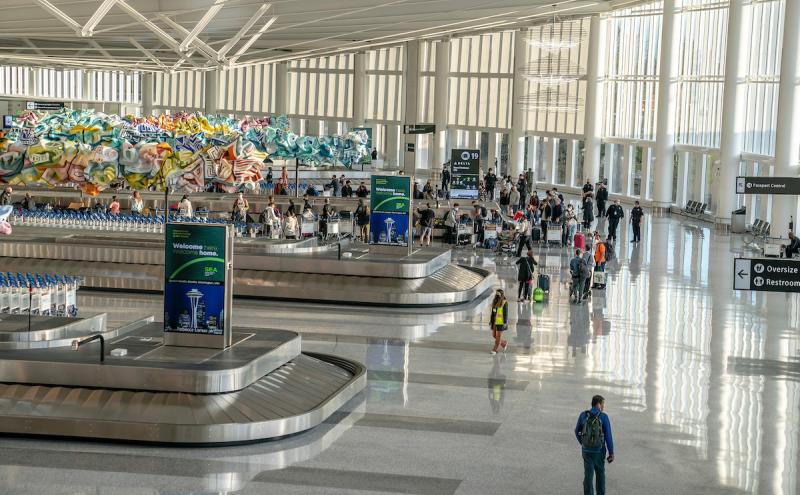 Welcome to Seattle, Washington!
We hope you enjoyed the view on your way into the Pacific Northwest! Now that you've landed, here are the four steps that internationally arriving passengers need to know to clear customs at Seattle-Tacoma International Airport (SEA)!
All International flights arrive at the International Arrivals Facility (IAF) where all connecting and non-connecting passengers must process through U.S. Customs and Border Protection (CBP) before entering the United States of America. This includes claiming all checked luggage, an inspection/interview by CBP Officers, and then either exiting to Seattle or transferring to connecting flights for passengers going to their final destination.
Plan ahead to give yourself enough time
Processing can take 60 minutes or longer during peak periods, such as holidays and the summer travel season, when multiple international flights arrive daily, typically between 10 a.m. to 3 p.m. Pacific time. When scheduling connections from an international flight we recommend that you schedule at least three hours between arriving and your next flight to have enough time for processing and to prevent missed connections for your next boarding times.
Deplaning and amenities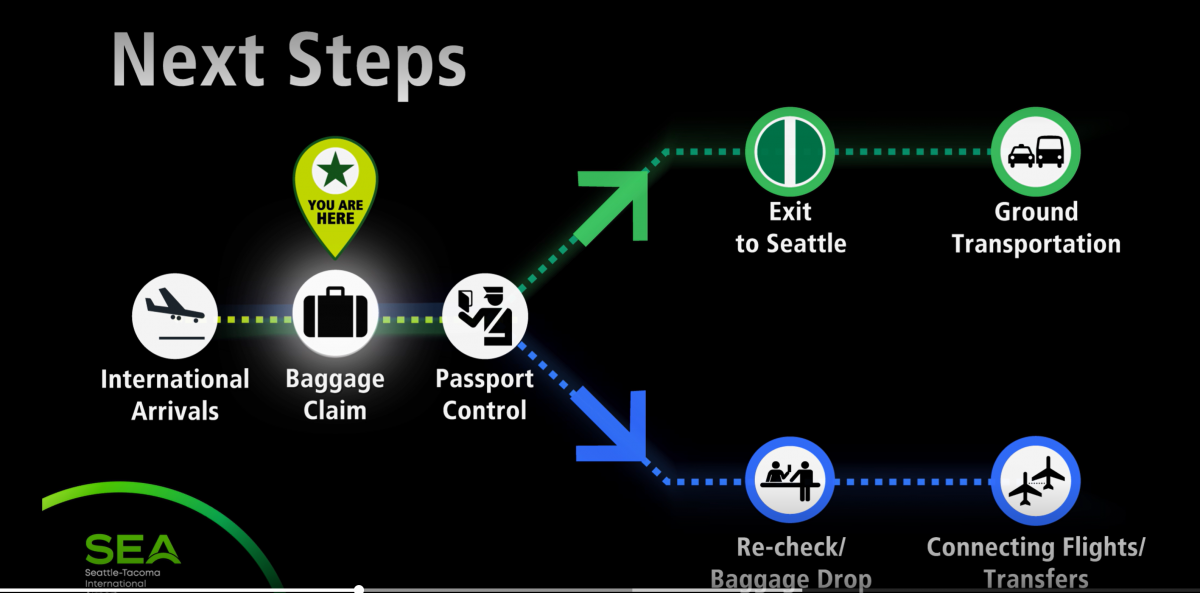 International flights arrive at the airport at two concourses. If you're flying on an international airline — you will arrive on the S Concourse. If you're on a domestic carrier like Delta or Alaska in a narrow body aircraft — you will arrive at the A Concourse. All passengers join up at the International Corridor where they will follow the signs to enter the United States before continuing to baggage claim and customs processing. On your way to customs, you'll enter the Welcome Portal. This is also where will find restrooms, nursing suites, baggage information systems, and Service Animal Relief Areas. Make sure to check your assigned baggage claim by your airline and origin city in the overhead signage since you'll have to claim your bags before you enter Passport Control.
Members of Trusted Traveler Programs, such as Global Entry and NEXUS, will grab their bags on baggage claim before heading down to passport control and booths 1 to 3. See more information about International Trusted Traveler Programs to help expedite your passport control process!
Claim your luggage
The IAF is a Bags First facility!
What does Bags First mean? 
1. The very first thing you should do is pick up your luggage at baggage claim regardless of whether you're staying in Seattle or transferring to another connecting flight.
There are seven baggage carousels numbered from 24 to 18 located downstairs from the mezzanine level
 Luggage carts are available free of charge for the passport control journey. 
Any oversized luggage will be available to claim near Baggage Carousel 20
You cannot open your luggage until after you have cleared U.S. Customs or exited the IAF, per CBP rules
Passport Control Process
Watch the screens above checkpoints 1 to 40 for instructions
After claiming your luggage, head to passport control near Baggage Carousel 18. There are different processing lanes depending on your citizenship and reasons for travel
Check with airport staff if you're not sure where to go
The processing areas are:
U.S. Citizens
U.S. Lawful Permanent Residents
Canadian Citizen
Mobile Passport Control, a free program for U.S. and Canadian Citizens 
Flight Crew
ESTA – First time to the USA or traveling on a new passport
ESTA – Returning or have traveled to the USA before (B1 Travel/B2 Business Visas)
Visitors traveling on a VISA
U.S. Military (for Military personnel traveling with a Military ID on Orders only)
International Trusted Traveler Programs like Global Entry/NEXUS/SENTRI members
Wheelchair Assistance/Accessible (for all disabilities)
Global Entry
If you have Global Entry membership, you can claim your luggage at your assigned baggage claim then use the kiosks on the International Arrivals Facility's Baggage Claim level near Baggage Claim 18. Once completed there is no receipt needed and go to the dedicated Global Entry booths in passport control in Booths 1 - 3. 
If you have any questions regarding the process or requirements, contact CBP at (206) 214-2200. 
Facial Recognition: Declaration Forms
CBP has utilized facial recognition technology to confirm the identity and expedite the passport control process. Facial recognition processing is voluntary for almost all SEA travelers, with the option to opt out for U.S. Citizens.
If you are an arriving international passenger from the United States, you can also opt out; tell the CBP agent and you will be processed without facial recognition technology
 
However, if you are an arriving foreign national, you will be required to participate in facial recognition processing
 
Once you've been interviewed and approved by CBP, you can exit with your luggage to the left
 
If you're referred to secondary screening, please follow the CBP Officer's directions and head to the right for further inspection and questioning.
 
For more information on what agriculture products are allowed into the United States, see CBP guidelines.
Transfer for Connecting Passengers
1.  After exiting passport control, go right (following the wood wall) and recheck your luggage for the next flight.
2. If you're transferring to other airline carriers, exit to the left and recheck your bags at your airline's ticketing counter 
All connecting passengers must go through Transportation Security Administration (TSA) security screening for flights.
The TSA Checkpoint in the IAF is open and available for connecting passengers from 6 a.m. to 10 p.m.
 
After clearing TSA security, you will be in the A Concourse. You can access all gates, connect to the trains, and walk around the terminal
Need directions?
Exit to Seattle and Ground Transportation
1. If you're staying in Seattle, exit to the left (following the window walls) after clearing customs with your luggage.
2. Meet friends and family after clearing customs
3. Head to your favorite ground transportation options:
Get help navigating the terminal and finding a restaurant or shop on the 
interactive map
.