During construction the owner, or an authorized, designated representative aged 18 or older, must be present to open and secure the property. Owners of rental properties must coordinate access to the dwelling with their tenants, obtain any required consents from the tenants, and ensure the tenants are aware of the planned activities for all scheduled work and site visits. 

What to Do Before Construction Begins  
To prepare for the start of construction in your residence, it is the Owner's responsibility to: 
Remove all curtains, draperies, rods and other decorative treatments

,

 

shades or blinds from windows and doors

Move furniture a minimum of 48 inches away from window and door areas to allow adequate working space in front of and on each side. This is critically important in avoiding construction delays

Remove all valuables from the work area to protect them. Remove fragile items from walls or shelves and store them in a safe place. Vibrations from construction may cause items to fall

Clear the area around the electrical panel

Remove any window air conditioning units and/or through-window vents. 

Window air conditioners are not recommended

 

for use in the new windows
What to Expect During Construction 

 
As with any home-related construction, you can expect some disturbance. Contractors will be careful to perform the work in the least intrusive manner possible. However, some disruptions are necessary, including:  
Contractors and inspectors will be in and out of your home during the day

There will be noise during construction work hours and construction-related dust and dirt in the home
During construction, the contractors' responsibilities include: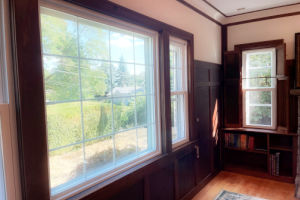 Taking precautions to protect your home and its contents

Using drop cloths and runners in construction areas and along access routes

Cleaning-up construction areas at the end of each workday, including but not limited to, vacuuming and removal of all construction debris

Protecting against overnight outages of electrical power related to construction.

 

Securing exterior wall openings overnight

During construction:
Consider mounting temporary shades or blinds until construction is completed. 
Pets should be crated or not in the home during construction for their well-being.
Plan for a "room of refuge" to work in during construction. The contractor will work to limit the amount of time of time you will need to be out of this space.
The material on this page is for informational purposes only and does not supersede or replace the formal details provided by the Program Handbook. Please consult your Program Handbook or the Airport Noise Office at 206-787-5393 for complete program details.