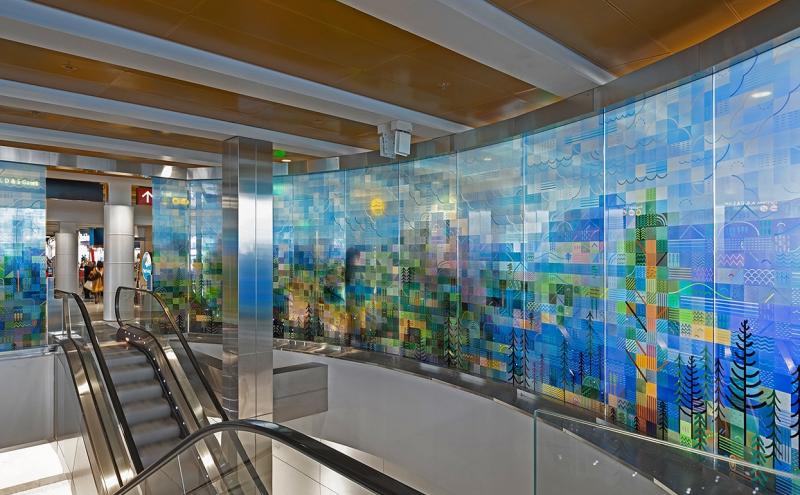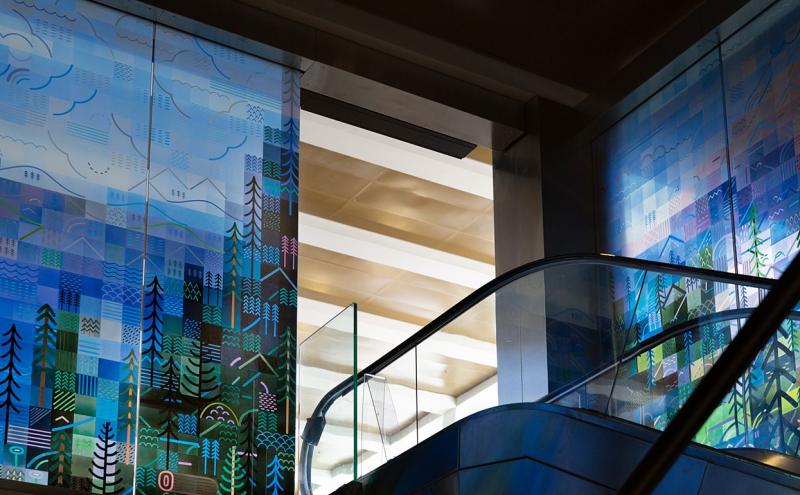 Title: Cascadia
Artist: Cable Griffith
Year: 2019
Medium: Airbrushed enamel on glass
Dimension: approx. 700 square feet total area
Photo credit: Rafael Soldi
Description of the artwork
Cascadia is an immersive installation made of 22 hand-painted glass panels glowing like a jewel at the end of C Concourse. Surrounding the escalator that travels from the C Concourse down to the SEA Underground train level, Griffith's piece depicts waterways and mountains overlayed with minimalist symbols, forms, and textures.
Based on personal photographs of the Pacific Northwest, Griffith highlights the majestic landscape that we are lucky to be surrounded by in Washington State. His vision of the region also includes inspiration from digital technology, and more specifically the video game world, creating a hybrid representation of nature between the real and virtual worlds. As you wait to board your plane, take a moment to walk around this site-specific installation and appreciate the individual squares that make up the pixelated scenery, as well as some bigger stylized representations of natural elements such as trees and waterfalls.
Griffith worked with the local company Studio Fifty50 to create the structural design of his site-specific installation, and Glasmalerei Peters Studios located in Paderborn, Germany fabricated the glass panel.
Fun fact: Cascadia was originally referred to as Jewel Box.
About the artist
"Cable Griffith's work reflects our complex relationship to landscape, filtered through the influence of technology and popular culture. His paintings and installations explore a space between actual and virtual, borrowing from the history of landscape painting, digital media, and language." - From the artist's website
Originally from the Northeast, Cable Griffith received a BFA from Boston University and an MFA from the University of Washington. He is a local artist, curator, and educator (professor at Cornish College of the Arts) living and working in Burien, Washington. Primarily a painter, Griffith offers us this impressive installation in the C Concourse inspired by the environment, and more specifically landscapes of the Pacific Northwest. Cascadia is a multi-paneled glass artwork of ambitious design, with imagery reminiscent of his studio work. His paintings have been exhibited nationally and internationally, with a great presence in Seattle.
Fun fact: This installation is Griffith's first large-scale permanent public art piece