Welcome to the GT Transportation Networking Company/AppRide Share Operators Page!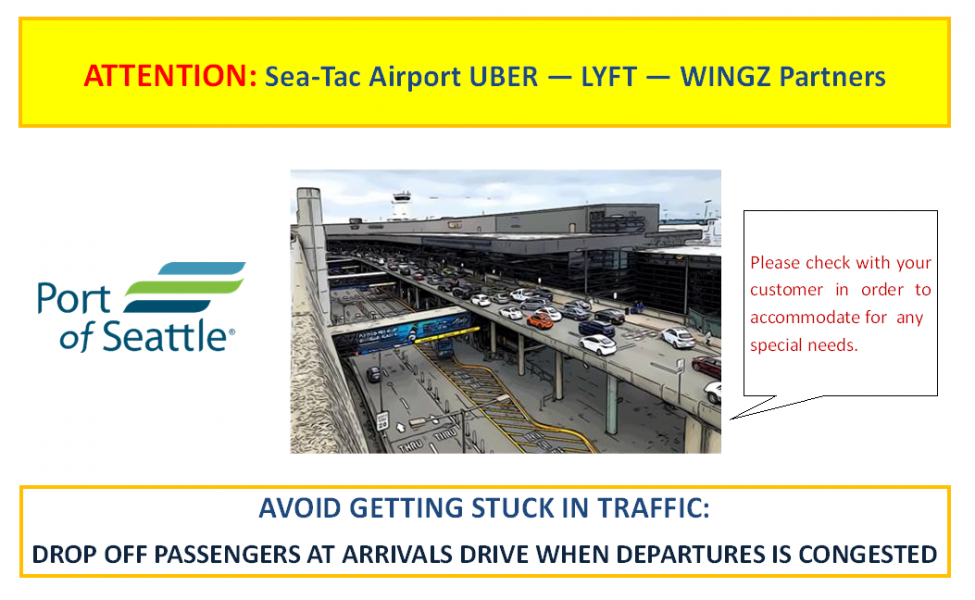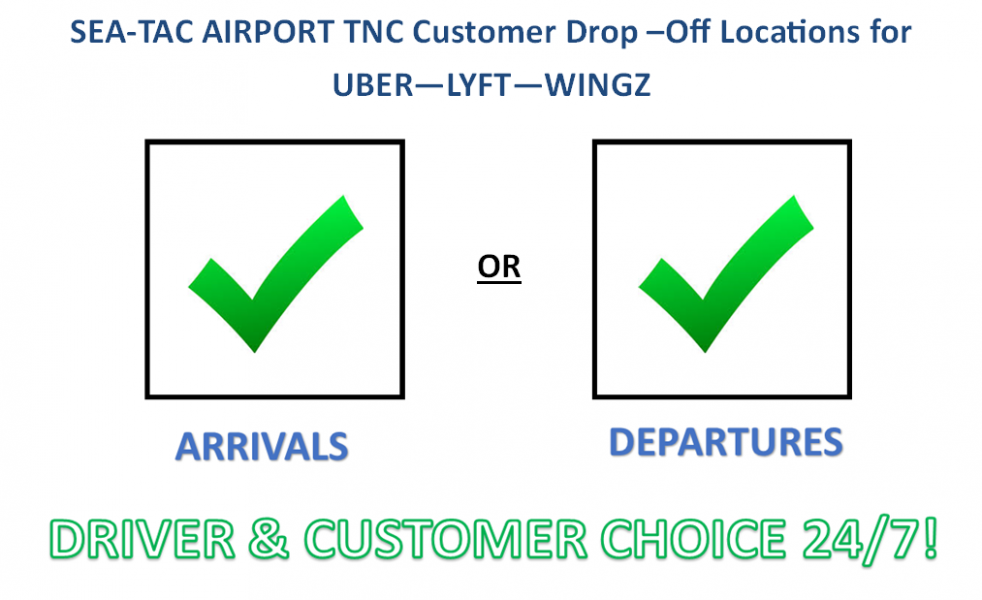 To avoid getting stuck in traffic, drop off passengers at arrivals drive when departures is congested.
---
TNC/App-Based Ride Share vehicles must be in compliance with King County regulations prior to operating at the airport. Vehicles on Port of Seattle property without the proper credentials will be subject to citation(s).For more information Please review the information below
 

 

 

 

DRIVER RULES (VOL 2) 

TNC Rules and Instructions (PDF).

 

 

AIRPORT REQUIREMENT

 

 

AIRPORT REQUIREMENT

 

 

Your vehicle must have the respective companies Trade-Dress Logo displayed on the front windshield.

AIRPORT REQUIREMENT

 

 

Your vehicle must have a TNC vehicle endorsement.  You must carry a valid For-Hire Permit..
OPERATING AREA
The designated TNC/Ride Share pickup area is located in the marked stall numbers 1 - 34 in the middle of the 3rd floor of the parking garage. You must park your vehicle in a designated stall before loading your passenger. Please note that if you are directed to park in a specific stall you must park.
TNC/Ride Share operators wishing to pick up family and friends must do so in the designated TNC area, you may not leave your vehicle. If you are needing to meet your family and friends inside the terminal you may park your vehicle in the General Parking are, you will be required to pay the general parking rates.
REMATCH Entry Way
App Based Ride Share/TNC drivers participating in Rematch can now use the South Entry way designated for the Rematch Program.
Rematch Driving Instructions (PDF)

Please Be Advised: You must have an active fare on your App in order to pick up in the TNC area. You are not allowed to stage in or around the area waiting for a Rematch.
ADA Accommodation
| | |
| --- | --- |
| N.          Special Needs | Special needs include passengers with a disability recognized under the Americans with Disabilities Act (ADA), passengers that are elderly and have health problems, passengers that are mobility impaired, or single passengers traveling with infant children and excessive possessions, including baby seat and luggage. |
TNC: Wheelchair Accommodation/Other Special Ride Requests: TNC shall not deny a pick-up request from customers with wheelchairs or other special needs, such as passengers with guide dogs or children requiring a car seat, provided that the passenger is able to properly install that car seat, etc. Pick-up requests must be fulfilled by TNC or must be referred to a similar service provider for fulfillment.
FAQs?
Please visit King County's FAQ page.
Current Ground Transportation Rates (PDF) for 2023.
HELPFUL LINKS