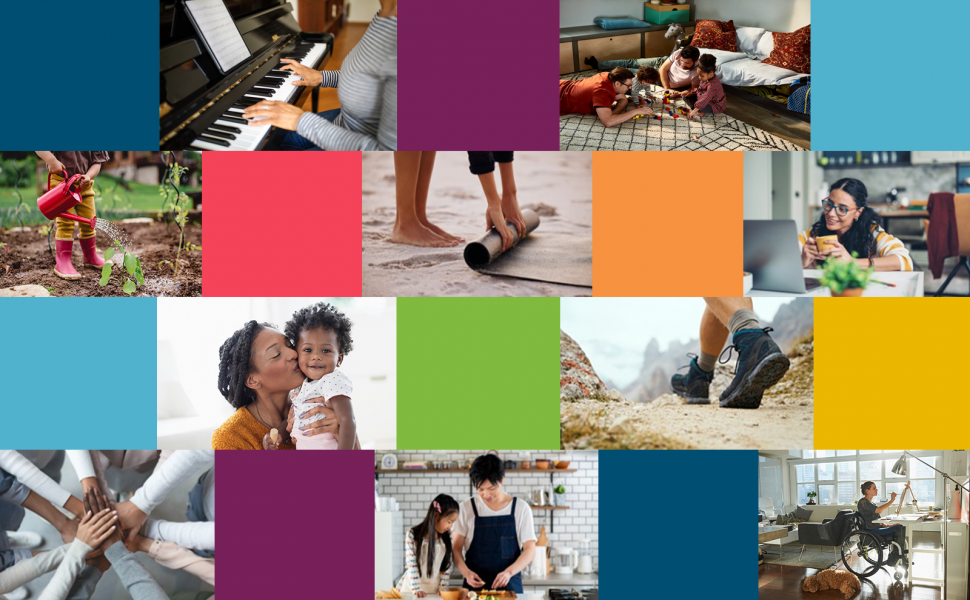 The Port has had a long standing commitment to provide employees and their families the tools and resources to engage in healthy living. The Port cares about our employees' total well-being, including aspects such as growth and development, financial prosperity and community involvement that are as essential as physical health and fitness. Employees are most engaged and do their best work when they are given the resources to bring their best, authentic selves to work every day. Not only does this platform provide tools to create a more fulfilling life at home and work, it aligns with building a healthy workplace culture and a high performing workplace.
There are 6 pillars to our Total Wellbeing Program that align with the Port's values of embracing the richness of a diverse workplace and supporting employee development:
Mindset & Resilience: Recognizing your own "default" settings to better respond to adversity. Our lived experiences and beliefs create our mindsets. Mindsets are our personal "defaults" or unconscious programming how we will think, act and operate at baseline. When we become aware of our mindset, we can identify opportunities to learn, grow and respond better to adversity. Resilience is our ability to respond to adversity and our willingness to change when needed.
Lifestyle & Health:  The ability to make better day-to-day decisions by understanding how they connect to future outcomes. Lifestyle changes often lead to improved flourishing by impacting mental and physical health as well as happiness and life satisfaction.  
Development & Growth: Personal and professional development which creates a cycle of growth and mentorship. Human beings have an inherent desire and capacity to grow and develop throughout their lives. Every time we experience change or learn something new, we have a growth opportunity. Both personal and professional development lead to overall growth possibility.
Money & Prosperity: Understanding your relationship with money and how you can move from meeting basic needs to leading a fulfilling, secure life. Human Performance depends upon a persons' ability to care for and adequately fund their basic needs. Understanding your relationship with money, or your money mindset is an essential first step to move beyond basic needs toward a fulfilling, secure life.
Relationships & Community: Learning how our connections can help to build and strengthen our sense of belonging and community. Life happens in relationships with others. Healthy social connections and all supportive relationships – including romantic, friendships, family relationships and working relationships – can improve health and well-being.
Purpose & Contribution: When people have a clear purpose, they're able to show up fully. Purpose and contribution are what make our actions and goals seem significant and can lead to greater life satisfaction and well-being. Our sense of purpose and the ways we contribute can evolve and change over our lifetimes. Consistently revisiting what gives your life meaning allows you to take meaningful action.   
Aduro is our partner for wellness: access the Port's Total Wellbeing. Aduro provides online tracking tools, Port specific challenges, mobile optimization and coaching that focuses on overall wellbeing—not just improving physical health.