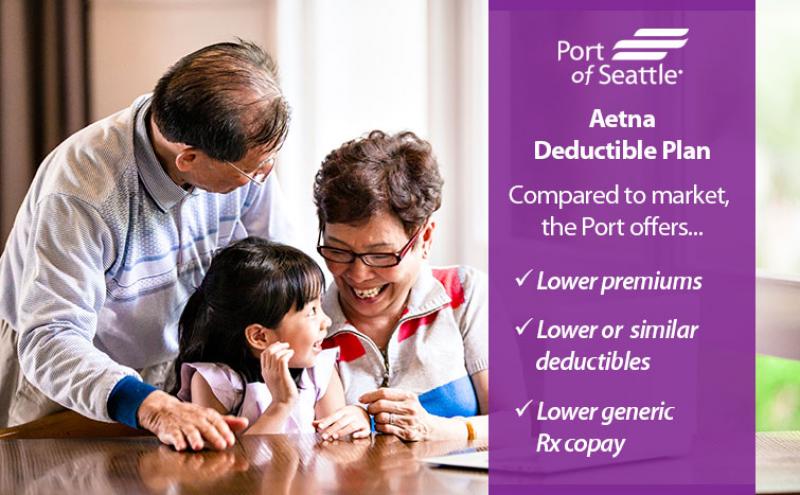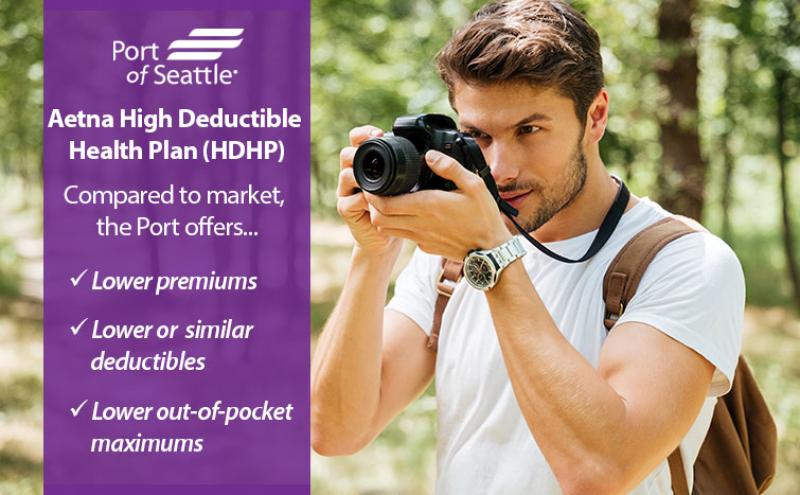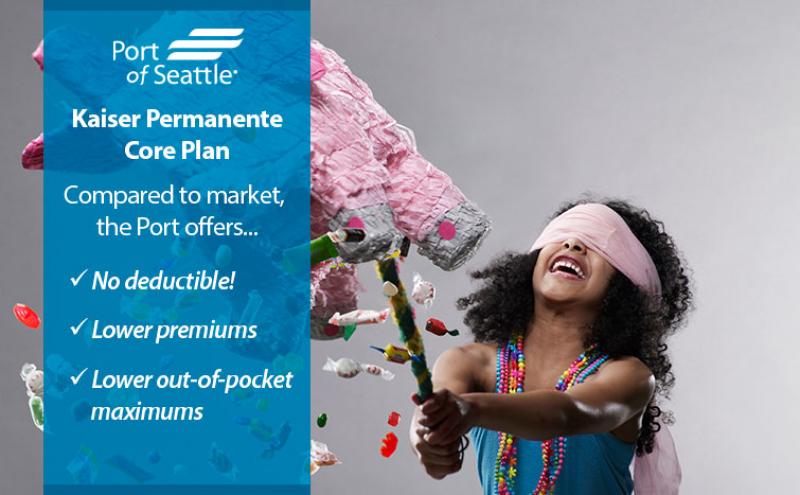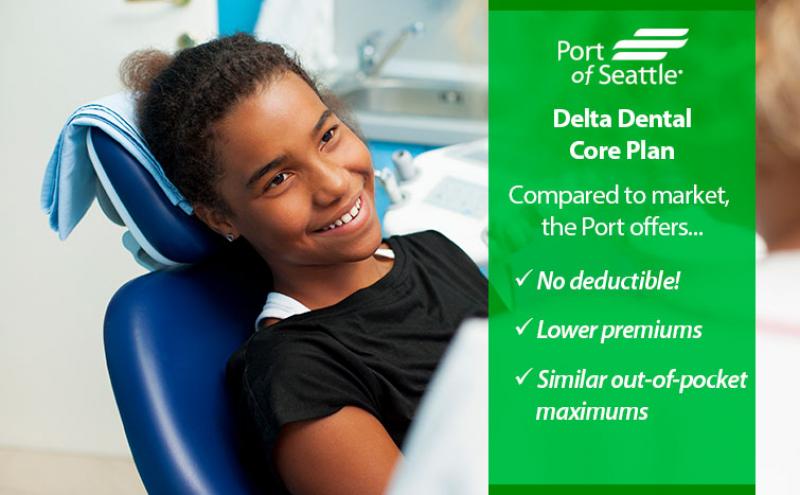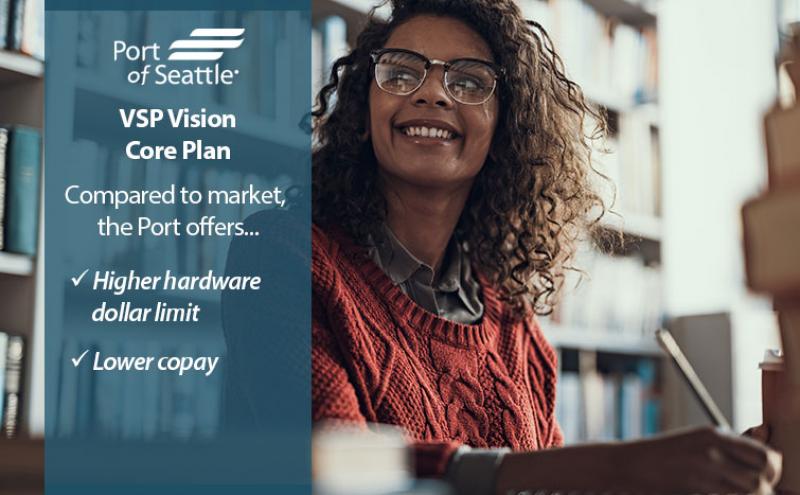 Swipe left/right (or click the left/right arrows) through the slides above to see how the Port offers better value than employers with similar plans.
Providing high quality medical, dental, and vision coverage that is "better than market" is one way the Port of Seattle supports its employees. As part of our overall healthcare strategy, employees pay a small share of the total cost of the premium for medical, dental and vision coverage while the Port pays the rest.
Each year, we measure specific aspects of our plans, including the premium sharing percentages, against the plans other employers in the Puget Sound region offer. The Port of Seattle's goal is to have these specific aspects of our plans between 10% and 25% better than market, and the market is the average of what other Puget Sound region employers offer based on the annual Milliman Northwest Benefits Survey. In many cases, our employees receive more value for less cost!
Despite rising healthcare costs nationwide, the Port has strived to avoid passing more than slight increases onto employees for several years. While premiums for our Port-sponsored plans are increasing for 2023, Port employees continue to pay much less than what the average employee pays at other employers.
More Detail: Rate Comparison Tables
Browse the tables below to see line-by-line how individual components of each Port-sponsored healthcare plan compare to the market average. Cells highlighted in green show where we are equal to or better than what other employers are offering for similar plans.
Aetna Deductible Plan

The Market
(2022)
The Port
(2023)
Individual Deductible
$650
$500
Family Deductible
$1,500
$1,500
Individual Out of Pocket Max
$3,000
$1,500
Family Out of Pocket Max
$6,000
$3,000
Individual Premium Share
11%
7%
Family Premium Share
20%
17%
Coinsurance
20%
20%
(Pharmacy) Generic
$10
$5
(Pharmacy) Brand - Preferred
$30
$35
(Pharmacy) Brand - Non Preferred
$50
$50
(Pharmacy) Brand - Specialty
No data
$50
Aetna High Deductible Health Plan

The Market
(2022)
The Port
(2023)
Individual Deductible
$1,500
$1,500
Family Deductible
$3,000
$3,000
Individual Out of Pocket Max
$4,000
$3,000
Family Out of Pocket Max
$7,550
$6,000
Individual Premium Share
7%
2%
Family Premium Share
21%
7%
Coinsurance
20%
20%
(Pharmacy) Generic - Coinsurance
20%
20%
(Pharmacy) Brand - Preferred - Coinsurance
20%
20%
(Pharmacy) Brand - Specialty - Coinsurance
20%
20%
Kaiser Permanente

The Market (2022)
The Port
(2023)
Individual Deductible
$250
$0
Family Deductible
$750
$0
Individual Out of Pocket Max
$2,000
$1,500
Family OOP Max
$4,750
$3,000
Individual Premium Share
11%
7%
Family Premium Share
28%
17%
Coinsurance
20%
20%
(Pharmacy) Generic
$10
$15
(Pharmacy) Brand - Preferred
$25
$30
(Pharmacy) Brand - Non Preferred
$48
n/a
(Pharmacy) Brand - Specialty
$30
$30
Delta Dental (Core)

The Market
(2022)
The Port
(2023)
Deductible
$50
$0
Annual Maximum
$2,000
$2,000
Orthodontic Maximum
$1,500
$0
Individual Premium Share
20%
3%
Family Premium Share
39%
13%
VSP Vision (Core)

The Market
(2022)
The Port
(2023)
Hardware Dollar Limit
$150
$200
Copay
$18
$10