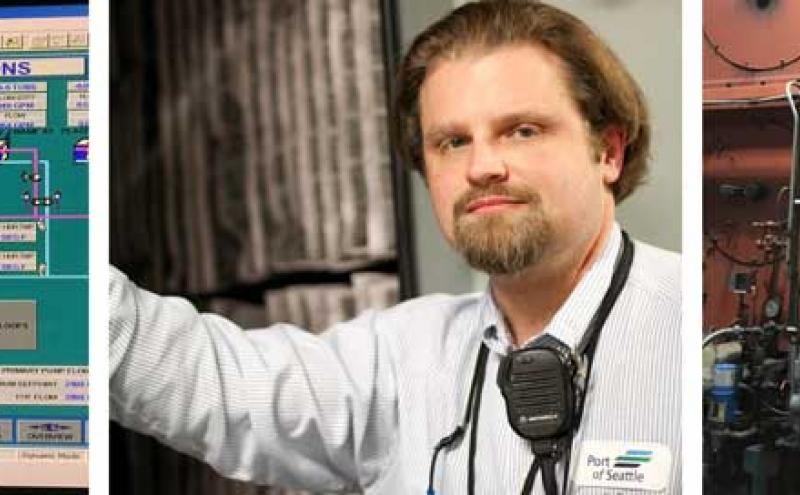 Trade school a smart choice for Port of Seattle employee
Jeff Bynum, central plant operator at Sea-Tac Airport and pictured below, found a skilled trade involving skills other than "using a wrench..."
Jeff Bynum, one of the Port of Seattle employees responsible for indoor climate control at Sea-Tac Airport, remembers when he made the decision to pursue a skilled trade career instead of college.
Bynum said he never really cared for high school, and didn't want to go to college. It was his father's suggestion that he study heating, ventilation and air conditioning (HVAC) that launched his journey into the trades. He got his initial training in HVAC through the military reserves, and then spent two years in trade school, followed by an apprenticeship.
Today, as a "central plant" operator at Sea-Tac Airport, he keeps the airport's boilers, chillers fans and pumps humming.
The opportunities to advance in a trade career are plentiful, he said, especially with many of the baby boomers retiring. "As long as you get the schooling to be licensed and certified with the state, you can be qualified for multiple trade jobs, which can make for a more steady and flexible work life," he said.
In many apprenticeships, employers pay for training, which can include maintenance, service, modernization, plumbing, electrical and other skills. For those interested, Bynum recommended applying for as many apprenticeships as possible to increase the probability of getting hired.
"There are ample opportunities for everyone, including women and minorities, in the skilled trades," he said. "Skills are evolving as well. Not every trade job means using a wrench on pipes, but can involve technology and computers."
For those waiting to find an apprenticeship position, Bynum recommends trade school. "It might take a while to get an apprenticeship, but don't give up. It can be discouraging when you apply for something and don't get it, but keep trying for apprenticeships," he said. "It's a commitment and it's not easy, but worth it in the long run."
The Washington State Department of Labor and Industries actively posts apprenticeships and other important skilled trade information on its website.
Internship Success Story #2 -- Former Port intern now on UW Hyperloop Team -- JC Jian Chen
Former Port intern now on UW Hyperloop team
"JC" Jian Chen, a summer 2015 intern with the Port of Seattle Construction Services, was on the University of Washington's (UW) Hyperloop team, which placed fourth in the United States and sixth worldwide in the recent worldwide Space X Hyperloop competition in Hawthorne, CA.
Hyperloop is a conceptual high-speed transportation system put forward by entrepreneur Elon Musk.
About 1,200 schools and companies entered the competition a year and a half ago, Chen said. From there only 30 made it past "design weekend," where the UW won the technical innovation award for best safety subsystem and placed high enough to attend the competition
"This competition gave us the opportunity to interact with other teams, see their 'pods' and get the chance to understand their interpretation of the ideal Hyperloop system," Chen said. "Throughout my discussions I recognized that building a Hyperloop pod is truly unique, the first of its kind, and the floor of a new era of transportation. This contest allowed students to challenge themselves, be innovative and create something truly original."
As a newly admitted mechanical engineering student at the UW student, Chen is the only freshmen on the Hyperloop team. He helps test portions of the pod such as magnetic levitation and breaking. "Though I am on the mechanical team, that does not prohibit me from working on other portions of the pod," he said. "The team does a great job of allowing us to learn and explore."
"We actually were called the underdogs throughout the competition, due to how little funding we had," Chen added. "The total cost of our pod was below $27,000, while other pods were as much as half a $300,000. But we got the thumbs up from Elon Musk during a personal review of our pod! I am extremely excited as we gear up for the next stage of competition this summer back at SpaceX headquarters!"
Chen is a 2016 graduate of Kentridge High School.