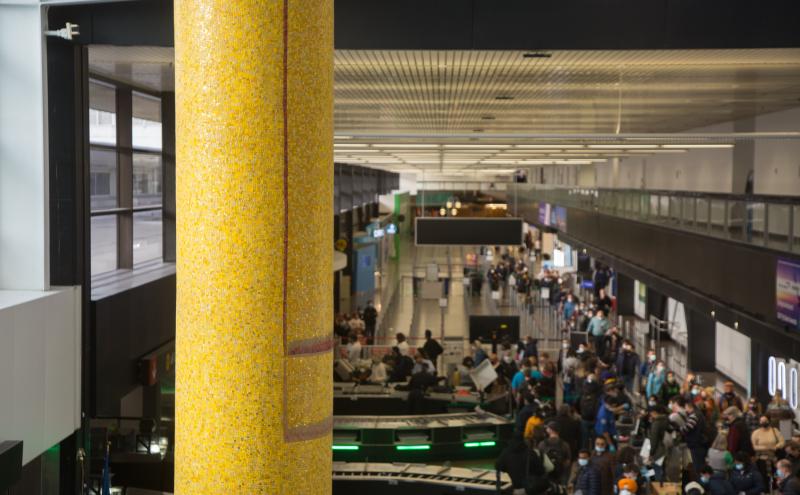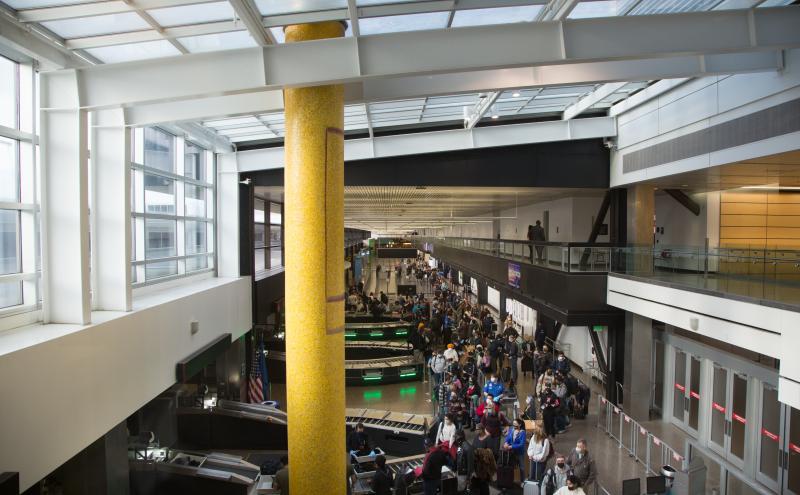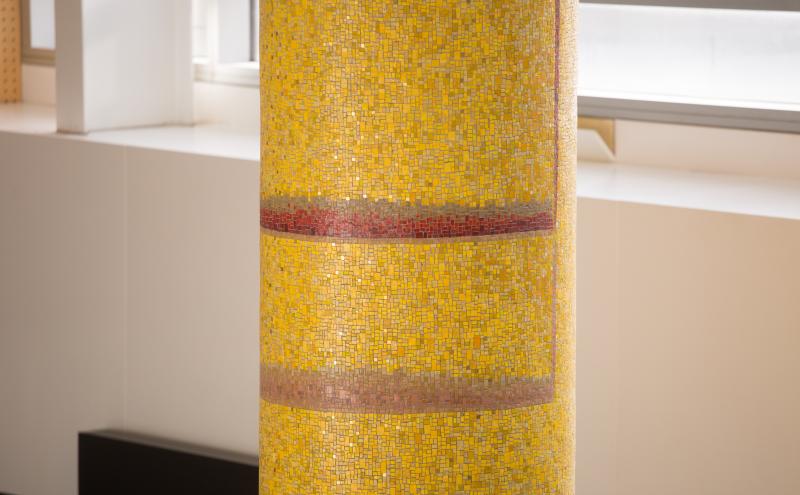 Title: Yellow Fog 
Artist: Sam Gilliam 
Year: 2004 
Medium: Mosaic tiles  
Dimensions: 10' circumference x 30' high
Description of the Artwork
Back in 2004, the Port Commissioned nine artists to each create a mosaic work on nine different columns placed between Checkpoint 2 and Concourse A. Stephen Miotto, of Miotto Mosaics, translated the different designs into hand-cut glass and stone tesserae mosaics.
Sam Gilliam's artwork may be the first one that you will see while going through security, so as you wait for your turn in the screening line, take a few minutes to look up and enjoy this colorful and vibrant artwork. Made of numerous shades and shapes of yellow, orange, and red, it is the tallest column in the series. Predominantly compound of yellow, our eyes are quickly drawn to the higher part of the column where two large rectangular shapes (a red and an orange one) interpose themselves in this monochromatic composition.
Gilliam offers us a brilliant, saturated yellow to enliven an overcast environment. His column stands as a beacon, shedding light and warmth at SEA.
 After going through security, on your left, you will find the eight additional mosaic columns created by Juan Alonso, Rudy Autio, Marlene Bauer, Amy Cheng, Peter de Lory, Joanne Hammer, Robert Yoder, and Susan Zoccola.
Learn more about Yellow Fog: "Yellow Fog " Spotlights Artistic Work of Sam Gilliam at SEA Airport - YouTube
About the Artist
Sam Gilliam was born in 1933 in Tupelo, Mississippi, and has since become an internationally acclaimed African American artist. Widely considered a Lyrical Abstractionist artist, Gilliam is also closely associated with the Washington Color School, a group of D.C. artists working in the Color Field movement. While an instructor of painting at the Corcoran School of Art in the District of Columbia in 1965, Gilliam became the first artist to introduce the idea of a draped, painted canvas hanging without support. A few years later, in 1972, he became the first African American artist to represent the United States at the Italian Società di Cultura la Biennale di Venezia, an international art exhibition in Venice, Italy.
His pieces are included in the collections of major museums throughout the world including the Tate Gallery, the Studio Museum in Harlem, the Metropolitan Museum of Art, the Museum of African American Art, and the Musée d'Art Moderne de la Ville de Paris.
"Only when making the work can I determine the many languages that form the planes on which it is to exist." – Sam Gilliam
"[he's a] master synthesizer, following his own path but constantly absorbing influences and turning them into something fresh, unique, and compelling." – Ferdinand Protzman