The Port of Seattle works hard to keep Seattle-Tacoma International Airport (SEA) a safe space for travelers, airport workers, and members of the community.
SEA is experiencing an increase in unhoused persons seeking shelter within the airport and an increase in the number of people experiencing severe mental crisis. To maintain safety in the terminal and compassionately connect those in crisis to local services, the airport created a multi-faceted approach called the SEA Cares initiative. SEA Cares is taking immediate steps to ensure the safety of travelers and airport employees while developing a long-term strategy over the next few years for responding to and assisting people in crisis.
SEA Cares uses partnerships to maintain the safety and operations of the airport. Our teams within the Port of Seattle are working with the King County Mobile Crisis Team, nearby cities, and social service agencies.
How to get help at SEA
Reporting is essential to maintain public safety.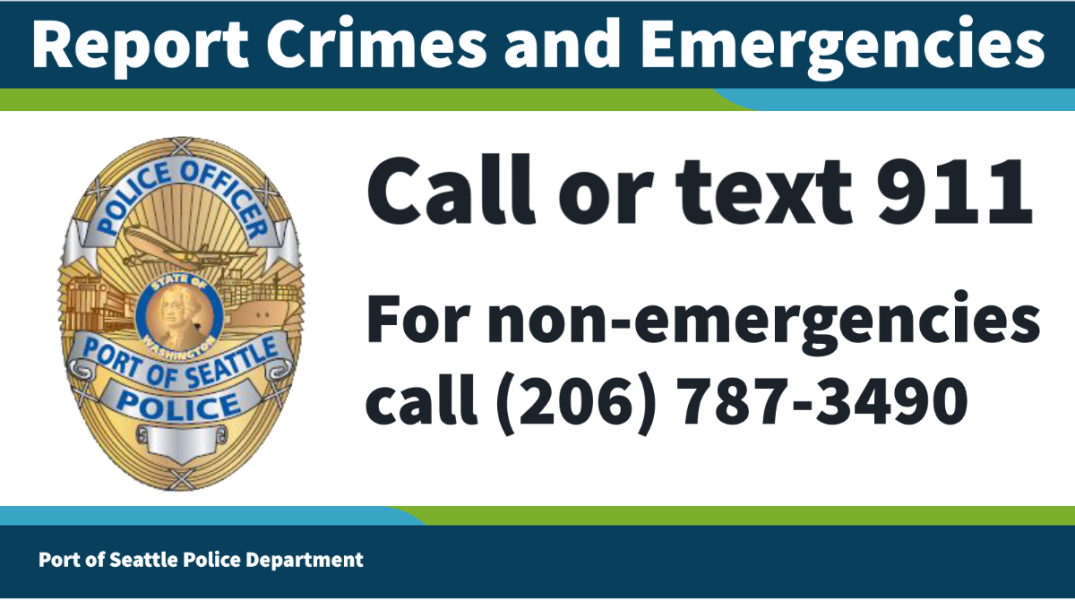 If you experience anything that makes you feel unsafe or requires emergency assistance, please call or text 9-1-1 to be connected to the Port of Seattle Police Department (POSPD), for non-emergencies please call (206) 787-3490
If you work at the airport, help us keep SEA safe, secure, and clean by directly reporting custodial, security, and maintenance concerns. Text-a-tip to 206-785-1876 or download the See Say Airport App to send photos, videos, and a message to airport operations
If you are a person in crisis, please call Crisis Connections at 866-427-4747 for 24/hour support
Enhanced measures happening now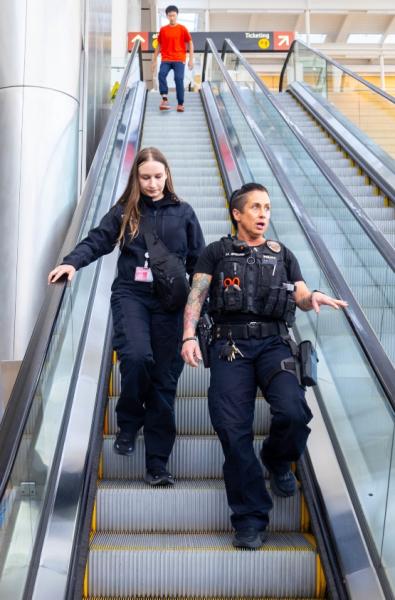 This combined multi-faceted effort is already underway with additional resources added in 2022.
Added a full-time, dedicated Crisis Coordinator within the POSPD who is trained in how to respond to people in the airport who need specialized assistance and engaged with a network of regional organizations who can provide direct assistance to people in distress
Limiting access to the airport from 11:00 p.m. – 5:00 a.m. for non-ticketed visitors or those without legitimate business at the airport
Added a team of Public Support Specialists to monitor terminal entry points overnight and be a visible point of contact
Partnering with King County Mobile Crisis Team and other social service agencies to facilitate connections to resources for people experiencing homelessness
Established a three-year agreement with the City of SeaTac for law enforcement support with recurring unlawful actions
Collaborating with the City of Burien's Crime Reduction Unit and Human Services team
Increased trespass signage and overhead announcements on airport regulations
Increased lighting in baggage claim
Limited access to pre-security seating and family restrooms
Coming soon
Develop a co-responder program with the POSPD Crisis Coordinator, King County Designated Crisis Responders and King County Mobile Crisis Teams that incorporates mental health response
Add a Port of Seattle Mental Health Responder
Long-term strategy
Increase crisis intervention training for POSPD
Implement a Port of Seattle Crisis Response Team of law enforcement officers, licensed mental health counselors, and community outreach workers