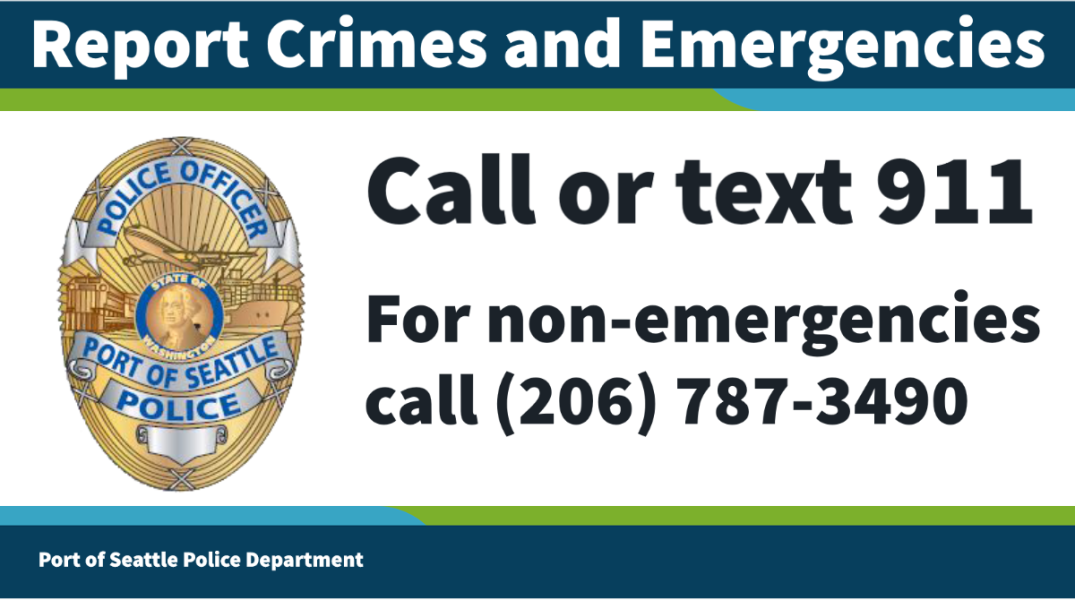 For emergencies, dial 911
See below for all other contact information.
Main Department
Phone: (206) 787-3490
After hours, press option 5 to be connected to the Police Communications Center
Mailing Address
Port of Seattle Police Department
PO BOX 68727
Seattle, WA 98168
Sea-Tac Airport Office - Third Floor Main Terminal
SEA Airport Office
The Port of Seattle Police Seattle-Tacoma International Airport Office is located on the third floor of the main terminal.
Sub-station on the Baggage Level
The Police Department also operates a sub-station on the Baggage Claim Level, across from Carousel 12. View a map of Baggage Claim.
Report Stolen Property
Call the police non-emergency line: (206) 787-5401
Request Police Records
Go to Next Request Online Records Request System
Report info or provide a tip on suspected terrorism to the Washington State Fusion Center
E-mail: wafusion@wsp.wa.gov
Toll free phone: (877) 843-9522
Waterfront Office - No Public Access
Terminal 30
2715 East Marginal Way South, Building A-5
Seattle, WA 98134