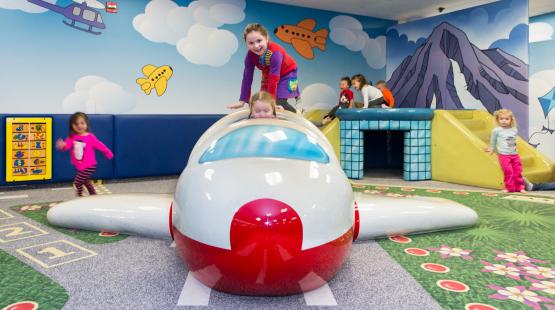 Security Screening 
Reduce the Stress for Kids: Let's face it, checkpoints seem like busy and noisy places to children (and some adults too) and the prime place for a potential meltdown. By knowing the procedures and taking a few tips. If your child is old enough to understand, talk to them and let them know what to expect. Explain what the checkpoint is for and what they're going to have to do. For some children, getting an idea of what the security checkpoint is helps to reduce stress and apprehension.
For tips on traveling with children, please read this helpful roundup from the TSA.
For specific information regarding the screening procedures of children, as well as regulations on accessibility and liquid restrictions, please visit the TSA website, here.
---
Activities
Sea-Tac can also help you keep the little ones entertained and taken care of while awaiting your flight. Check out the Children's Play Area across from Seattle Tap Room between Central Terminal and A gates. You'll find new carpet and a room full of brightly-colored activities for kids to get the wiggles out.
Listen to live music
7 days a week 9 a.m. - 3 p.m.
Live performers play music in a range of locations throughout the airport, as part of the Experience the City of Music program. Enjoy blues, pop, and folk all from local, Pacific Northwest artists. Check the schedule for details. Actual performance times may vary and are subject to change.
Art Walk
Over 100 works of art are on display throughout the airport. Work off some energy with a guided tour of Sea-Tac Airport's art collection using the iPhone and Android STQRY app. Search by concourse or terminal or look up individual pieces from the contemporary collection of glass, sculpture, photography, painting, and sound. The app can also be used at other local museums and historical sites. Download the STQRY app now.
Movies
Download and enjoy a movie from Digiboo. Digiboo kiosks are available pre-security between the ticket counters and security checkpoints, either download it onto a thumb drive or wirelessly directly onto your laptop.
Free Wi-Fi
Wireless internet access (Wi-Fi) is available in all public areas of the airport and is free of charge. The Wi-Fi access points use the SSID "SEATAC-FREE-WIFI". Once you connect to "SEATAC-FREE-WIFI" you will be asked to accept terms and conditions for use, and occasionally view a brief ad before accessing the internet.
---
Kid Friendly Dining
Many of the restaurants in Sea-Tac have kid's menus and provide healthy options. For a full list of dining options, visit seatacshops.com.
---
Necessities
Changing Tables are located in the family restrooms and most of the other restrooms throughout the terminal. You can find the nearest restrooms on our interactive map!
You can pick up diapers, medicine and other items at one of the many Hudson stores. Clothing and other fun souvenirs are available throughout the airport. Check our shops for more info. Car seat and stroller rentals Car seats, strollers, and wheelchairs are available for rental at Baggage Service by SmartCarte.
There are nursing suites throughout the terminal for traveling mothers. Find them in the Sea-Tac App.