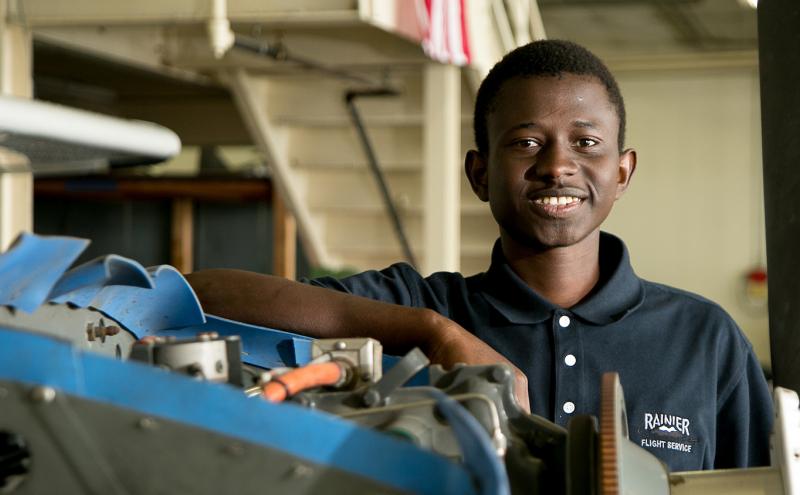 Page Translations
Select the links to view this page in the following languages:
Amharic  |  Arabic  |  Chinese  |  Russian  |  Somali  |  Spanish  |  Ukrainian  |  Vietnamese
What is the purpose of the fund?
The Port of Seattle established the South King County Fund to develop equity-based partnerships and provide resources and support in historically underserved near-airport communities. The fund will award $10 million between 2019 and 2023 to address noise mitigation, environmental health and sustainability in these ethnically and culturally diverse communities.
In response to the devastating impact of the COVID-19 pandemic on our community, the Port of Seattle Commission has added economic development as an additional focus for the South King County Fund. With ties to all of Washington's key economic sectors and connections to more than 500 employers operating at our facilities, the Port stands uniquely positioned to help lead the regional recovery.
The South King County Fund plays an important role in the Port's regional recovery strategy. This year, we will award contracts to organizations serving communities most deeply impacted by the current economic crisis for projects connected to Port-related industries, including aviation, maritime, construction trades, and green career industries.
2020: Our first funding cycle
The Port is now accepting proposals for the South King County Fund's first funding cycle. The proposal deadline is Wednesday, September 30, 2020, by noon Pacific Time.
Proposal principles and eligibility guidelines
$1 million is available to fund projects in this cycle and requests can be up to $100,000.
Project outcomes must be related to workforce development, job creation programs, or economic recovery solutions in Port-related industries.
Proposers must be a nonprofit organization with 501(c)3 or 501(c)6 status or an organization that has a 501(c)3 fiscal sponsor.
Organizations must demonstrate experience in serving communities in near-airport locations that are most economically-vulnerable and face great challenges.
Organizations must submit a written proposal and participate in a discussion with the review panel.
How to apply
Register at VendorConnect to download the complete South King County Fund Request for Proposal (RFP) package 
For detailed instructions about registering, read the VendorConnect External User Guide.
View Guidelines in the South King County Fund Economic Recovery RFP document under the "documents" tab on the South King County Fund Solicitation Overview page in VendorConnect.
You must register as a Plan Holder at VendorConnect to ask questions and receive ongoing updates by going to the South King County Fund solicitation Overview page. To ask a question, select the "Ask Question" button.
Submittal details and deadline
All required documents must be submitted to e-submittals-sa@portseattle.org.
The deadline to submit a proposal is Wednesday, September 30, 2020 by noon Pacific Time.
Information sessions
Attend one of our virtual sessions to find out more about the proposal process. Please RSVP using the links below. Do NOT RSVP in the VendorConnect system.
Wednesday, August 12, 2020
12:00 noon – 1:30 p.m. Pacific Time
Register for Aug. 12 Session
Thursday, September 3, 2020
12:00 noon – 1:30 p.m. Pacific Time
Register for Sept. 3 Session
Tuesday, September 15, 2020
10:00 a.m. – 11:30 a.m. Pacific Time
Register for Sept. 15 Session
Questions?
Log in to VendorConnect to ask questions. Answers to all South King County Fund Plan Holder questions will be posted in VendorConnect.  You may view VendorConnect External User Guide here to assist with registration.
You also may view our South King County Fund FAQs for further clarification about fund requirements. 
Disclaimer
VendorConnect is the official procurement site for the Port of Seattle. The official RFP information and most up-to-date requirements are made available in the VendorConnect system.
This page and the online FAQs herein are for informational purposes only and should not be considered the official public record.