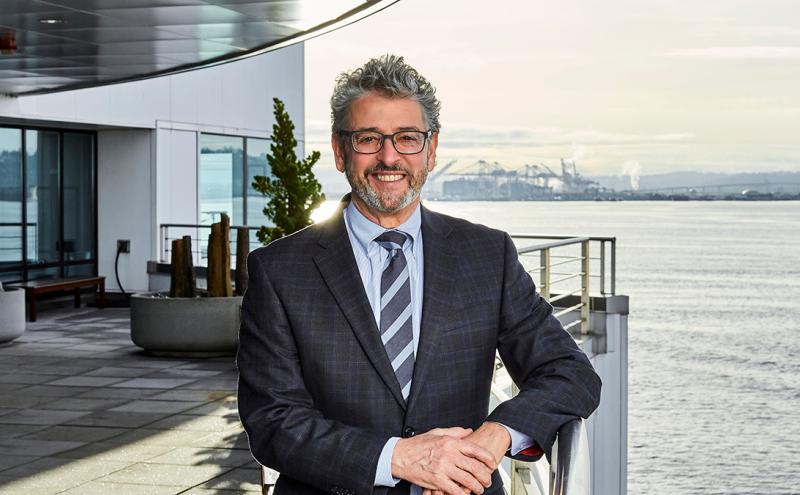 Commission President reflects on the past year, and plans for the year ahead
Jan 25, 2021
Commission President Fred Felleman made the following comments at the January 12, 2021 Port of Seattle Regular Commission Meeting.
I want to express my appreciation to my fellow commissioners for the honor and opportunity to serve as your president in what has already proven to be a very consequential year for our nation, the public, and the Port.
Thank you, Commissioner Steinbrueck, for your steadfast leadership during what has been an exceptionally challenging period, punctuated by a health and economic crisis, as well as the ongoing social justice crisis, which spotlighted just how threadbare our economic fabric is for so many communities. 
Despite those challenges, we had success in 2020 allowing the Port to provide economic and environmental benefits to communities in greatest need. That success was a testament to the commitment and capabilities of Port staff who keep our ship at the right attitude to the stormy seas in more than one way.
In particular, Steve Metruck, Dave Soike, Lance Lyttle, Dan Thomas, and Elizabeth Leavitt keep us on course. Please join me in giving them a virtual applause for their work and dedication.  
While there are many others who kept us afloat last year, I'd like to give a special shout-out to Biz (Elizabeth Leavitt) who is retiring after 31 years of distinguished service to the Port, the public, and the environment.
Commissioners relied more heavily on staff last year because we were busier than ever, with travel time replaced by more meetings. I'd like to personally express my appreciation to Pete Mills who has staffed me through four of my five years at the Port.
The violence in the U.S. Capitol on January 6 underscores the work we all need to continue to preserve our democracy and fight against racism and antisemitism.  
While social, health and economic challenges will remain well into 2021 and beyond, it's time to take stock of the Port's strengths and focus on its mission.  
The Port is a public entity created by a vote of the citizens in 1911 to serve the businesses and people of our region. Today people are hurting. So even when faced with all the significant impact on our lines of business, the Port is still committed to serving the public interest.
Looking ahead, it's critical that we aim beyond recovery rather than just returning to how things were.
Key to our success will be innovation, workforce development, and helping communities take advantage of opportunities that will grow the airport and seaport. Opportunities such as the International Arrivals Facility and Terminal 5 as they come online, and other projects as they get underway in 2021. 
2020 was also one of the warmest years on record, with horrendous wildfires that made breathing the air outside toxic for days on end, not to mention the devastation caused to adjacent forests and communities. It's imperative that as we grow, we double-down on our efforts to minimize the impacts of Port operations on the climate and surrounding communities.
So as the second round of federal stimulus checks are finally in the mail, a new administration is taking office, Covid vaccines are being distributed, and economic forecasts are looking up for the second quarter, we're all poised to get a shot in the arm, both literally and figuratively.
I'd like to reiterate how honored and excited I am to work with all of you as your next president to help our region build back better.  And again, congratulations to Commissioners Calkins and Cho in their appointments and Commission Vice-president and Secretary for 2021.