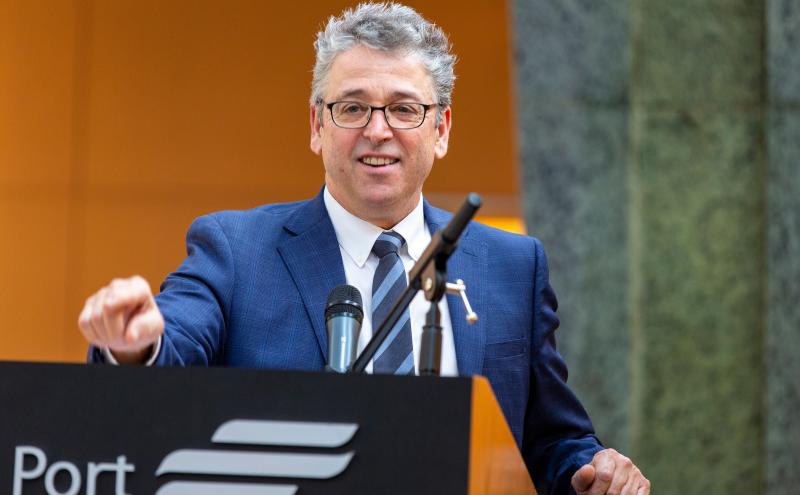 Apr 09, 2020
I'm truly excited that the Port and our partners celebrated Washington's first Maritime Business Accelerator this week.
Thank you to Dave McFadden from the Port, Joshua Berger from the Department of Commerce, and Elizabeth Scallon from WeWorks Innovation Labs for organizing and managing this program.  And special thanks to the village of advisors and mentors whose support was critical to making this initiative a great success.  
I especially want to recognize our eleven startups who rose above the competition and worked their tails off over the last three months. These entrepreneurs have done a great job and deserve special recognition for advancing their ventures while navigating a global health pandemic. 
Times like these, although heartbreaking for some, create opportunities for innovation that will help us come out of recovery even more clever and resilient.
Natural and Intellectual Assets
I'm excited to learn how these companies have turned maritime problems into opportunities for themselves and the industry.  And thanks to the Maritime Accelerator program, these startups are can elevate the quality and profile of their talents by drawing from the somewhat untapped wealth of maritime expertise that's inherent to the cultural fabric of Washington State. 
This region is endowed with natural assets, including deep, protected harbors, proximity to the Salish Sea and Pacific Ocean, and the associated diversity of biological richness that has drawn people here from around the world and spawned tremendous innovation and discovery. We also live in a region that thrives on entrepreneurial initiatives that place a high value on marine conservation and reducing our carbon footprint — creating one of the best start-up ecosystems on the planet.
This maritime innovation accelerator brings these natural and intellectual assets together.
Anchor the Future
For the Port of Seattle, it's a fantastic finale, and something we've been dreaming about for a while. But it's also just the beginning.
The Port of Seattle is delighted by the success of our partnership with Maritime Blue and WeWorks to help kickstart this new accelerator. The success of this program provides the momentum to continue investments that will help anchor our future as world leaders in the advancement of a sustainable blue economy. 
Congratulations to the first cohort of entrepreneurs who are already turning some great ideas into reality. We salute your hard work and hope we have helped put some wind in your sails.