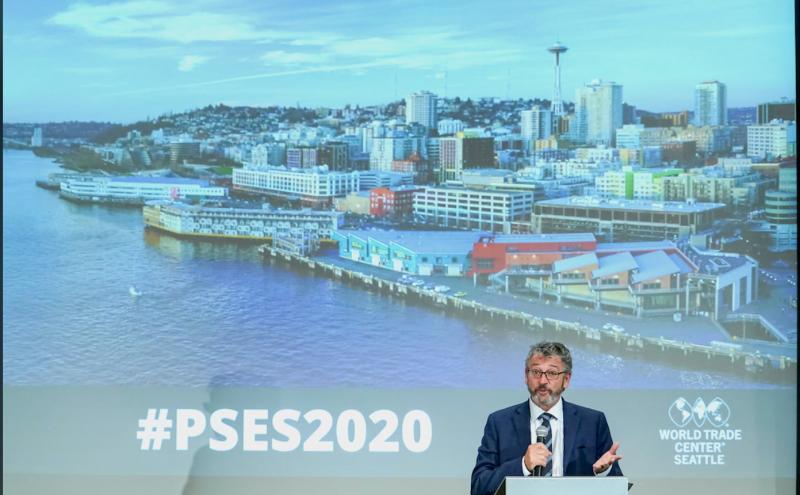 Sep 22, 2020
I spoke recently at the Puget Sound Economic Summit at Bell Harbor. I was honored to be asked to speak, but it was also just good to get out of the house. I presented to an empty auditorium and cameras linked to about 600 remote participants. From the smoke and massive fires driven by climate-change to COVID-19 quarantine, it's been quite a year.
I also appreciated the opportunity to put on a suit again. There's only so many jeans and T-shirts I can have laundered to support my dry cleaner during these times of virtual meetings.
Seriously now. Tourism isn't just a footnote in our economy — it's big business as the state's fourth largest industry. In 2019, visitor spending contributed $21.9 billion to the state economy including 240,000 jobs in Washington and more than 80,000 in King County. In 2020 these jobs have been hard hit by the pandemic.
As an economic engine for the region, the Port of Seattle is deeply invested in tourism. We operate the region's largest airport and the West Coast's largest cruise ship home port as well as five public marinas. In addition to this critical infrastructure, one prominent way we support the tourism industry is through promotional grants and by providing advertising opportunities at the airport.
The Port also supports organizations such as Visit Seattle and the Washington Tourism Alliance that promote Washington as a travel destination — which benefits communities throughout the state.
However, there is a subset of tourism that is particularly important to me and the state — nature-based tourism or ecotourism, sometimes referred to as adventure travel. As a former naturalist on board tour vessels in Washington, Alaska, and Hawaii, I've seen firsthand how these operations provide real economic opportunities especially for rural communities.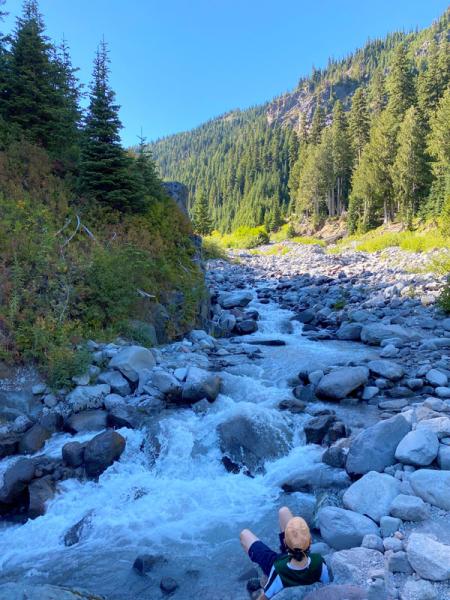 Ecotourism also provides a souvenir for visitors to take home — a conservation ethic that can last a lifetime.
Ecotourism and environmentalism are good for business. A 2018 WTA commissioned study identified natural beauty, accessibility of nature, and diversity of landscapes as top reasons people gave for visiting our state. Clearly there's still gold in them hills that need stewardship and can't be taken for granted 
Based on a 2019 WTA study, outdoor recreation accounts for 13 percent or $2.7 billion in total visitor expenditures in Washington and contributed $26.5 billion overall to the state economy.
Tourism feeds the soul and the economy
But it's the combination of our cultural and natural wealth that makes Washington State a uniquely desirable destination. Where else can you have an espresso in the morning and see orcas in the evening? Shakespeare could never have imagined a more magnificent theatre in the round than the views of the Olympics and Cascades from Benaroya Hall!
But there's no question that the pandemic continues to take a terrible toll on our health and economic security. And the tourism and hospitality industries have been among the hardest hit. 
After being cooped up for over five months, people were looking for something to do to salvage their summer travel plans and nature-based tourism was one of the few opportunities available due to the need for social distancing. It didn't take long before our hiking trails began looking like I-5  — putting both the public and the environment at risk. But just as that was becoming unmanageable, the forest fires required us to retreat back inside once again. Now we're trying to find ways to work at home while children are there as well, though technically in school.
However, as we shift our focus to recovery, we have an opportunity to learn from these experiences. Though not new, three ideas strike me as needing elevated attention: 
First, we need to recognize that nature is a big reason people come to visit Washington and we have to protect what we have, including not loving it to death.
Second, we need to expand our tourism season into the spring and fall shoulder seasons to lessen the negative impacts of overcrowding on communities and the environment while expanding economic opportunities throughout the year.
Third, tourism and travel need to better represent the racial diversity of our world and our region. We are missing out on opportunities to attract new and diverse guests to our region. We are missing out on opportunities to promote culturally diverse experiences like music, heritage, and indigenous cultures.
Tourism and travel feeds the soul. Done right, it can also put food on the table.
And it's not like there aren't groups out there: Facebook groups like Black People Hike and Outdoor Afro have more than 4,000 members which are just a couple examples that demonstrate existing demand.
Let's widen the circle to become a more welcoming and inclusive tourism and travel community.
Tourism and travel feeds the soul. Done right, it can also put food on the table. Our goal is finding that balance so that all people and communities receive the benefits of experiencing what the world has to offer while not damaging it in the process. Let's commit to finding that balance.