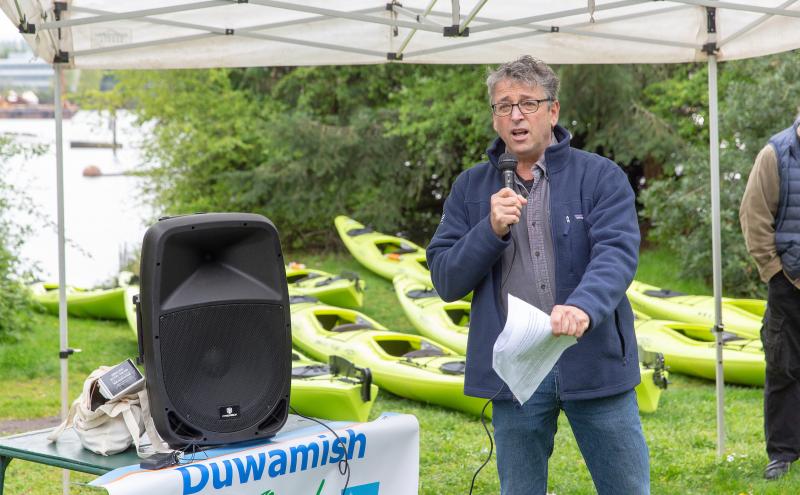 Sep 15, 2020
The Port of Seattle is engaged in a process that is long overdue. We are renaming parks along the Duwamish River from industrial friendly names like T-107 and T-117 to names selected with help from the local community. 
I'm delighted that the public can be part of this exciting chapter in the Port's history. The community involvement, amongst thousands of participants who've been engaged in the re-naming of Port-owned park properties, reaffirms that the Port of Seattle is the port of the public. However, I must recognize these challenging times and the apparent irony of renaming parks when we're being told not to go outside due to smoke from the wildfires, which, just a week ago was one of the few things we could do because of the pandemic. 
The forest fires, made more fierce by climate change, only compound the air quality impacts these neighboring communities are already exposed to.  These increasing occurrences underscore the importance of these parks to the quality of life for local residents and a habitat for fish and wildlife. 
These aren't just any six Port parks — they're hidden gems up and down the Duwamish River and they deserve names that better reflect their cultural history, biological significance, and importance to public access. The terminal numbers just don't do them justice. The Coast Salish people have recognized this area since time immemorial and I'd like to take a moment to recognize and honor that the Port of Seattle operates on the ancestral lands and waters of the Coast Salish people.Their contributions to our culture, our economy, and our environment continue today. We are especially grateful for the important and enduring partnerships with tribal communities as reflected in this project, from start to finish.  
These parks are not only places of peace and recreation for community members from all walks of life. The shorelines also serve as vital habitat restoration sites.  They're part of the Port's efforts to recover the aquatic ecosystems we've been entrusted with. This includes the food chain that supports our threatened and endangered salmon and Southern Resident Orca community. 
This parks project has raised awareness and united local communities that have always had — and continue to hold — a deep connection to this river. Thank you to the many community members, especially in the Duwamish Valley, who have participated in this effort. So many of you helped by spreading the word, researching names, learning each site's history, and visiting the parks this summer to inform your park name proposals. 
These are truly incredible parks and they deserve incredible names — we appreciate all you've done to answer the call!  But there's still more for you to do. 
I'd like to especially thank our eight Review Committee members, some of whom you'll meet today, for all your hard work reviewing and evaluating the thousands of nominations that came in. They had a difficult task of narrowing down the shortlisted names to best match the project's criteria — but the results are clear — they did a superb job. We appreciate your expertise and commitment to honoring the stories and perspectives that the public shared with you during this process.  
Thank you to the Seattle Parks Foundation for partnering with our talented staff early on to design a process that centers equity, transparency, and community voice. Their hard work helped us reach this milestone and will help get us to the finish line with new, incredible names, in October. 
It's time for you to cast your vote and rank each name nomination on the  Incredible Parks scoring page. Vote by 11:59 p.m. on September 30. The final park names will be announced on October 27th at the Port's Commission meeting.