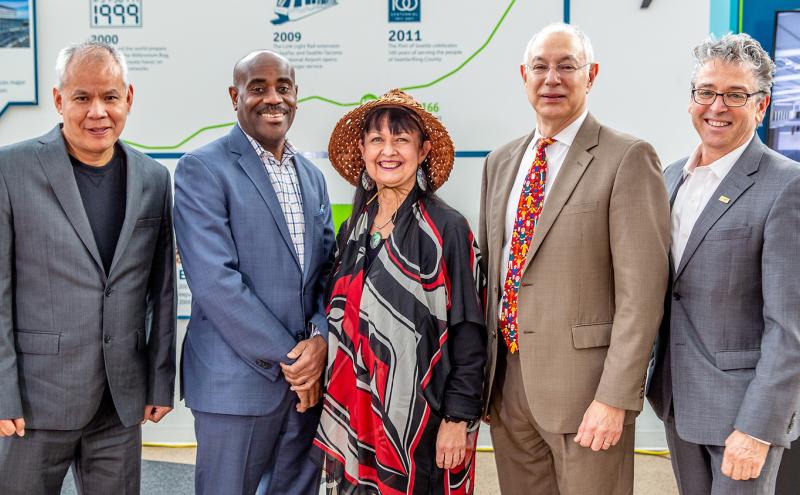 Feb 14, 2019
Editor's note: Commissioner Felleman gave the following presentation at the opening ceremony of Sacred Circle at Sea-Tac Airport on December 12, 2018. The kiosk officially opened February 7, 2019. 
We are honored to welcome the Sacred Circle gift shop to Sea-Tac International Airport as our first Native American-owned retail establishment. It's a partnership that is long overdue and serves as a significant welcome to visitors — reminding them that our region's rich cultural history is still very much a part of our contemporary art and culture. It's yet another example of the Port's commitment to increasing opportunities for small entrepreneurs, particularly women and minority-owned businesses. Here are my remarks from the Sacred Circle welcoming celebration.
Thank you, Mike, and thank you to United Indians of All Tribes Foundation. 
The future opening of Sacred Circle supports the Port's commitment to equity and economic development and to celebrate the heritage of native cultures as the first airport retail establishment owned by Native Americans/Alaska Natives. 
Opening a concession at the airport is no small accomplishment. Any of the businesses operating here will tell you that there are more hoops and hurdles to jump through and over to work in a federally secured facility.  
We always want to congratulate our retailers for their persistence and the usually high degree of creativity to get to opening day.  
I also want to recognize the airport team which has heard the Commission say that we must lower the barriers to entry for small businesses.  
While the Port has set goals to increase opportunities for small businesses at the airport, it doesn't do much good if businesses cannot raise the capital, invest in an expensive build-out, or feel confident enough about the future to commit to a ten-year lease. The airport staff has taken innovative steps to overcome those obstacles.
Our kiosk program is one of the best examples. With shorter leases and fewer expenses to open, a retailer can "try out" the airport to see if it's a good fit. We're proud that so many of our kiosks have the option of graduating to broader opportunities.
It is critical to recognize the leadership of our Native American Employees' Resource Group, particularly Anita Simmons, for the devoted communications and planning to bring Sacred Circle to the airport, and the time investment to do so. It is a labor of love. Anita is helping to relaunch our Native American Employees' Resource Group, a staff-led effort to recognize and celebrate Native Americans/Alaska Natives at the Port and to honor the role of Native Americans/Alaska Natives, the original inhabitants and stewards of this land in our community. The Port had an active Native American Employees' Resource Group between 1976 to 2005; it ended when the founder retired.
Our Native American Employees' Resource Group will play an essential role in supporting future celebrations and recognition of Native American/Alaska Native culture.