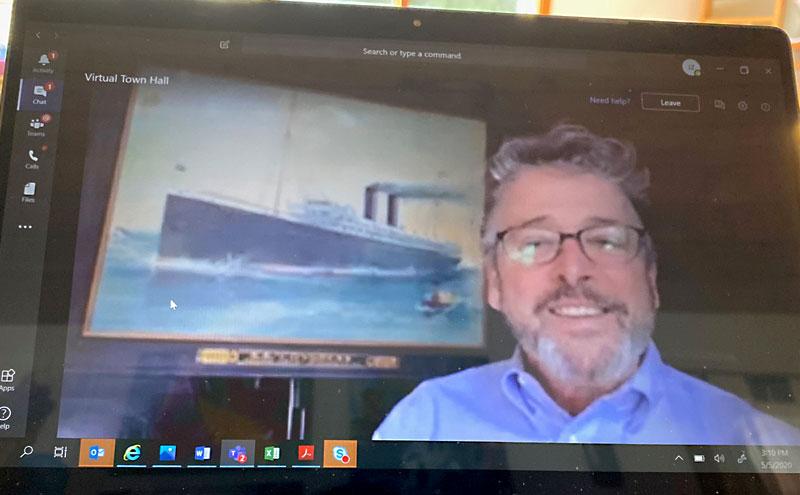 May 06, 2020
Commissioner Fred Felleman recognized the Port of Seattle team in a virtual Town Hall to celebrate Public Service Recognition Week. Here are his comments. 
To begin with Happy Public Service Recognition week.
However, as you can see my face cloth covering is not so rocking.  It's more suited for painting and sanding.  While not aesthetic, when assembled it seems to do the job.
I'm here to express my appreciation for your work in such trying times as well as to express my concern for your well-being.  I'd just like to say, despite what you may have heard along the way, You're all essential to me. The Port has a key role to play in the region's recovery and you have key roles to play to make that possible. I understand many of you are taking on additional work as your colleagues have had to take leave to tend to family responsibilities.
On a personal note, I'm concerned for my mom who is 95-years old and lives in a retirement home in Florida.  There have been five reported deaths, two of which were people she knew. I'm comforted to know she is able to keep herself busy in isolation by reading and listening to music and the news.  In lieu of reading the New York Times, she has taken to re-reading the letters my dad sent to her every day while he was fighting in World War II.
I'm lucky to have my fiancé with me during this time, but she keeps on trying to cut my hair.  It's obviously overdue.
Make no mistake though, our workload has not let up.  In fact, as you know, it's harder to blow off a meeting when all you have to do is log in. Like me, I'm sure many of you are losing your zeal for Zoom, but it's been incredible how we have been able to continue to advance the progress of the Port remotely.  
One of the things that has given me comfort is the support and compassion Executive Director Metruck has exhibited for your well-being. As a former Coastie you know that he comes from a safety culture that is intrinsic to his decision-making. I've enjoyed reading his heartfelt Port-wide emails that I hope serve as a salve on this situation. It's particularly important given the absence of empathy being expressed from the White House throughout this time.
Keeping you all healthy and happy is key to continuing to fulfill the Port's mission which is now more important than ever.These are certainly challenging times. None of us can know how long this will take to end, but we know that it will. And when it does, if we take good care of each other, we will be stronger for it. Even though we're apart, we're more dependent on each other than ever …
Don't forget, this isn't the Port's first pandemic! We survived the Spanish flu and together we will survive this one.
Thank you again for all you do and I'll be happy to take any EASY questions or deflect the hard ones to Commissioner Steinbrueck or Executive Metruck.