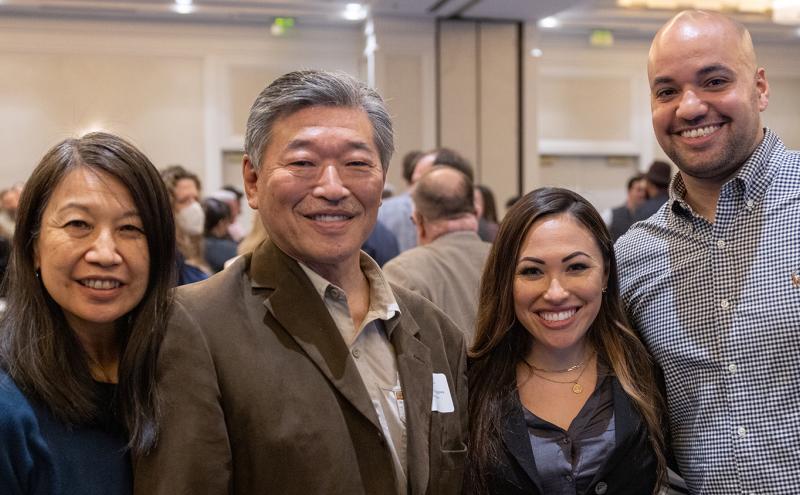 Jul 22, 2022
I've just crossed the half-year mark of my time at the Port of Seattle Commission — and it's been busy, to say the least. I believe the Port has so many tools in its box to create opportunities and improve the quality of life for all residents and workers in our region. As Commissioner, I'm focused on representing the values of the people of King County — health, fairness, and inclusion — through advancing environmental health, economic opportunities, and advancing principles of equity at the Port. 
I was recently interviewed by the Stranger checking in on my activities at the Port thus far. View the full story: "What Toshiko Hasegawa's Been Working on Since Winning Her Election."
Promoting Safe and Welcoming Facilities
People are arriving in Washington State through its many ports to access reproductive health care, including abortions. Given the implications of increased mobility through the Port of Seattle for people seeking abortion care, the Commission felt it was prudent to take action to promote safety and a culture of inclusion.
On July 12, 2022, the Commission approved a Proclamation that I sponsored in Support of Codifying Comprehensive Reproductive Healthcare, Including Abortion, in the Washington State Constitution and Federal Law. We also approved an Order sponsored by Commissioner Mohamed prohibiting cooperation with any federal or out-of-state agencies in investigations, prosecutions and other legal actions against women arriving in Seattle to seek legal abortions.
I am grateful for all four of my Commissioner colleagues as well as Executive Director Metruck for their unanimous and vocal support of these measures. The Port of Seattle is modeling inclusive, people-centered policies to other Ports around the state and welcomes anyone traveling to Washington State for access to safe abortion care.
Giving a Second Life to Port Police Bicycles 
As a graduate of Seattle Public Schools, it always feels good to circle back and be in community with kids from South Seattle, who like me, have promise, potential, and passion going for them. But when you circle back and can come with a gift, that feels even better! I was pleased to speak at a student assembly at Rainier Beach High School (RBHS) to unveil the gift of 13 bikes from the Port of Seattle. Port Police Officer Shawn Griffin, a RBHS graduate, and Angela Arturo had the idea of giving these bikes a second life in the community. They worked with Port staff, including LaCretiah Taylor (another RBHS graduate!) and Rudy Caluza to make it happen.
But when bureaucracy got sticky, the students themselves weighed in to push this over the finish line! The NAACP Youth Council organized and advocated to ensure the Port could donate these bikes to the Bike Works program and effectively get into the use of students. The students — also known as the Biking Vikings — will gain technical skills and learn about environmental sustainability, all while promoting health and wellness.
High Schoolers Are the Future of Maritime
There is so much talent among our youth, who are the future of maritime! I had the joy of observing a "floating classroom" of Maritime High School (MHS) freshmen on an in-person tour with MHS students, staff, and other elected officials. While there, children were testing for the presence of e-Coli in the Duwamish River by inspecting gelatinized bacterial cultures.
Just about any career a child dreams to pursue can be accomplished within the maritime sector — whether it's working with animals, machines, chemical compounds, people, or more. MHS is doing the work of generating both skills and interest in historically excluded and underserved communities in this exciting industry. It was a simple pleasure to see the magic of curiosity and discovery in live action.
Port Police Chief Selection Process
At my request, the Port of Seattle held a first-of-its-kind public candidate forum for new Port of Seattle Police Chief finalists. There, members of the public got to pose questions to the two finalists and provide direct input to staff about what they think is important in a police chief. It was a wonderful opportunity to promote transparency and public faith in port and policing processes. I was pleased to provide welcome remarks and look forward to the announcement coming from our Executive Director, in his words, "soon."
What's Buzzing at the Waterfront?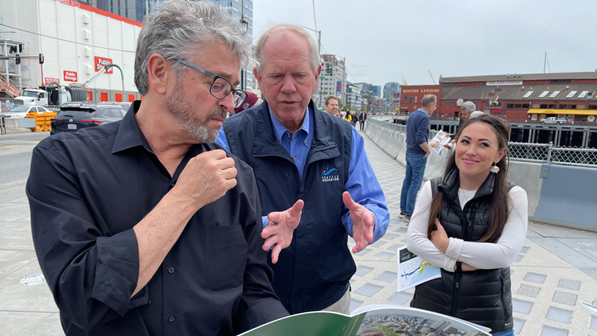 As a member of the Waterfront Industrial Lands Committee and the Aquarium Committee, I have the joy of learning about the waterfront redevelopment effort that is well underway. Big plans to open a gorgeous and interactive promenade and connect the waterfront to Olympic Sculpture Park, Bell Street Park, and neighborhoods brimming with activities will make this a globally renowned tourist destination, and a perfect, accessible place to spend time for local families.
In alignment with our proud track record of habitat-friendly development, we are partnering with UW on the Elliott Bay Seawall project to improve the salmon migration corridor. Developments are scheduled to conclude in 2025, just in time to welcome the soccer fans to Seattle for the 2026 World Cup Games, which all of us at the Port are so excited to host!
Read the FC Sounders Press Release about the Seattle host city selection.
---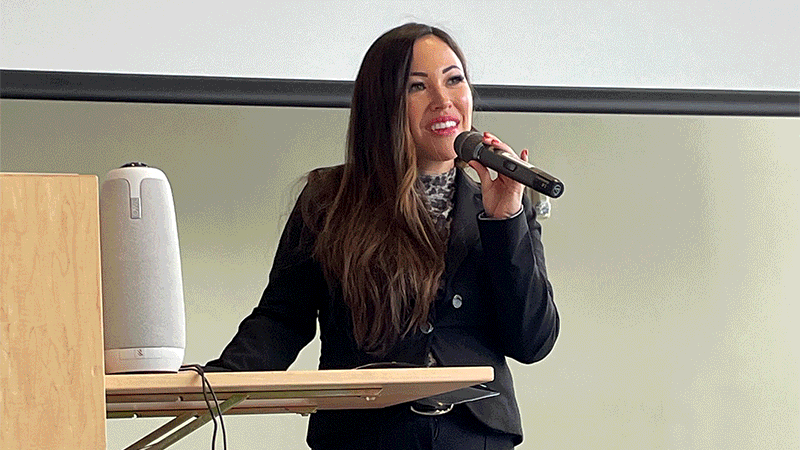 South King County Environmental Symposium
The Port of Seattle proudly hosted the South King County Environmental symposium, featuring amazing, community-led groups and projects working to advance equity and environmental sustainability in our region. This diverse group of innovators in near-airport communities had this time to tell their stories, share their experiences, and exchange ideas that can help interrupt the siloed nature of the work.
There were many project leaders in attendance, who received grants via the South King County Community Impact Fund (SKCCIF) to empower their communities who are disproportionately impacted by noise and air pollution. Thank you to our amazing staff Andy Gregory and Ilays Aden for your amazing work in organizing. 
 
Subscribe to receive email updates from Commissioner Hasegawa