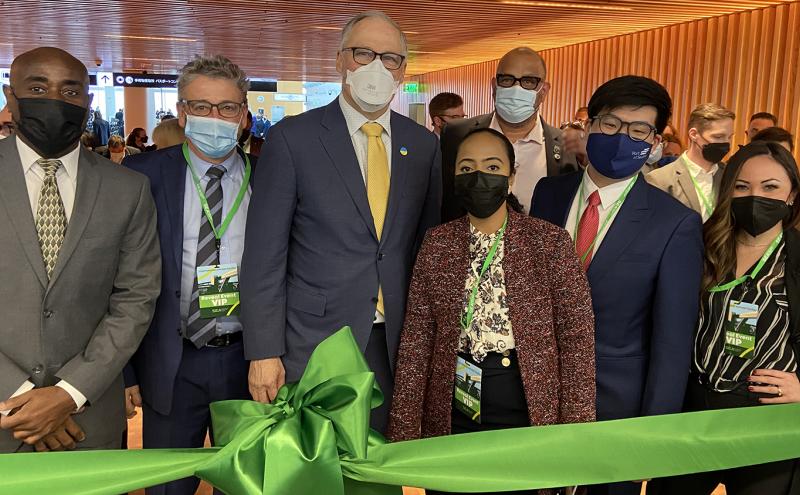 Mar 31, 2022
Great news! Starting April 19 the new International Arrivals Facility (IAF) at Seattle-Tacoma International Airport (SEA) will open to international travelers. It's a phased opening to allow us to get all the kinks out of the system but we expect the facility to be fully operational by May 10. This is a major accomplishment and is the result of thousands of Port employees, trades workers and partners who went to great lengths to open our doors to the public. Thanks so much to everyone involved.
One aspect of the project I'm so proud of is its environmental sustainability. The new sustainable, energy-efficient facility will significantly enhance the arrival experience for international travelers and newly arriving residents. Our state is a welcoming region, and our facilities match that beautiful energy!
What I love the most about the IAF is the environmental and sustainability investments we made. The facility has important green building elements including:
Low-flow restroom fixtures to reduce indoor water use.
Energy-saving features like LED lighting, energy-efficient escalator motors, and variable speed motors on baggage handling devices.
Two-thirds of the building have daylighting to connect travelers to outdoors, reinforce circadian rhythms, and reduce energy consumption.
Conscientious construction with 7,163 tons of contaminated soil and 62,405 gallons of impacted stormwater removed from the project site, many materials sourced within 100 miles, low-emitting adhesives, materials, and coatings, and most of the construction waste was diverted from landfills.
Next time you travel through SEA Airport, let me know what you think!
Subscribe to receive email updates from Commissioner Mohamed