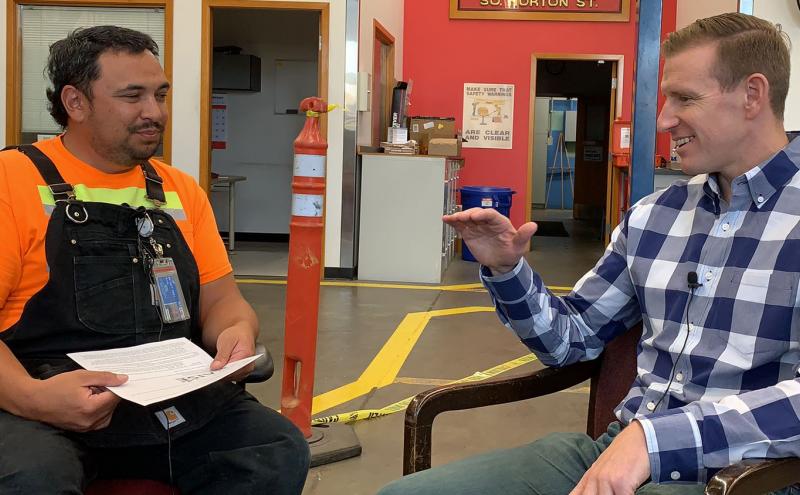 Aug 31, 2021
The Port has many facilities and requires a team of skilled trade workers division to keep facilities and equipment in top shape and running smoothly. These skilled workers build, maintain, and restore our essential infrastructure behind the scenes so that the Port of Seattle can continue to serve as an economic engine for the region.
At a time when many occupations seem to be in constant flux, skilled trade professionals like electricians, carpenters, plumbers, and painters are in high demand and the outlook only gets better over time. I am a strong proponent of trade work and career opportunities in the field. They provide living-wage jobs and paths to stable and lasting careers, in addition, it is a leading indicator for the health of the job market. However, skills development takes time and major employers like the Port need to invest in the early rungs of the career ladder to ensure that young people from every part of our community have access to these great careers.
I toured the Port Marine Maintenance facility to understand their work and to highlight some of these amazing trades jobs. Last week, you met Senior Manager Dan Fitzgerald.
This week, you'll get to know Derek 'DJ' Lewis, Plumbing Crew Chief, who has been working at the Port for the past five years. Here are a few highlights from our conversation.
Commissioner Calkins (RC): How did you get into trade work?
DJ: I've been in the trade since I was 27 years old and journeyed out at 32 years old, so that was around eight years ago. I got started in trade work as a laborer when I was a kid out of high school to earn money and save up for college. I am originally from Maple Valley, Washington but went down to San Diego for a while to attend Grossmont College, eventually finishing up my degree at Western Washington University. When I was done, I went back to laboring for a while to make some money because I was just out of college and broke. While I was on the job site, a plumber actually came up to me and said, "Hey — I know you have your degree now and everything, but you know they're hiring down at the hall, if you're interested. Go check it out." So, I did, and their benefits and pay were something I was very interested in. I got my degree in cultural studies and enjoyed my time at Western, and I would never say it was a waste of time going there because I ended up being a plumber. It was a great experience and I am glad I did that. So, I went down to the labor hall and signed up and it was only about a week later when I got a call from the business agent. They said, "we'd like to have you come interview and start the process to become an apprentice." That's a five-year program down at local 32 in Renton, Washington.
RC: What's the apprentice process like? Do you get paid?
DJ: As an apprentice, you're getting an education but you're getting paid at the same time. It's a great deal. You earn about 60% of what a journeyman would make when you start out, and it gradually increases as you make your way up to the journeyman level.
RC: At the apprentice level, how are the wages? Are you making enough to cover rent and food? Or are you scrimping to get by?
DJ: It was a little bit less than what I was used to as a laborer at the time, there was a little bit of going backward, but enough to get by. It was a great opportunity to learn on the job. There is school after work, so I didn't always get eight hours of sleep every day, but it was definitely worth all the hard work.
RC: Do you like the work? Is the work interesting?
DJ: Absolutely, the work is very interesting. Especially where I work here now, we are doing so many different things in the plumbing world here. We are working on projects from retrofitting all the drinking fountains at our cruise terminals to touchless fountains with bottle filling stations; we're doing new construction and tenant improvement work; we're updating our potable water systems, which are at the end of their life span around here. So, we get to do anything from natural gas to potable water to sanitary sewer systems, working with a ton of pumps. So, very interesting. There is never a boring day.
RC: So you did an apprenticeship and become a journeyman. What's next as you move through journeyman? How did you end up in a position like this?
DJ: I started at a company called Hermanson, where I became a field foreman there, and from there I came over to the Port after a crew chief position opened up. I'm not sure what's next for me, but I am looking forward to the next stage, whatever that might be.
RC: That's great. What do you see for your workforce as the biggest challenges coming in the next couple of years?
DJ: The challenge coming up is going to be a shortage in labor. We have a lot of people that are retiring, and we have a lot of people that don't have the experience that we need to work on some of the older systems that are still in place here. That's going to be the struggle, finding people with the experience, skills, and knowledge. That is number one.
RC: From the standpoint of somebody who has gone through the whole process himself, and actually had a college degree and probably some opportunities outside of the trades, what would you tell me as a Commissioner that I should do to make sure the next generation of workers understand the opportunities that are available in the trades?
DJ: What I would really recommend are some of these local programs they have around here. I'm really impressed by them. There is a program called ANEW, I don't know if you are familiar with some of these programs. These programs are set up like a pre-apprenticeship program, so if people that might be interested in the trades are not sure exactly what they want to focus on, they can get a small sample of a lot of different things. It's almost like going to a junior college before going to the university, where you can figure out what you want to major in before committing. It's along those same lines. I would recommend helping people get into these programs to help them make a decision on where they want to go next.
RC: I know there's a lot of folks who feel uncertainty around their careers because they're worried about automation or outsourcing. Whereas, I feel like with the position you're in there is more than enough work and it's more about how do we get more workers so that we can get these jobs done. I think that is true for a lot of the building trades, whether it's plumbers, pipefitters, laborers, or carpenters — across the board. Where the issue is right now is lack of available workers, so communicating to folks, in particular those communities that historically have not had the opportunities in trades, to get them to understand how trade careers are stable, they're well paid, and come with benefits, and you don't have to worry about "what am I going to be doing in two years or five years."
DJ: One hundred percent. Very high demand right now. For those people that are interested, we need to get the message out to them because I could use people right now.
RC: DJ, do you have kids? Would you want them to follow in your footsteps and go into the trades?
DJ: Absolutely. I'd have no problem with that. I have an eight-year-old son and a four-year-old daughter.
RC: Any other topics you think are especially important for the Port's Commission to understand?
DJ: I'm not sure this is something the Commission can help with but I am struggling with hiring folks. I have several crew members getting closer to retiring, so I want to get people in here quickly so they can learn from the current crew, and the next generation can have that institutional knowledge before it is lost.
RC: DJ, thank you for your time. I appreciate it. That was really helpful.
Come back next week to meet George Washington, a sprinkler fitter.
Priority Hire Program
The Port of Seattle Priority Hire Program supports access to good family-wage jobs to qualified construction workers from Economically Distressed Areas of King, Pierce, and Snohomish County by increasing access to Port of Seattle projects. The program leads to economic growth and job creation in areas that experience economic distress. It also provides jobs to historically underrepresented individuals in the construction industry, such as women and people of color.