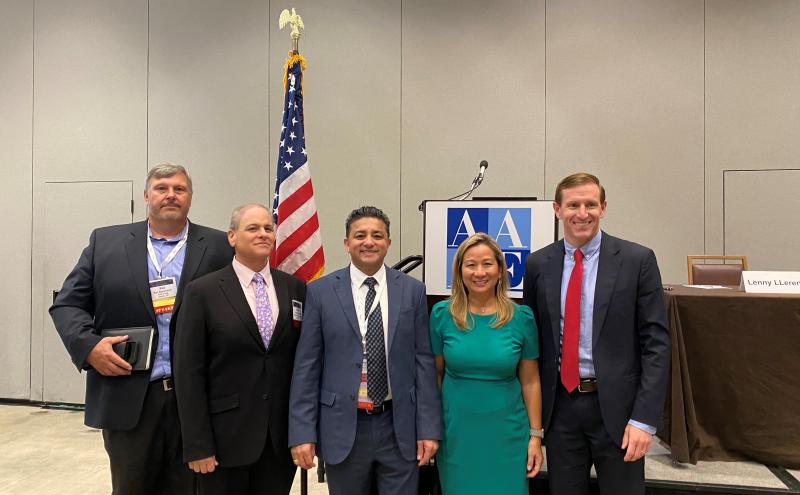 Aug 16, 2022
Making air travel truly sustainable is an enormous challenge. The biggest hurdle is finding a replacement for fossil-based jet fuel. Replacing fossil jet fuel with Sustainable Aviation Fuel (SAF) can reduce lifecycle greenhouse gas emissions by nearly 80% while also lowering local air particulate emissions that impact near-Port communities. The Port of Seattle has made Seattle-Tacoma International Airport (SEA) an industry leader by being the first airport in the world to set a goal of using SAF for every flight.   
Last week, I shared our experience with industry experts at the 2023 Airports Conference of the Americas as a part of our efforts to get other airlines to follow our lead in sustainability. What follows is the roadmap to SAF that I shared with them.   
I have been privileged to work with the talented team at SEA. Thanks to them and others, we are lightyears ahead of where we started. They jumped into the work when many still felt it was a fool's errand. I am optimistic that we'll see a breakout in the use of SAF in the next decade because of the trail SEA blazed.  
We started in 2008 with the Sustainable Aviation Fuels Northwest study. It was the first regional effort bringing in community stakeholders to work on sustainable airplane fuel production. With partners like Boeing, Alaska Airlines, and Washington State University, there was no shortage of talent and ideas.  
The effort paid off.  
By 2015 we went from having to prove that sustainable fuels work, to providing those fuels to airports. I was proud to serve on the Port Commission and sign off on the funds for this work.  
Here is a breakdown of what we studied:  
We needed to map out how to have the largest impact within our limited authority as a Port district. There are strict rules on how we use money and resources.  
All our sustainable fuels must come from local, sustainable sources. We need to avoid unintended problems like the clearcutting of forests to grow purpose-grown biofuel crops.  
We had to navigate steep insurance costs and challenges blending the fuels on airport property. This required creating a partnership with refineries and producers to optimize where to blend and source fuels.  
The team successfully showed that we could meet a goal of 10% sustainable fuels sourced locally by 2028. We developed a strategy to meet that ambitious goal.  
We are now studying the availability of materials to produce the fuels. Sustainable fuels can be produced by recycling curbside garbage (after other blue-bin recyclables are removed) from homes and businesses. We are working with the state's largest landfill on a feasibility study of recycling their waste.  
So far, SAFs are still costlier than standard jet fuel, but we are developing ways to offset that cost by partnering with local companies like Microsoft and Amazon. They are interested in buying into sustainable fuels for their corporate travel. This partnership is called the "Sustainable Aviation Buyers Alliance (SABA)."  
Then we hit a snag in our local market. California's Low Carbon Fuel Standard (LCFS) provided fuel suppliers with significant financial incentives for SAF — and we didn't have an equivalent system in Washington — which meant that the selling price for producers was much lower here.   
State Representative Joe Fitzgibbon led the effort to introduce a LCFS for Washington and it will go into effect on January 1, 2023. Washington's LCFS helps to level the playing field with California while also investing in the transition away from fossil fuels across the board.  
We also worked in Washington D.C. to advocate for the Inflation Reduction Act, which creates a SAF blending tax credit and infrastructure grants program. This means more money for SAF projects and more partners willing to produce sustainable fuels, allowing SEA to invest in things like an additional tank for SAFs.  
To create a market and push refineries to produce SAFs, we are forming alliances with regional partners like the Port of Portland and the Spokane Airport. But the ringer could be the Department of Defense. Congressman Adam Smith is working with us to supply the huge number of military aircraft in the state with sustainable fuel.  
I have been proud to support and work with the amazing team at SEA. They have been working on this for over a decade and their dedication should give us all cause for optimism in a cleaner more sustainable future for flying.   
While we still have a way to go on our journey toward sustainability, we have made great strides in just the last year. Continued efforts to bring SAF to SEA, as well as efforts around electrification, make me optimistic that we can achieve truly sustainable aviation.  
Subscribe to receive email updates from Commissioner Calkins