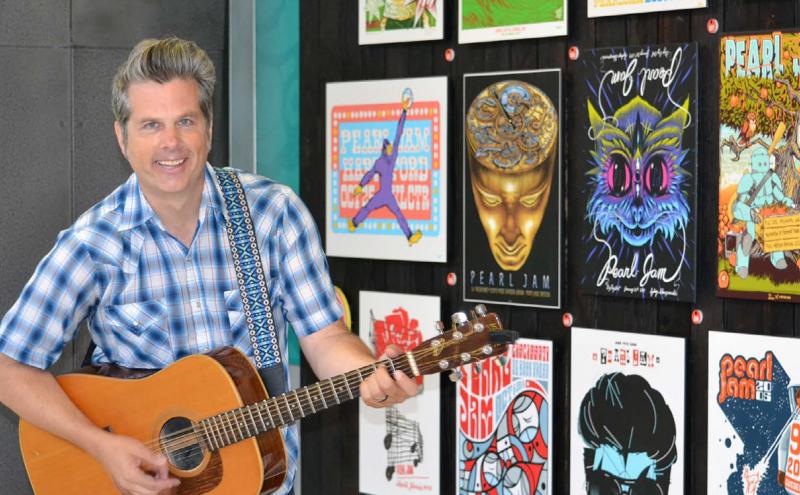 Seattle music icons concert poster display makes comeback in area where more people can enjoy - organized by MoPOP, popular display part of airport's top-notch art program
March 23, 2017
SEATTLE – Just in time for next month's induction of Pearl Jam into the Rock and Roll Hall of Fame, the Port of Seattle has plugged in its guitar amps, stocked up on flannel shirts and pulled back the curtain on one of Seattle-Tacoma International Airport's most popular displays. In cooperation with Seattle's MoPOP (formerly EMP Museum), "PUSH ME, PULL ME: Pearl Jam and the Art of the Screen Printed Poster" is back!
The display, which was inside security checkpoints, had to go into storage late last year to make room for a new airline dining location. Now, the display is back in a pre-security checkpoint location, just behind ticket counters in the middle of the airport.
"We all know the special vibe our region has and travelers love the Northwest sense of place they get when coming through Sea-Tac Airport," said airport music program manager Tami Kuiken. "The new location lets travelers and non-ticketed airport guests enjoy this special art collection which highlights the connection between the band and, artists and fans from around the world."
Organized by the MoPOP in collaboration with Pearl Jam, Ten Club and Ames Bros, the display features 59 posters from 29 artists and is located near the B Gates exit area. Notable works include those of Brad Klausen, who sent a poster to the band in the late 90's with his phone number. Nearly a year later, Klausen got a call asking if he'd move to Seattle to be Pearl Jam's in-house graphic designer. He worked with the band for nine years, creating album covers, t-shirts and several more posters.
The Pearl Jam exhibit is part of an extensive art collection of more than 65 pieces, murals, sculptures and more. The art program represents the global scale of the airport, emphasizing work from Europe, North America and Pacific Northwest Native American art influences.
Travelers can download the STQRY mobile app to get detailed descriptions of art pieces while roaming through the airport. From "Pop Can Quilts" to the popular "Flying Fish", the app has it all!
If sounds are more your thing than sights, Sea-Tac is home to an award-winning live music program. While we're still working on getting Pearl Jam themselves to do a pop-up concert sometime, travelers can enjoy some of the region's best up and coming artists. Introduced in 2012, the Experience the City of music Program is a cooperative effort by the Port of Seattle, the Office of Film + Music, Seattle Music Commission and PlayNetwork.
The live music programming consists of three performances daily, ranging between 9 a.m. and 3 p.m. at various locations throughout the terminal. In 2016, Sea-Tac had 1,122 individual performances. Over the three years of performances, 73 different Northwest musicians have played over 7,500 hours of live music for travelers.
About Seattle-Tacoma International Airport
Operated by the Port of Seattle, Seattle-Tacoma International Airport (SEA, KSEA) is ranked as the 9th busiest U.S. airport, serving more than 45.7 million passengers and more than 366,000 metric tons of air cargo in 2016. With a regional economic impact of more than $16.3 billion in business revenue, Sea-Tac generates 171,796 jobs (109,924 direct jobs) representing over $2.8 billion in direct earnings and more than $565 million in state and local taxes. Twenty-eight airlines serve 81 non-stop domestic and 24 international destinations.