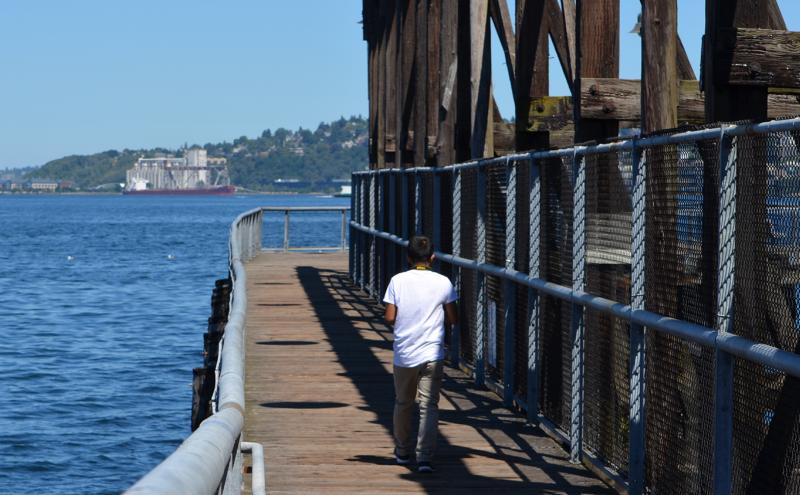 Many sites around Seattle make great filming and photography locations. For detailed information about Washington State and Seattle area filming locations and resources, visit Washington Filmworks. For logistical support and permitting for Seattle, visit the Mayor's Office of Film and Music.
At Seattle-Tacoma International Airport (SEA) and Seattle's Seaport terminals, we are happy to help you find the best location for your specific needs, direct you to public access areas, and advise you on the best ways to get your project done within existing constraints. Many of our sites have strict federal security requirements, and most are leased to ongoing business operations that cannot be interrupted. You will need a Port escort to help you navigate these requirements.
Applying to film at Port facilities
Please complete an application for the desired Port property location:
Application(s) must include:
A statement about the general theme of the production.
A script or storyboard of the production or specific scene.
The specific dates and times when shooting will occur.
The number of crew and type of equipment to be used at the location site.
Proposed specific production location site.
Proof of adequate liability insurance, including insurance certificate to name the Port of Seattle as an additional insured, Primary and Non Contributory Endorsement and waiver of subrogation.
Whether you anticipate any security problems or labor disputes where crowd control may be an issue.
Contacts and agreements made with tenants on Port of Seattle Properties.
A list of previous production experience at Port properties.
Flat-rate daily filming fee (covers administrative and escort costs) for most productions. Fee reductions may apply to very low impact productions by certain non-profit charities, student productions or port customers.
Licenses will be granted to eligible applicants after the port determines, in its sole discretion, that the proposed activity is in accordance with federal, state and local laws and with Airport and Seaport rules and regulations, and will not interfere with business operations. Fees will be collected at the time of the shoot.
Additional filming guidelines:
Number of cast and crew may be limited.
Amount and size of production gear may be limited.
Electrical access may not be available or may only handle lower power lighting, etc.
Cables, signage or any equipment that may block or impede normal facility business may not be allowed.
At many facilities (including the Airport) there is no special parking area available for crew trucks and vans.
Large crowds cannot be accommodated.
The Port of Seattle reserves the right to deny use of any footage that might prove to be harmful or defamatory to the port, its facilities or its customers.
Filming location contact information