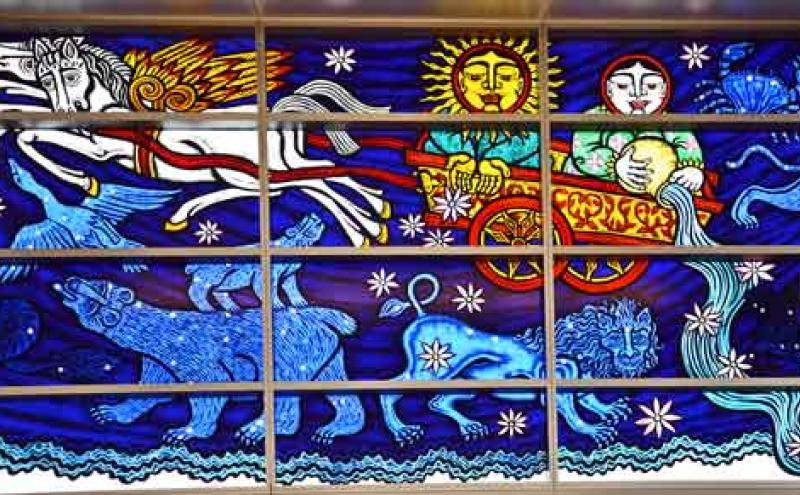 See Sea-Tac Airport's Entire Public Art Collection Via Mobile App


August 6, 2015
The art of discovery is now in your hands and online at Seattle-Tacoma International Airport! The Port of Seattle is introducing a mobile app for travelers to discover and explore the entire public art collection of the airport.
Through the STQRY app (pronounced "story") it's easy to learn more about all 65 airport art pieces from paintings, murals, sculptures and more, including detailed descriptions, artist bios, fun facts, videos, and even online maps. You can explore, engage, and discover the one you're most curious about or take a walking tour throughout the terminal! STQRY is available as a free download for iOS, Android, and Windows devices.
The STQRY app and corresponding website provide detailed 'stories' for each piece of Sea-Tac Airport's world-class art collection throughout the terminal. Travelers can easily search for individual pieces of art by groups or locations, such as concourses A through D, main terminal, pre or post-security, baggage claim, rotating exhibits, satellite trains, Rental Car Facility, and many other locations in and around the airport.
"The app makes the airport's art program virtually come alive as there is so much to discover and learn about our award-winning art collection," says Colleen McPoland, Art Program Manager at Sea-Tac. "This way the traveler can find answers to their questions on their own. It's a fun, easy, and engaging mobile platform that tells the "story" behind the art and artists."
Sea-Tac's art collection was started in the late '60s and features some of the most unique and finest contemporary works in glass, sculpture, photography, painting, and sound; all of which are profiled via the app and online. For example, one of the airport's most popular and eye-catching sculptures is located in the Central Terminal. It is called "Landing", by Ralph Helmick and Stuart Schechter. Visitors can learn the story behind Landing, view photos, read bios of the artists, find related works, and even discover some of the more intricate details of Landing: it contains 28,000 pieces, suspended by over 10,000 wires, and is 40' high, 20' wide, and 20' in depth.
The region's diversity is well-represented through European, all-American, Asian, Northwest Native American and folk-art influences on display at Sea-Tac. Whether it's, the twirling suitcases in "Rainmaker's Baggage" (located at baggage carousel 8), the "Talking Drinking Fountains" (concourses B, C, and D), "Traveling Light" (Concourse A), "Spinning Wheels (Rental Car Facility), or any other piece of art on display in and around Sea-Tac, travelers can rest assured it can be found in the palm of your hand.
"We built STQRY to help organizations enhance their customer experience in a very real way," said Chris Smith, Founder and CEO of STQRY. "It's exciting to know that millions of people who filter through Sea-Tac every year, now have an opportunity to richly experience a magnificent art collection by way of their very own mobile device."
View more information on Sea-Tac's art program.
About STQRY
STQRY (pronounced "story") is a mobile platform used by over 400 organizations globally to easily create and manage meaningful customer experiences by way of location-based storytelling. STQRY brings to life a unique opportunity through the use of iBeacons, Eddystone, WiFi, GPS, Augmented Reality and smartphone sensor technology to deliver seamless mobile experiences in and around major destinations. Museums, airports, airlines, hospitals, casinos, major cities and corporate businesses use the STQRY app as an interpretive and contextual guide to learn about things in their current location. STQRY is headquartered in Seattle, WA.