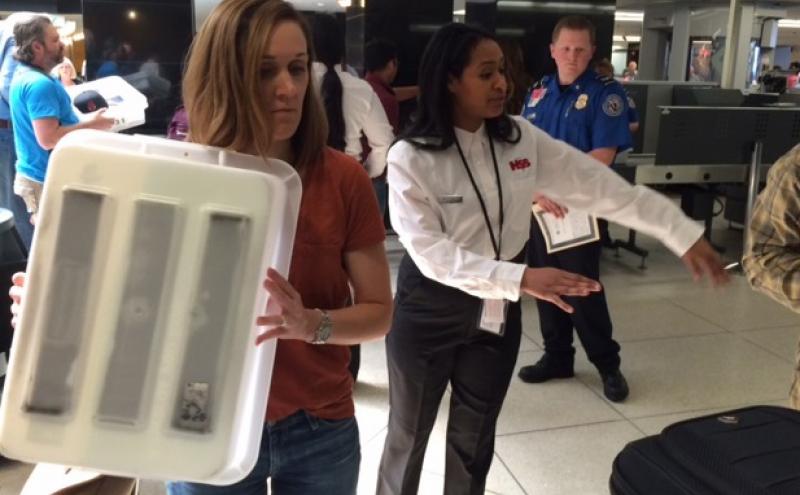 Port of Seattle making many changes including adding temporary private contractors at checkpoints beginning May 23 to assist passengers and allow TSA to open more security lanes
May 19, 2016
SEATTLE – The Port of Seattle is taking several steps to prepare for a record number of travelers anticipated this summer at Seattle-Tacoma International Airport. Starting next week, 90 private contractors will assist passengers at security checkpoints and free up TSA personnel to open up more lanes to reduce wait times. An exercise with Sea-Tac, TSA and major airlines led to several strategies designed to make security lines more efficient for travelers.
For the first four months of 2016, passenger traffic has increased 10 percent compared with 2015, which recorded a 12.9 percent passenger increase. More than a half a million passengers are expected to pass through Sea-Tac during Memorial Day weekend (from Thursday May 26 through Monday, May 30), traditionally the kickoff to the summer travel season during the five-day period. The busiest day is projected to be Friday, May 27 with approximately 145,000 passengers – that's 25,000 more than the Friday before Memorial Day last year!
"The Port of Seattle is proactively working to improve the customer experience at checkpoints where we can and working with the TSA to manage wait times with our record passenger numbers," said Daniel Zenk, Sea-Tac Airport senior operations and customer service manager. "While these added contractors and other changes will help in the short term, we realize the long-term solution to the growth at Sea-Tac is more TSA staff, more open lanes and more K9 units. We will continue to work with our federal elected leaders to maintain the level of service our customers expect at the nation's fastest growing large airport."
Changes Sea-Tac is making to keep up with record crowds:
90 full-time equivalent contract workers to free up TSA personnel

Contractors to work non-regulatory positions before and after x-ray screening

More areas and tables to get ready for screening while in line (divesting)

Pilot program test led to 40 percent faster divesting

More areas to gather belongings post-screening (revesting)
Increased focus on line management with Sea-Tac staff targeting peak times

Hiring more customer service staff for summer

More signage to direct travelers to checkpoints
Adding live music performers near checkpoint lines to reduce passenger stress
Contractor (in white shirt) training today with TSA security officer
Travelers should continue to give themselves plenty of time to park, check-in and go through security as the TSA is warning that wait times could be a challenge nationwide this summer. TSA security checkpoint wait times vary depending on the day and time, so travelers are asked to arrive two hours prior to a domestic flight and three hours for international flights.
Holiday Passenger Traffic Numbers
Busiest days for Memorial Day weekend: Friday, May 27 - 144,000 passengers going through airport (inbound and outbound), Thursday, May 26 – 142,000
Summer – Sea-Tac's busiest time:
Sea-Tac's busiest travel period: June through August (August is typically the busiest month, followed by July and June)
Arrive Early! Travelers are encouraged to arrive a minimum of two hours before domestic and three hours for international flights – give yourself time to park, check-in and get through security. If you're checking bags, add some extra time - always better to be early.
The busiest times at TSA checkpoints typically are between 5 - 11 a.m., while increased flights during the evening create another busy period between 7 - 9 p.m.
Peak hours can mean TSA checkpoints may be longer, please plan accordingly.
Peak travel days are Thursday and Friday.
More Travel Tips, Parking Coupon and More
Whether it's live music, easy access parking or dining options, Sea-Tac has it all for travelers.