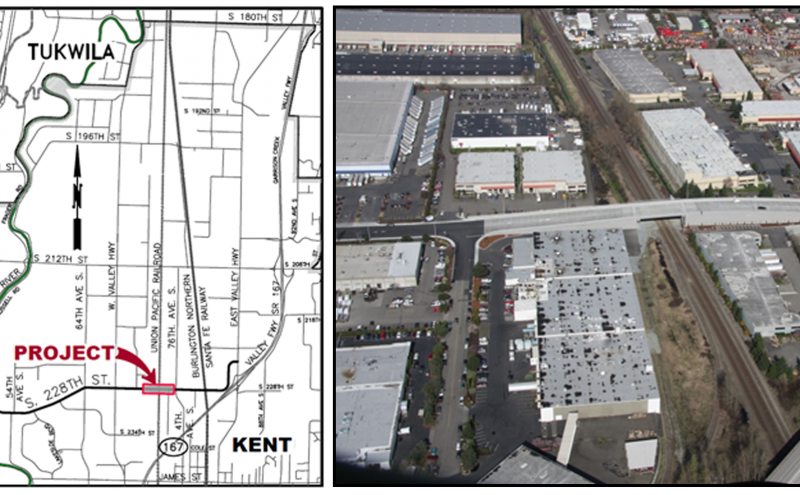 $600,000 will go to grade separation project in Kent, easing rail-related congestion
May 23, 2017
SEATTLE—The Port of Seattle Commission today approved transportation funding for the South 228th Street grade separation project that will help traffic flow delayed by railroad crossings. The project improves regional connections between thousands of businesses, employers and 40 million square feet of warehouse and industrial space. The $595,000 in funding contributes to an overall project cost of $25 million.
"The Port of Seattle recognizes the need to keep freight, and all other traffic, moving throughout our region," said Commissioner Stephanie Bowman. "Grade separations like these are critical to remove traffic bottle necks, especially areas in the Kent Valley that handle the second largest freight and cargo volumes on the West Coast."
"The success of both the Port of Seattle and the Kent Valley's robust manufacturing, warehouse and distribution activity depends upon safe, reliable, timely connections to the Ports of Seattle and Tacoma, and increasingly to Sea-Tac Airport," said Kent Mayor Suzette Cooke. "Kent's S. 228th Street has been designated as a key freight route, attracting Port customers who value timely access. The elimination of the chokepoint at the Union Pacific Railroad crossing will help ensure our region's future as a premier manufacturing and distribution center of world-wide importance."
About the Port of Seattle
Founded in 1911, The Port owns and operates Seattle-Tacoma International Airport, two cruise ship terminals, Fishermen's Terminal—home of the North Pacific fishing fleet, one grain terminal, a public cargo terminal, four public marinas, and manages a number of real estate assets for financial return and economic advantage. The port's operations currently help create nearly 200,000 jobs and $7 billion in wages throughout the region. Over the next 20 years, the port's "Century Agenda" seeks to create an additional 100,000 jobs through economic growth while becoming the nation's leading green and energy-efficient port. Learn more at www.portseattle.org.