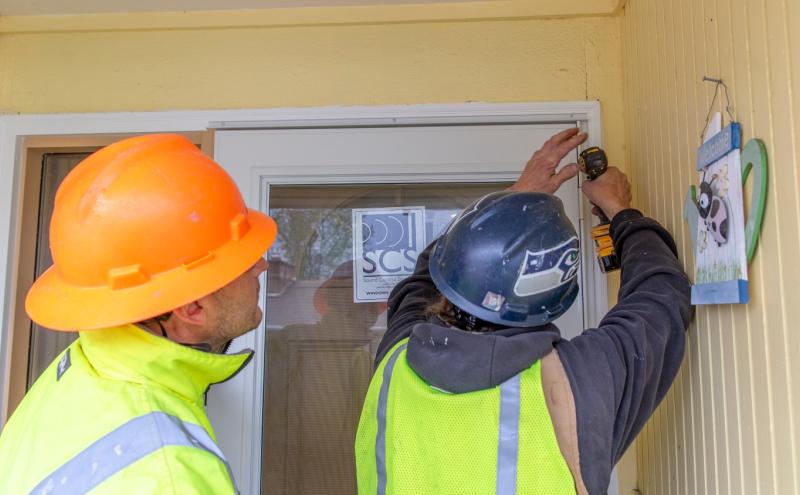 Since 2019, program has secured more than $35 million in federal grant funding
July 25, 2023
The Port of Seattle Commission today authorized the latest phase of its Sound Insulation Program (SIP), with a focus on eligible apartments within the current noise remedy boundary around SEA Airport. The action completed today will allow for the Port to advertise, award, and execute a major public works contract, inclusive of a project labor agreement, to support completion of the overall SIP program by 2026.
The total project estimate is around $133 million, and today's authorized phase is budgeted within that project estimate. The Port also competes for grant funding from the FAA Airport Improvement Program (AIP) and since 2019 it has secured more than $35 million in funding, including $21 million for apartments, for SIP work in progress.
"The Port of Seattle has a long-term commitment to the communities surrounding SEA Airport, and this authorization will keep us on an accelerated track to provide noise mitigation to residents within our noise remedy boundary," said Port of Seattle Commissioner Hamdi Mohamed. "We are committed to continued community outreach to those eligible for sound insulation to ensure we meet our stated goal of completion by 2026."
The Port's sound insulation program has a long track record dating back to 1985 and has provided sound insulation to over 9,400 single-family homes and five condominium complexes.
The current focus of the program is apartments, places of worship, completion of current condominium projects, remaining interested single-family homes, and buildings and residential units in construction or design phases.
It will continue to apply for AIP grants for all phases of work, including work authorized today. Additionally, the Port continues to have established goals for federally certified Disadvantaged Business Enterprise (DBE) consultants and contracts who are supporting the overall program.
The Port also continues to partner with the community through the SEA Stakeholder Advisory Round Table (StART). The unique collaboration between local cities, the airport, airlines, and the FAA is identifying new and creative changes to policies, equipment, operations, and technology that can reduce aircraft noise. This voluntary effort is not only leading to documented operational change. In 2023 StART organized its first joint airport and community advocacy trip to Washington, D.C., where members urged federal lawmakers to adopt new policies and investments aimed at reducing noise and pollution in near-airport communities.
The SIP program is just one way the Port is partnering on solutions to community concerns about aviation noise, including working with airline partners to reduce late night noise and promoting quieter takeoffs and landings.
Contact
Chris Guizlo | SEA Airport
(206) 787-3433 | guizlo.c@portseattle.org