Start with the SEA App to help before you go

Start with the SEA app to help before you go
December 12, 2019
Over two weeks of the busiest time of the holiday season, more than two million travelers will be hustling and bustling their way through Seattle-Tacoma International Airport (SEA). Passengers can look forward to daily holiday entertainment, a gift-wrapping station, and live reindeer.     
From Thursday, December 19 through Thursday, January 2, an estimated 2.1 million passengers will travel through the airport with the busiest days seeing more than 160,000 travelers per day – or more than the population of the City of Bellevue! Our team at SEA is working hard to ensure you have a positive airport experience that is efficient, clean, safe, and (we hope!) even enjoyable.  
The busiest travel days will be Friday, Dec. 20 (projected 163,750 passengers), Thursday, Dec. 19 (157,500), and three days at 152,500 passengers (Sunday, Dec. 22, Monday, Dec. 23, and Thursday, Dec. 26). The slowest days will still be busy – they are Tuesday, Dec. 13 (115,000), Tuesday, Dec. 24 and New Year's Day (125,000), and Christmas Day (127,500). SEA is up 3.8 percent so far in passenger traffic and is expected to set a record with an excess of 50 million passengers for the year.  
Being prepared is the best tip. Here is some advice for your trip and discover something new at SEA.
Five tips to keep you merry and bright
For a more efficient experience, download (or update!) the Sea-Tac App. See checkpoint waits in real\ time, locate restaurants and shops to explore, water bottle refill stations, and use the interactive map to navigate the airport. Now with accessible route directions!
Give yourself the gift of time. Arrive two hours early for domestic flights and three hours for international travel.
Going green is our favorite holiday color. Public transportation is the most efficient option to stay out of a traffic jam. Use Sound Transit Link light rail to travel all the way to the airport and the free "Train to Plane" shuttle cart service that chauffeurs you from the station to the airport terminal.
Be ready for security checkpoints. SEA and TSA want to help you move through security checkpoints as quickly as possible. Travelers are required to remove electronics larger than a cell phone from carry-on luggage. Keeping food or liquids in your carry-on luggage might prompt additional screenings.
Need more travel hacks? Visit our recently relaunched Traveler Tips webpage for our best advice to navigate SEA like a frequent flier.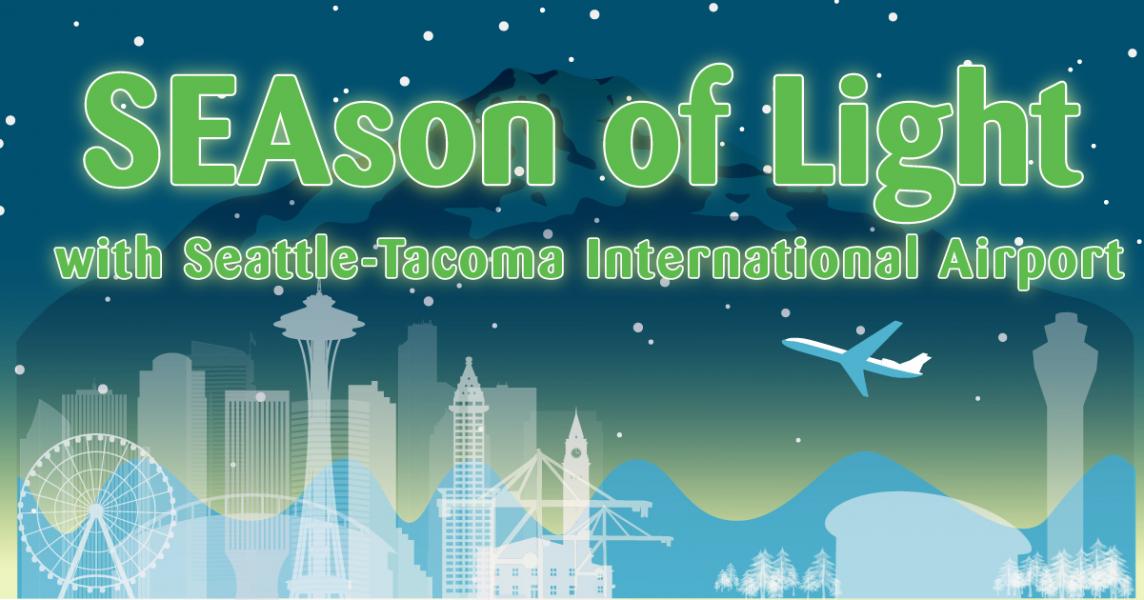 #SEAthecheer
Passengers can look forward to holiday entertainment from December 16 to 24, including a daily parade with costumed characters at 9:30 a.m., live performance art, carols, puppetry, and music. Presented by the Airport Dining and Retail Concessionaires, Santa, elves, and other costumed characters will surprise and delight with holiday cheer. 
A gift-wrapping station benefiting USO Northwest is available by donation for last-minute convenience. Need a host gift or stocking stuffers? TSA advises not to wrap gifts prior to traveling through security.
SEA Airport is celebrating the season with live reindeer on December 18 and 19 on the Light Rail platform in partnership with Sound Transit. Avoid the high volume of passengers on the busy drives, take Light Rail and riders will be rewarded with the opportunity to pet reindeer and take selfies.
Join the Airport Dining and Retail Concessionaires at SEA for an evening of one-stop shopping at our Retail Night Market on December 19 from 5-8 p.m. in Central Terminal! If you're making a list and checking twice, we are bringing together some of our favorite local shops and national brands for a festive shopping experience that's sure to be merry and bright.
Festivities make travel more meaningful and memorable. Pacific Northwest winter wonderland decorations brighten the airport along ticketing, in the Gina Marie Lindsey Arrivals Hall and Concourse A. 
 
Passenger experience reminders
It is tight in the terminal this time of year. We hear you, and progress is made every day towards more elbow room, more outlets for charging and more dining and retails options. SEA Airport is adding 693,000 of new additional square feet by 2021. Hang in there through the squeeze – we really appreciate it.
It's important that passengers can have questions answered and find what they need. Look for the SEA Pathfinders in teal and volunteers in blue blazers or teal polos. Our customer experience team is happy to help!
SEA recently shared new services to make travel more accessible and less stressful for everyone. The expanded services, like a pilot program to meet the needs of guests with hidden disabilities, make the airport more accessible and help improve the travel experience beyond the Americans with Disabilities Act (ADA) requirements. Learn more about accessibility at SEA.
Choice, convenience and price point matter to our customers. Twenty new dining and retail options in 2019 with a mix of local concepts and national brands deliver that. From build-your-own salads to Vietnamese cuisine and gourmet comfort foods, find what you're craving on the Sea-Tac App.
Think opposite. In the morning, drop off passengers on the Arrivals level. In the evenings, arrange to meet your passengers on the Departures level. Going opposite gets you out of the traffic crunch. Peak traffic congestion occurs on Departure from approximately 4:30 a.m. to 7:30 a.m. During the middle of the day, from 11:00 a.m. to 2:00 p.m., both Arrivals and Departure experience backups. In the evenings, the Arrivals drive experiences heavy traffic from about 8:30 p.m. to 12:30 a.m.
Are you there yet? If you're picking up passengers, make sure they are there before going to the drive. It will take some time for them to walk from the plane or pickup bags. This helps stay on the nice list of Port of Seattle Police who will be patrolling for drivers parking on the shoulder. Our officers are making a list and checking it twice. ?
Check with the City of SeaTac to see if there are any road construction projects that might hinder your access to the airport.
TSA holiday travel tips
Know what to expect. The busiest times at Sea-Tac's security checkpoints are 5 a.m. to 11 a.m., with the highest volume of travelers arriving from 5 a.m. to 7 a.m. and again 8 a.m. to 10 a.m. This is due to a concentrated number of flight departures during this period. Mid-afternoons and evenings will also be busy.
Any gate from any checkpoint. Travelers departing Sea-Tac can get to any gate from any security checkpoint. TSA operates two security checkpoints dedicated to TSA PreCheck screening. Travelers eligible for TSA PreCheck should go to checkpoint 1 or 4.
Use gift bags instead of wrapping paper. Wrapped items are screened just like any other item. If a wrapped item alarms the security screening technology in carry-on or checked luggage, a TSA officer may have to unwrap it to determine what the item is. Consider traveling with unwrapped items or placing them in a gift bag for easy access.
Traveling with food. Baked goods and other solid foods are allowed in carry-on luggage. This includes breads, cookies, candies and meats. However, jams, jellies, sauces, or other liquids need to be in quantities of 3.4 ounces (100 ml) or less to travel in your carry-on. Any quantities greater than 3.4 ounces should be placed in checked baggage.
Media Contact
Perry Cooper | SEA Airport Media Relations
(206) 787-4923 | cooper.p@portseattle.org