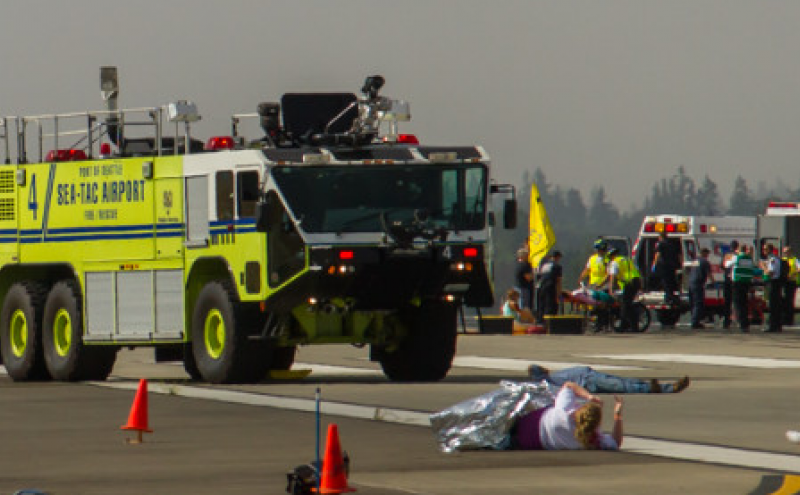 The Port of Seattle Emergency Preparedness department is part of Aviation Security but is tasked with and committed to providing preparedness planning, organization, equipment, training, and exercises for all facilities for a resilient Port.
The scope of the Emergency Preparedness department's work with non-Port airport employees includes the following. Inquire about company-specific emergency plans and supplies with your employer.
Providing required emergency preparedness training so all airport employees will know what to expect, how to react, and supplies provisioned to help in different emergencies. Visit the SEA Airport Employee Online Training Portal to complete the following training. Per the Airport Rules and Regulations, each SEA employee is required to complete all five trainings annually.

Active Shooter Civilian Response Training
Airport Emergency Plan
Airport Mass Evacuation Plan
Stair Chair Emergency Evacuation
Trauma Kit Training

Administering additional in-person training and exercises. Contact EmergencyPreparedness@portseattle.org to learn more.
Provisioning emergency supplies throughout the airport. View the SEA Emergency Map to learn where the following items are located.

Emergency cabinets containing

First aid kit
Trauma/bleeding control kits
Personal protective equipment
Rescue pack
Cabinets on the AOA also include mass evacuation kits with a megaphone, barrier tape, flashlight, and an additional trauma/bleeding control kit

Assembly areas
Automated external defibrillators (AEDs)
Trauma/bleeding control kits (standalone installations in addition to the kits found in the cabinets)
Due to the high quantity, there is no map marking fire extinguishers. Fire extinguishers are located approximately every 75 feet.
The flySEA app's map also has AEDs (yellow icon with a heart and electricity bolt in the terminal) and assembly areas (green text on the ramp) shown.

Organizing the Port, Airlines, and Stakeholder Action Group (PASAG) to manage the Family Assistance Plan which defines the roles and responsibilities of all responding organizations – both internal (airport, airlines, other tenants) and external (Red Cross, other agencies) – following an aircraft incident, particularly in the event an affected carrier does not have sufficient personnel to respond on its own. Contact EmergencyPreparedness@portseattle.org to learn more. (Current PASAG members can login to the PASAG SharePoint site for more information and resources.)
Personal Preparedness
The Port encourages all airport employees to be Two Weeks Ready. Whether you're an emergency responder or not, personal preparedness is key to being resilient in an emergency. Disaster experts agree households should be prepared with emergency supplies for two weeks. Visit the Washington State Emergency Management Division's preparedness site for more information and be sure to review your city and/or county's emergency preparedness resources as well.
SEA Emergency Map