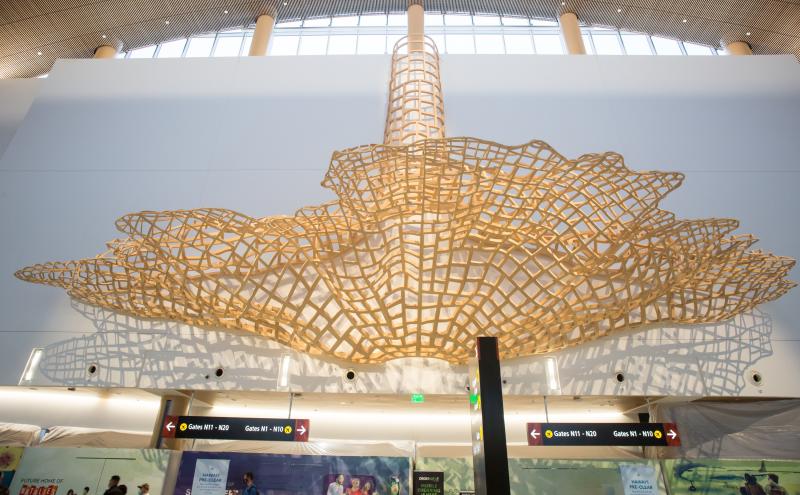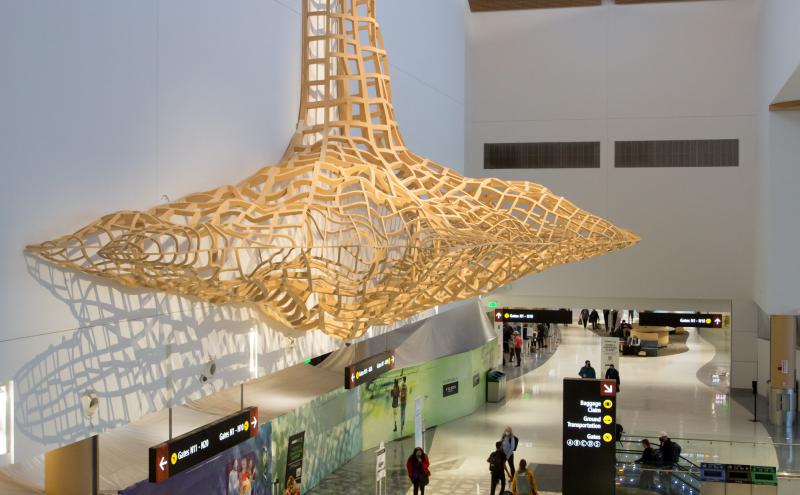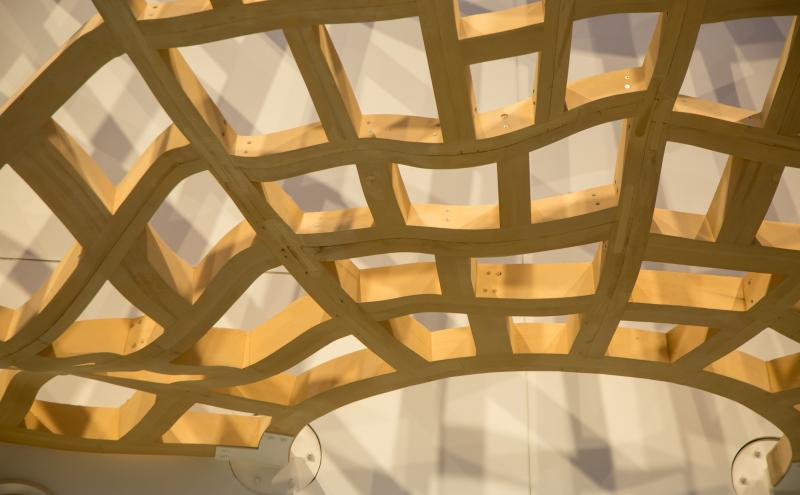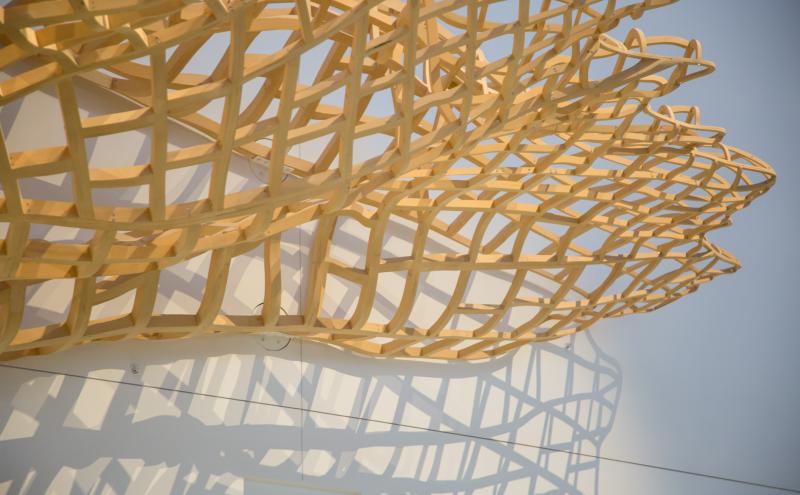 Title: Boundary
Artist: John Grade
Year: 2021
Medium: Alaskan yellow cedar
Dimension: 40' x 85' x 25'
Description of the artwork
Situated at the center of the North Satellite, Boundary is difficult to miss. As you ride the escalators (or elevator) up to the concourse, this self-supported cantilevered sculpture (without any suspension cables for reinforcement) welcomes you to SEA's newly modernized facility.
The main inspiration for this sculpture is the extending root structure of an old-growth western red cedar. The adventurous travelers who have had the chance to explore the beauty of the Pacific Northwest have probably observed this iconic regional tree. With this artwork, Grade offers us an atypical representation from below one of these giants by bringing attention to the elaborate root structure that supports and nourishes it.
The wood used to create this artwork was salvaged from standing dead trees in the Tongass National Forest on Metcalf Island, Alaska in 2015. The fabrication of this site-specific installation took over four years, and the installation lasted around five weeks by Grade and his studio team.
Fun fact: The sculpture weighs approximately 7,500 pounds (without wall brackets).
"Inspired by an imagined vantage from below the root structure of an old-growth western red cedar, Boundary cantilevers 25 feet from the primary wall that welcomes passengers who enter Seattle-Tacoma Airport's North Terminal. The sculpture's undulating radial perimeter references a dividing ground plane at a scale similar to the spread of a commercial aircraft's wingspan."- From the artist's website
If you would like to see a video interview was done during the installation of the artwork: Checking In: Immersive art 'Boundary' at new North Satellite - YouTube.
About the artist
Originally from Minneapolis (MN) John Grade received a BFA from the Pratt Institute in New York in 1992, and now lives and works in Seattle. Creating sculptures from small-scale to immersive large-scale sculptures, his artworks are exhibited across the United States and in Europe.
"Inspired by changing geological and biological forms and systems in the natural world, John works with his studio team to sculpt immersive large-scale, site-specific installations. Kinetics, impermanence, and chance are often central to the work." (From the artist's website)
Fun fact: If you visit the Seattle Art Museum, you will see in the lobby another example of John Grade's work, Middle Fork, a 105-foot reclaimed old-growth cedar sculpture.