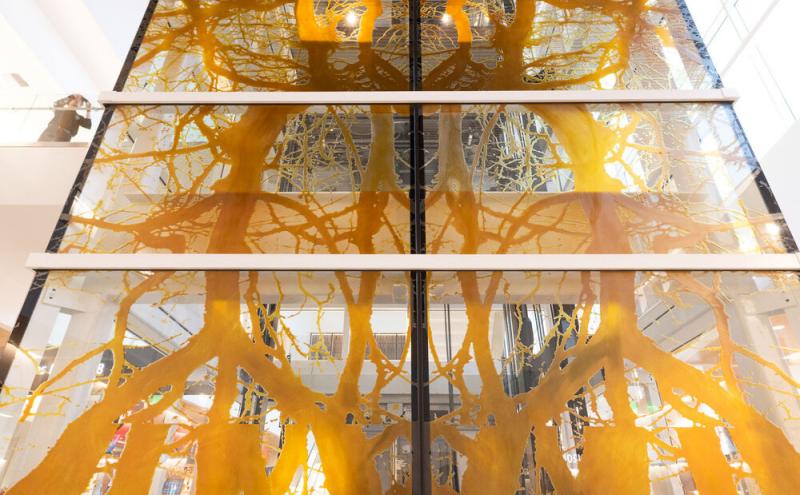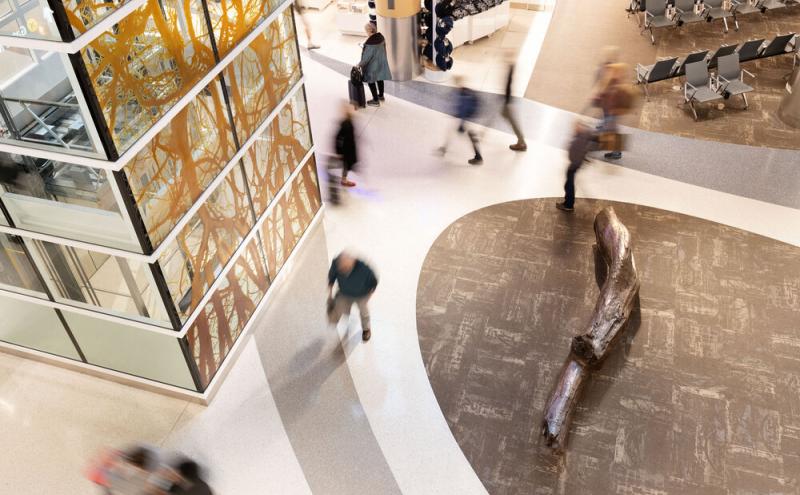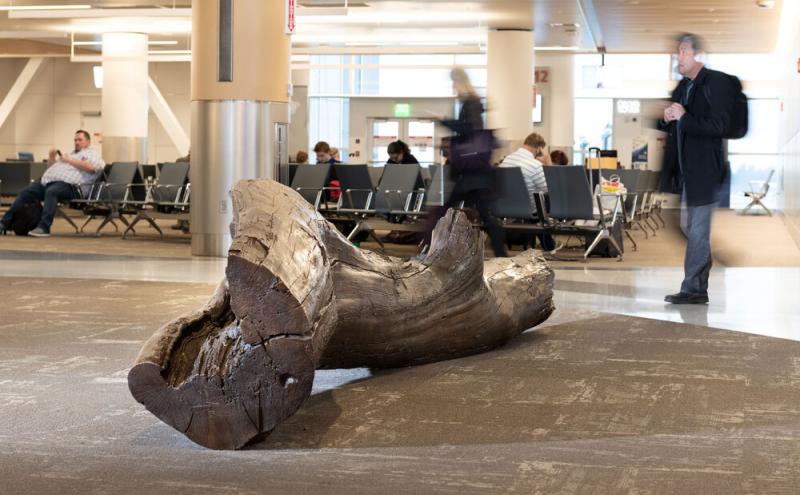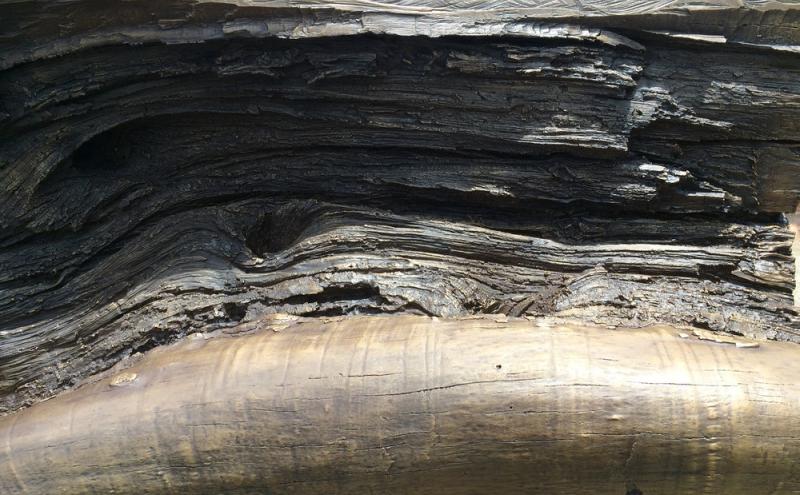 Title: cathedral
Artist: Jacqueline Metz, Nancy Chew
Year: 2019
Medium: Etched glass installation and bronze log
Dimension:
glass façade approx.12' x 36' 
bronze log approx. 6' x 1'6"- 2'
Photos: Spike Mafford
Description of the artwork:
In cathedral, Metz & Chew seek to create a space that reflects the Pacific Northwest's "mythical, mystical, monumental environment." The glass wall decorated with golden root and branch shapes leads up to the sky. The other half of the piece is a log that can be used as a bench to further build an area of introspection and reverence.
"The imagery refers to the unique rain forest of the Pacific Northwest, the sun through old-growth forest, to the stained-glass windows of a cathedral, drive-in movies, totem poles and driftwood on the beach" (quote from the artists).
The bronze log is a reminder of the magnificent coastline with its numerous tree trunks, and the verticality of the 20 glass panels is reminiscent of the countless trees visible in the Pacific Northwest. The two artists invite passengers to sit on the log or lean against it and admire the majestic presence of cathedral as if they were on a walk on the beach or a hike in the forest. With this art installation, Metz & Chew offers a microcosm of the beauty visible in the Pacific Northwest.
The bronze log was fabricated by Blue Mountain Fine Arts, located in Oregon, and the glass was done by Mayer of Munich.
"We were thinking about the Pacific Northwest, about the landscape and mythology of the temperate rain forest, about the delicacy, density, and majestic scale. The artwork refers to ideas of land and landscape, the ways we interpret nature, and to our deeply pacific northwest connection (on a number of levels) to the natural world." - From the artists' statement for cathedral
About the artists:
Jacqueline Metz and Nancy Chew, known as Metz & Chew, are visual artists located in British Columbia, Canada. They met at the University of British Columbia in 1986 and found their common interests in architecture, public space, landscape, and cultural thought. They have been working together since 1997. Commissioned by the Port of Seattle, cathedral was installed in the North Satellite at SEA in 2019.
"One of the threads running through our body of work is a meditation on landscape and culture and on positioning ourselves within the world. Our work reflects on perception and interpretation, on re-contextualizing the familiar or iconic, on how we mythologize the world around us." - From the artists' website